Chicken Shami Kababs/Kebabs, an exotic dish that can be served as a snack or appetizer and the whole preparation is nothing but boneless Chicken simmered with spices, onion, ginger, garlic, lentil and chili's and then ground to form patties. Finally those can be either deep fried or shallow fried as desired. Since the meat has cooked well before frying I opt to shallow fry with few tsp of oil.
Yields :- 15 Kebabs as shown


Main Ingredients for Chicken Shami Kababs
Boneless Chicken – 350 Grams
Soaked Chana Dal – 1/3 Cup (if using kabuli chana soak overnight or 8 hours, for split chana dal 2-3 hours is enough)
Cinnamon – 1 finger size length
Cloves – 4-6 Numbers
Whole Red Chili – 5 Numbers or Chili Flakes – 1/2 Tbsp
Bay Leave -1 Number
Green Chili –  1-2 Numbers (Small Size)
Whole Pepper – 1tsp
Cumin Seeds – 1tsp
Onion – 1 Medium Size
Garlic – 6-7 Cloves
Ginger – Equivalent to Garlic
Kosher Salt – 1tsp
Cardamom – 1-2 Numbers (Optional)
Other Ingredients
Egg – 1 Number or All Purpose Flour – To bind the patties
Chopped Mint or Coriander Leaves or Both – 1/4 Cup
Salt and Red Chili Powder – To adjust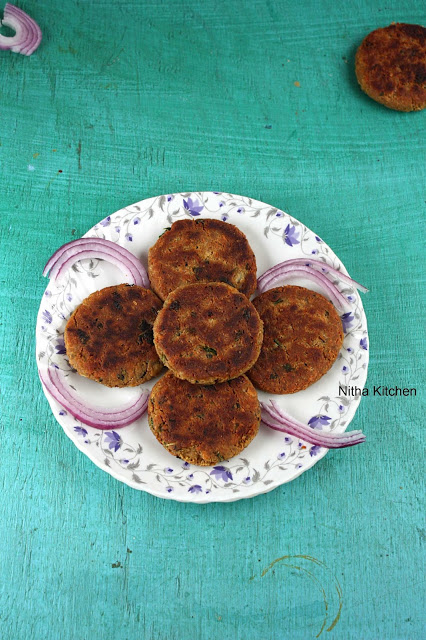 Chicken Shami Kababs Preparation
In a pressure cooker add 1.25 cup water, all the spices listed in main ingredient list, roughly chopped chicken, soaked chana dal, red chili or flakes, green chili, salt, roughly chopped ginger and garlic (Pic 1).
Allow to cook in simmer to medium flame for 20-25 minutes by closing the lid and so while cooking you may get maximum 8 hisses from the cooker.
Allow them to cool completely, you can either filter the water/soup (Pic 2) or in open pan/skillet cook them for few more minutes till the water evaporates.
You can mash them while water evaporates in the pan (Pic 3)
Let them cool completely, you can refrigerate to cool off soon.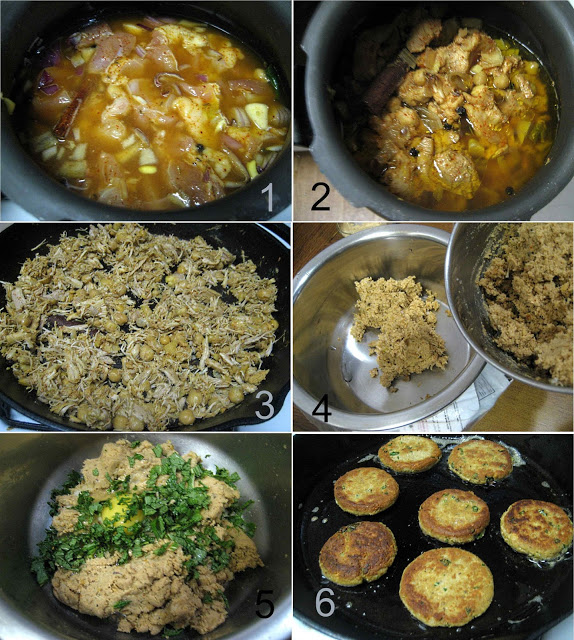 Discard the cinnamon, bay leave and cloves (if possible) and grind them to fiber kind off texture as shown in Picture 4.
If needed add 1 egg to bind them/to hold the shape (Pic 5).
Add the chopped mint/coriander leaves, adjust salt and spice at this time (Pic 5).
Make 5-6 and in pre heated skillet/pan drizzle some oil and cook the patties in medium flame (Pic 6).
When it turns brown at the bottom flip over and cook for few more minutes for the other side to cook (Pic 6).
Once done remove and drain excess oil.
The same can be deep fried, also you can coat the patties with bread crumbs(optional).
Serve them with sliced onion and lemon wedges.
Note
You can check
here
to learn how to roll them into perfect shapes