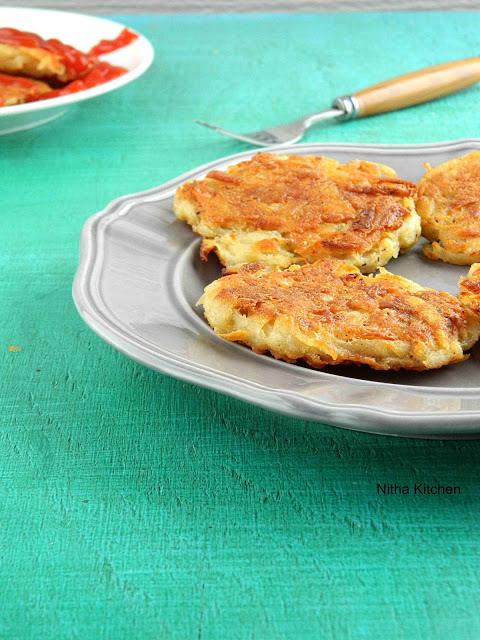 Today's recipe is quite simple and easy to make snack using Russet potatoes ie Potato Hash Browns. Also they are made with minimal oil. I rarely buy potatoes but whenever I have them in stock I make these Hash Browns, which is a default thing that I make it especially for my daughter. Hash browns or hashed browns are a simple preparation in which potato pieces are pan-fried after being shredded, julienne, diced, or riced. In some cultures, hash browns or hashed browns can refer to any of the above preparations (according to wiki). My daughter loves it when I serve them hot after she returns from school. You can skip egg, cheese powder and spice it up as you like in the ingredients I have mentioned.
Ingredients for Potato Hash Browns
Russet Potato – 3 Numbers
Italian Seasoning – 1tsp
Pepper – 1tsp
Any herbs like parsley, basil – 1/2tsp
Salt – As Needed
Paprika/Red Chili Flakes – Optional
Maida/APF – 1/4 Cup
Egg – 1 Number (Optional)
Parmesan Cheese Powder – 2 Tbsp (Optional)
Grated Onion From 1/2 medium size onion (Optional)
Oil – I have used not more than 3 Tbsp (refer pictures)
Potato Hash Browns Preparation
Wash the potatoes till mud goes off, peel the outer skin and place it under water until you shred (Pic 1).
Using the veg grater, shred the potatoes using large hole.
Immediately add the shredded potatoes in to a large bowl filled with water (Pic 2).
Once shredded all, rinse the potatoes 2-3 times (Pic 3) or till the water appears clear.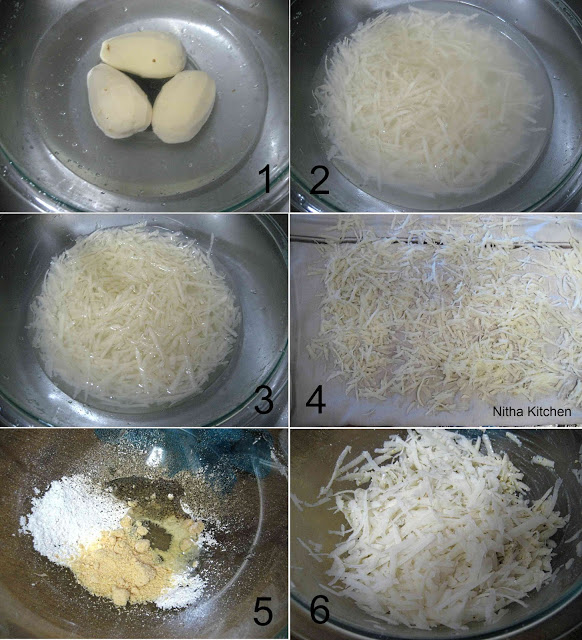 Then drain and squeeze well, let spread them over cloth to dry completely (Pic 4).
I left it for 15 minutes.
Add Flour, salt, herbs, pepper, cheese powder, Onion and egg (Pic 5) in to the mixing bowl.
Add the potato shreds in to it (Pic 6) and mix until evenly distributed (Pic 7).
Heat a large heavy skillet over medium-high heat with enough oil.
When oil is hot, take fistful of potato mixture and make it round (as shown in Pic 8) then place them into the pan in a 1/2 inch thick layer (Pic 9).
Cook until nicely browned on the bottom, then flip over (Pic 9) and brown on the other side. It should take at least 5-8 minutes in medium flame per side.
If needed you can drizzle some oil over hash browns while cooking.
Remove from pan when they turn golden brown on both sides (Pic 10), and drain on paper towels.
Season with salt and pepper and serve immediately with tomato ketch up or ranch or with any optional dressing as desired.