Gulab Jamun is a memory, its a feel, its an emotion and in all its a happiness. Making instant mix gulab jamun is a fuss free diwali sweet which can be done quickly even for a crowd. For our house warming celebration
with the help of my apartment neighbors did 100 plus jamuns for that occasion. Like Adhirasam this has become our routine festival sweet since it become kids favorite 🙂 Gulab Jamun is a all time favorite sweet and there is no age bar to enjoy this delicacy. Especially it's my kiddos fav and even my sugar hating family members don't hesitate to taste at least one. I have used these jamuns in several cakes and other recipes as well. If you are interested to make Gulab Jamun from scratch then here is the milk powder jamun link and bread Jamun link. Also stay tuned for more Diwali Recipes either in blog or in Instagram where I update more recipes until Nov 14th.
Sugar and Flavor
I used raw cane sugar for this recipe and the flavor I used is gulkand/rose petal syrup(jam). Because of these two ingredients the jamun color turns super golden brown and so beautiful 🙂 Also I use only 3/4 quantity of sugar mentioned in the package to prepare the syrup and soak jamuns in batches. Use any sweetener and any flavor of your choice but gulkand jamun tastes exotic with the rose flavor and do give a try 🙂
Gulab Jamun Based NK Cakes
Gulab Jamun Cheesecake (Coming Soon, refer picture at the bottom of the post)
Gulab Jamun Mix Cake (Coming Soon)
Tips to make instant mix gulab jamun
I have provided several tips in the step by step preparation itself but for beginners I am highlighting few important tips here in this section.
Do pour milk in one stretch and just reserve 1-2 tbsp to use if needed while mixing the dough.
Wet the jamun dough and don't press hard or over work on it.
If you over work it activates gluten in the dough and gives rubbery jamuns.
Instead of hand you can use ladle/spoon to mix the dough.
Maka a little sticky dough as shown in video at and when you try to roll into jamun the shape is imperfect a this time, that's normal.
After resting it turns perfect jamun dough and gives perfect round jamun as well..
If not use little jamun mix or all purpose flour/maida to overcome gooey dough.
Always cover the dough and rolled / uncooked jamuns.
While rolling if dough sticks slightly apply oil to your palms, if its dried a little then add drops of milk and roll.
Resting time is important and roll gently between palms.
While frying too low heat makes the jamun crack on top if you see crack do increase the flame.
Frying jamuns in too high heat yields uncooked jamun in the center.
Also for soft jamuns after overnight soaking in syrup/ 8 hours later, do dilute the syrup with water , boil it and when warm again add the soaked jamuns, do this twice in 2 hours interval before serving.
Sugar Syrup Preparation
Take equal amount of sugar and water.
Today I took raw cane sugar to make the jamuns.
Bring the pan to boil and once sugar dissolved continue boiling for 5 more minutes.
No need to check sugar consistency but you can refer Picture 2 below or Video at the end of this post.
Once you removed from the stove add flavor of you choice.
Here I flavored this syrup with Gulkand/ Rose petal Syrup.
Mix them in the warm syrup and keep it aside.
Instant Mix Gulab Jamun Dough Preparation
For kneading the dough either use water or milk, take the quantity of liquid as suggested in the package and keep at room temperature.
In a wide mixing bowl, add gulab jamun instant mix powder (Pic 1).
Reserve 20 ml of water/milk, where the original measurement calls for making the dough.
Now pour the entire liquid and mix the dough gently.
Don't hard press and knead the dough and initially don't try to make a single ball out of it.
Just wet the dough (Pic 3) and leave it loose/free. If necessary add the reserved milk at last.
Pinch a portion of dough and when you roll, its slightly sticky and rolls to little gooey/imperfect round as shown in Pic 4.
Its the right consistency after resting the dough they hold the shape perfectly.
Rest the slightly sticky dough by covering the top for 5 minutes.
If the dough doesn't have enough moisture then it yields cracks in the jamun.
Too much moisture won't hold the shape of jamun, so mix liquid in a right proportion.
Take small batches of jamun dough to make even size balls (Pic 5) and cover the remaining.
Apply few drops of oil to your palms before making balls, it prevents stickiness.
Only if the dough is sticky use oil or otherwise use milk.
If the jamun has slight crack on top then add a drop of milk and roll, it prevents crack.
Always work with small batch of dough and cover the rest otherwise the prepared dough turns dry after getting exposed to air.
Roll with your two palms gently and don't press the jamun tightly while rolling, making so gives hard jamun.
Roll to perfect, crack free and moist jamun as shown in Pic 6.
Once you are done with rolling the jamun do cover it till you fry.
Instant Mix Gulab Jamun Frying Part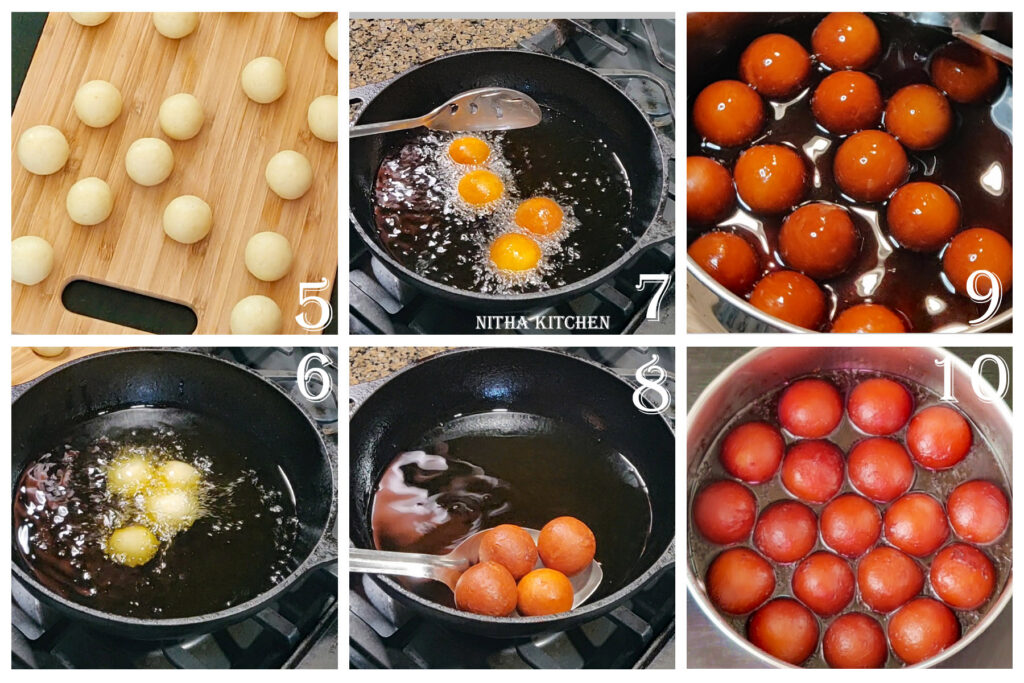 Oil should be at medium temp, too low heat causes jamuns to break and if it is too hot then you get uncooked jamuns.
Also don't over crown the pan with unfried jamuns.
If some jamuns not getting enough heat gets crack on top so always fry few in a batch with necessary room to expand.
It actually doubles in size as shown in the video and picture at
Fry the jamuns until golden brown and take it out from hot oil.
Drain the excess oil using paper towel.
Allow the jamuns to cool for couple of minutes or until you finish frying the other batches.
Drop the jamuns in medium hot or warm sugar syrup.
If you like this video and if you missed any useful videos from us do check and subscribe our YouTube channel.