My MIL stays with us at least once in a year. When she comes here she prepares this puli kuzhambu powder in bulk and brings it. She likes my way of preparing the pavakkai puli kuzhambu gravy with her powder (recipe follows)…Now for a long time i didn't go to motherland and the puli kulambu podi is not in stock, so I recently tried it at home by asking her over the phone. So here comes two in one recipe ie Pavakkai Puli Kuzhambu with homemade Puli Kulambu Powder. Instead of Pavakkai / Bitter Gourd you can try this same gravy with Okra/Ladies Finger or Brinjal+Drumstick Combo.

Ingredients to make Puli kuzhambu Powder
Toor Dhal – 1/4 Cup
Rice – 1/4 Cup
Fenugreek/Venthayam – 1/4 Cup
Red Chili – 4-5 Numbers (you can increase)
Cumin – 1tsp
Chana Dhal – 1 Tbsp
Urad Dhal – 1 Tbsp
Curry Leaves – 2-3
Salt – As Required
Method
Dry roast all the ingredients.
First add Chana dhal saute 3-4mins in medium flame.
Add Toor dhal and Rice continue stirring, after 3mins add Salt, Urad dhal, Fenugreek, Cumin and Red Chili.
Keep stirring in same medium flame till all turns golden brown.

Finally add curry leaves and keep on stirring for few minutes even after removing from flame.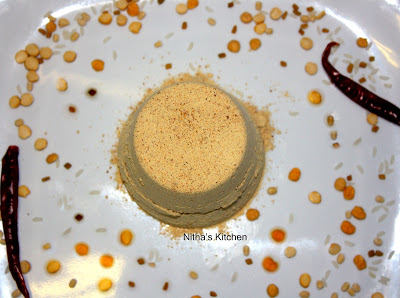 Ingredients for Pavakkai Puli Kuzhambu Bitter Gourd Gravy
Bitter Gourd – 1 Number (Large)
Onion – 1 or Shallots
Tomato – 1
Tamarind Juice – 1/4 Cup
Red Chili Powder – 1tsp
Mustard – 1/2tsp
Puli Kulambu Powder – 1 Tbsp
Curry Leaves – Few
Oil – 2 Tbsp
Salt and Water – As Needed
How to make Pavakkai Puli Kuzhambu
Heat oil; fry the chopped bitter gourd for 5-6 mins or till its turns light brown color.
Take the fried one out. In the same kadai add mustard, when crackles add chopped onion, curry leaves saute well.
Add tomato, when mashes well add red chili powder, bitter gourd and half of the tamarind juice, allow to cook completely (Add water if needed)
Finally mix the homemade puli kulambu powder in remaining tamarind juice (To avoid lumps) and add it to the boiling gravy. Mix well, check salt and when oil separates/floats on top, that's it, your gravy is ready to have 🙂

My MIL love to have this gravy with dosa, this coconut less gravy apts well for diabetic patients.
Note:
1. Can boil the bitter gourd with tamarind juice and salt in microwave for 5 minutes, doing so simplifies the preparation.
2. Can use the same method for Vendakkaai/Ladies Finger/Okra gravy.