It's rare to get Red chori dal (Split Red Chori Beans) in groceries, so my mom packed the home grown and home split red chori beans…I have few pictures to share today, also recorded a video of this decaying stone milling process/Aariya Kal. This dal is the best one to make kuzhambu with brinjal or snake gourd (Recipe Follows), also tastes great when you make Arisiyum Paruppu Sadham (Dal Mixed Rice) with it. You may get this dal in Indian stores otherwise I have given an alternate dal for making this kuzhambu, do check the recipe below. First will look in to the process of making this paruppu. If you have the ready made dal then ignore the below dal process.
Method
Soak the beans (Pic 1) overnight or 8 hours at least.
Drain the excess water and dry under sunlight for at
least 5 hours (Pic 2) or till it dried completely (When you press with your palms it should split).
Now split it as shown in the picture below or watch this short video.
After that clean/blow out the husk and store the dal in an air tight container for future use.
In the same way we can make toor dhal, split moong dal etc .
Thanks to my grandma (she soaked and dried the beans) and Karthi ma (who helped to split it).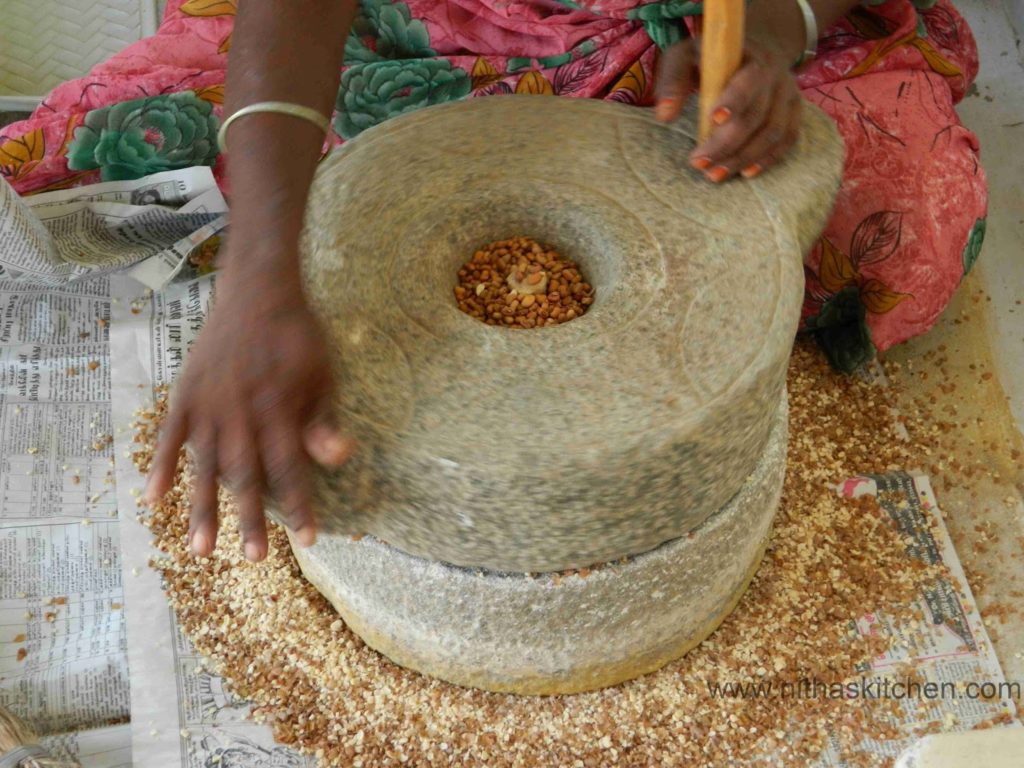 Ingredients to make kuzhambu/dal fry
Split Red Chori Dal – 3/4th Cup (Replace with Split Moong Dal)
Thinly sliced Snake Gourd/Pudalangaai – 3/4th Cup (Replace with Brinjal)
Shallot Or Onion – 6 Numbers Or 1 Large Size
Tomato – 1 Large Size
Sambar Powder – 1 Tbsp (Replace with 2tsp Red Chili + 1tsp Garam Masala Powder)
Turmeric Powder – 1/4tsp
Green Chili – 1 Number
Mustard Seeds – 1/4tsp
Hing – A Pinch
Curry Leaves – Few
Chopped Coriander Leaves – Few
Oil – 1 n 1/2 Tbsp
Salt – As Needed
Method
Wash the dal, add tomato, turmeric, 2tsp sambar powder, few drops of oil, 2 cups of water to it in a pressure cooker.
Allow 3 hisses and mash well when it is completely cooled.
In a pan heat oil splutter mustard seeds followed by chopped onion, hing, curry leaves and chopped green chili.
When onion changes color add remaining sambar powder, chopped veggie.
Add 1 cup of water or watery dal stock and cook the veggie for another 5 minutes.
Then add cooked dal, salt and enough water to make the gravy thin.
Allow for single boiling point and simmer it for another 2 minutes, finally garnish with chopped coriander leaves and remove from flame.
Best to go with hot rice n ghee combo, also tastes well with chapathi varieties.