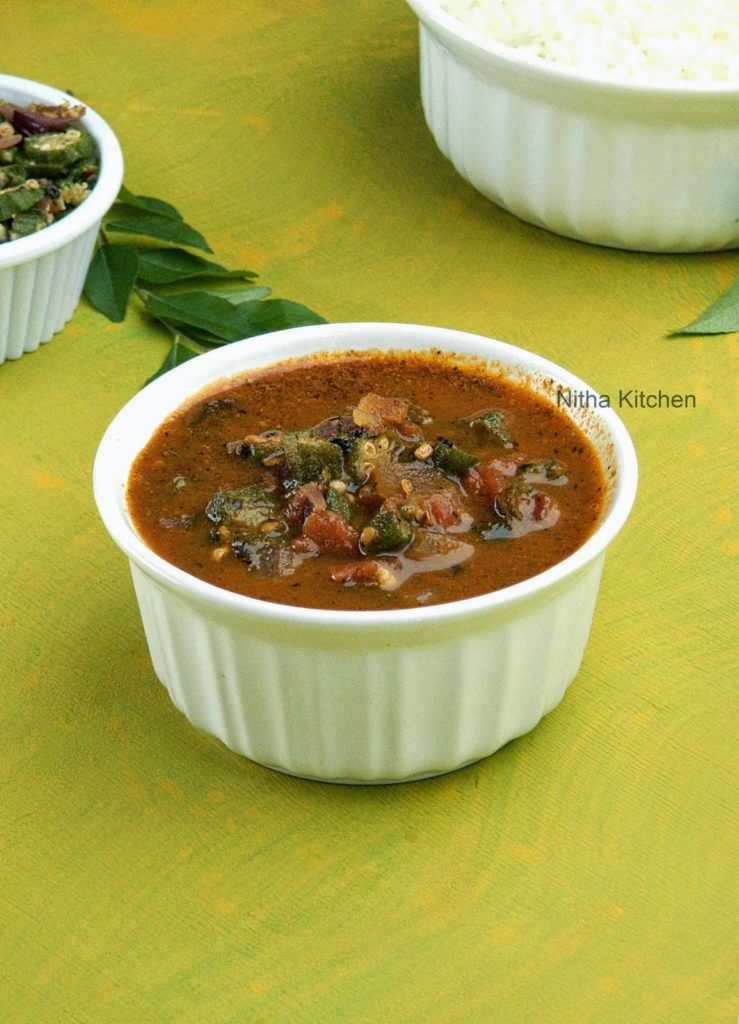 Vendakkaai/Ladies Finger Puli Kuzhambu, this is my mom's version which doesn't have any ground paste instead she adds a tbsp of shredded coconut at the end which tastes unique and easy to make curry. This is my last recipe which I already listed/made in the South Indian Lunch Thali/Kongunadu special menu. Also when Viji  asks us to select 2 random numbers for this month Show ur style event, I opted 2 and 4, after few days she revealed the secret ingredients for 2 as Egg Plant and Okra/Ladies Finger for Number 4. So today I have successfully completed the challenge by posting a recipe related to ladies finger…


Ingredients
Okra/Vendakkaai/Ladies Finger – 300gms
Sambar/Red Chili Powder – 2tsp or more (I went for Homemade Sambar Powder)
Shallot Or Onion – 10 or 1 Medium size
Tomato – 1 Medium Size
Tamarind – 1 Small Lemon Size
Garlic – 4-5 Cloves
Fenugreek – 1/2tsp
Mustard  – 1/4tsp
Turmeric Powder – 1/4tsp
*Shredded Coconut – 1 Tbsp
Coriander Powder – 2tsp
Curry Leaves – Few
Coriander Leaves – Few
* You can add ground paste of coconut or coconut milk at the end instead of shredded…

Old Picture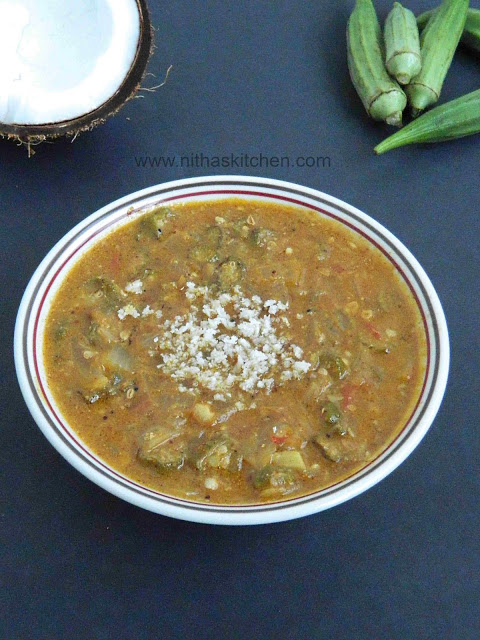 Method
Clean, wipe and chop the okra/ladies finger in to small rounds.
Fry them in a pan/kadai with necessary oil, till it turns light golden brown.
Don't overcook, frying so to get rid of stickiness.
Extract tamarind juice by soaking tamarind in warm water for 30 minutes.
In half of the tamarind juice add fried okra, salt and sambar powder.
Cook it for 5 minutes in stove top or microwave, ie till okra is cooked 50%.
Meanwhile start tempering in hot oil the mustard and fenugreek.
Add finely chopped garlic, saute for 2-3 minutes in medium flame.
Then add chopped onion and wait to turn light golden brown.
Now add chopped tomato, salt and saute till it mashes well.
Add curry leaves, coriander powder,turmeric powder, half cooked okra tamarind mixture.
Cook all together for another 3-5 minutes in medium flame.
Now add reserved half of the tamarind juice as much u need.
Also adjust spice/red chili powder and salt now.
Add shredded coconut and allow for single boiling point.
Finally add chopped coriander leaves n remove from flame.
Variations
Can add 2 tsp of pottukadalai/roasted gram/dalia in water and add at final stage for gravy thickness.
You can skip shredded coconut and add coconut milk instead.
I have updated the pictures recently in the background i have placed okra/vendakkai poriyal, check the recipe here.