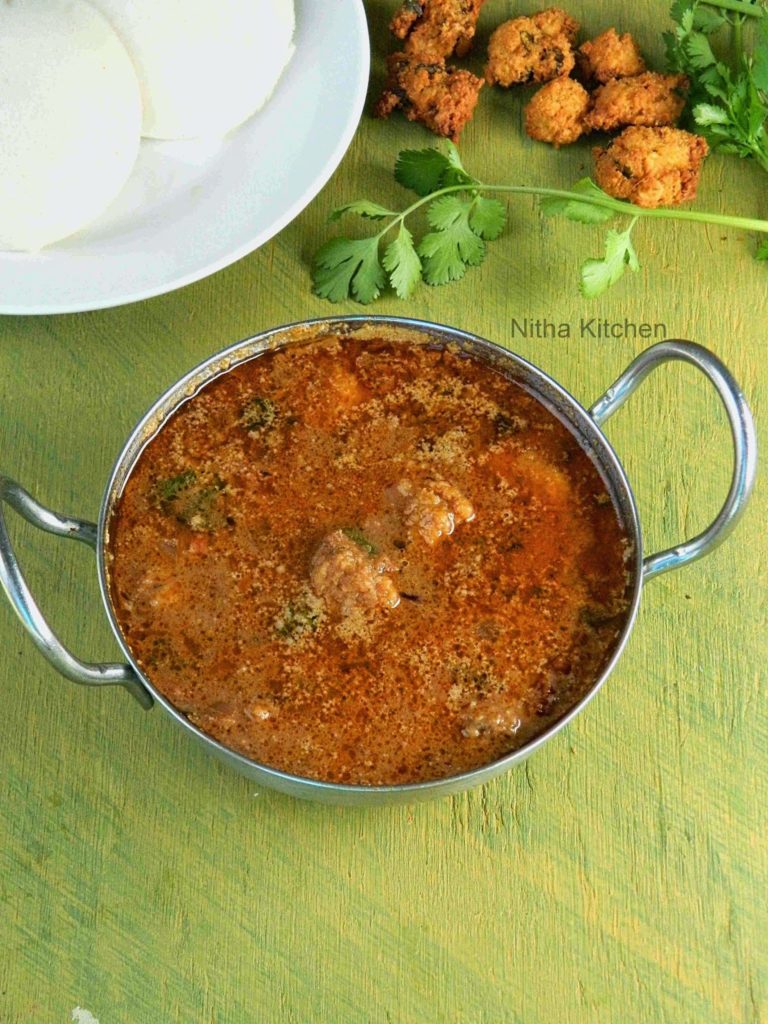 It's been a year the South Vs North Challenge is going around successfully. Since its a celebration month, Divya suggested to cook and post the challenges which we didn't able to do during this year. I missed to complete few when i went for vacation and planning to do one more challenge in another 1 week if time permits. I am glad to be part of this wonderful group and congrats to all the members for the successful completion of one year. This month we are free to cook from any of the challenges posted by South and North team in the last year ie from 24 recipes which we not posted yet. I thought of making Swasthi's Hyderabadi Biryani but suddenly changed to Priya sis chettinad Pakoda kuzhambu, since i am a gr8 fan for chettinad recipes…Thanks Sis for the delicious kuzhambu, it was totally liked by the whole family, especially the lil one 🙂
Recipe Source – Priya's Versatile Recipes
For Making Pakodas
Chana dal/Kadala paruppu – 1/2 Cup
Dry Red chillies – 3 Numbers
Fennel seeds – 1tsp
Salt – As Needed
Oil for frying
For making Vada you can check the step wise picture here.
Method
Soak the chana dhal, chilis and fennel seeds for two hours.
Dry the excess water using paper towel or cloth.
Take the drained/soaked stuffs, salt together and grind as bit coarse paste.
Heat oil for frying, once the oil is hot.
Take a golf sized ball of grounded mixture and pinch gently a small quantity of this mixture as shapeless pakodas and drop into the hot oil and fry.
Fry the pakodas until they turns golden brown.
Drain the excess of oil with a paper towel and keep aside.
For Gravy
Onion (chopped finely) – 1 Number (Jumbo)
Tomato (chopped finely) – 2 Numbers (Medium)
Garlic Cloves (chopped) – 6 Numbers
Green chilis (slit opened) – 2 Numbers
Coriander Powder – 1 Tbsp
Red chili Powder – 2 tsp or more
Oil and Salt – As Needed
Coriander leaves (chopped)
For Seasoning
Cinnamon stick – 1 inch
Cloves- 2 Numbers
Green Cardamoms – 2 Numbers (Optional)
Bay leaves – 2 Numbers
Fennel seeds – 1/2 tsp
Curry leaves – Few
Old Picture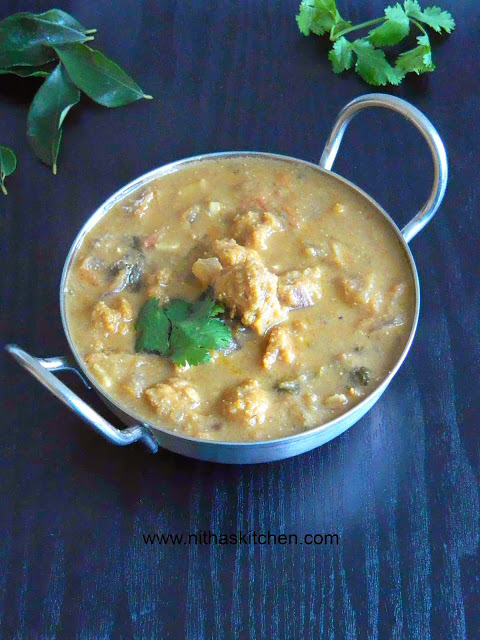 To Grind
Poppy seeds – 1 tsp
Grated coconut – 4 Tbsp
Cashew nuts – 6 Numbers
Roasted split gram/Dalia/Pottukadalai – 1 Tbsp
Method for making curry
Grind all the ingredients given under the list 'To Grind' to fine paste with enough water.
Add all the ingredients given under the list 'For Seasoning' in hot oil and fry until they turns brown.
Add the chopped onions, chopped tomatoes,chopped garlic,slit opened green chilis and saute until the veggies gets well cooked.
Can add few drops of water to mash the tomatoes well.
Now add the ground paste, half of coriander leaves(Pic 1) to the cooking veggies, cook  in simmer for another 2 minutes.
Add 5 cups of water, red chilly powder, turmeric powder and salt, give a stir and cook in medium flame.
Close the kadai, cook for 5 more minutes, keep the gravy watery.
Add the water if needed, once you add pakodas, they tends to absorb the gravy and finally no gravy will be left once the pakodas gets well cooked in gravy.
So keep the gravy enough watery.
Once the oil gets separates slightly from the gravy, add the pakodas (Pic 2) immediately to the gravy.
Don't stir the gravy after adding the pakodas, bring boil the gravy once and switch off the stove.
Finally add the chopped coriander leaves to the gravy, give a stir.
Serve hot with rice and papads, goes well with chapathi too, we had so…
Also make it 2 hours in advance, so the pakodas well soaked in gravy and tastes great…