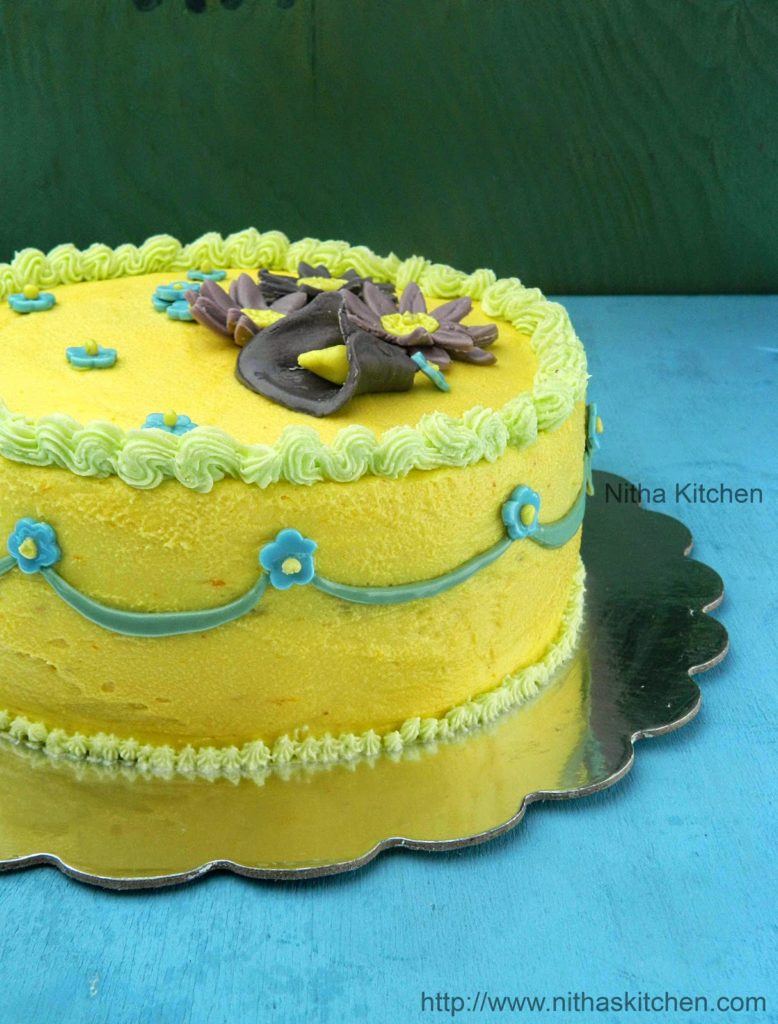 Decorating a cake with fondant was lingering in my mind for almost 2 yrs. It happened recently with minimal fondant accents over mango buttercream frosting. Last year I planned to make it for my daughter's birthday. But Halloween and Diwali were all around her birthday so I dropped that plan and finally made cake pops and cream less cake for her class party. On May 30th my little boy had his 3rd birthday and I made 2 Tier Cake with classic buttercream cake for the party. I was unable to concentrate much on fondant as I prepared many more dishes that time. Couple of days back my MIL and H had their birthdays, so finally here is a cake that I attempted first with some fondant tools (BTW I Use Wilton Fondant Student Kit). Also July 3rd our blogger friend Divya is celebrating her birthday, this year she has a cute little angle, Divya once agian happy birthday and here is the virtual treat for u :-). Though I am not a pro in decorating cakes but today I am sharing the work behind it. Hope this is useful for beginners and feel free to contact for any doubts.
Yields Cream for 3 Inch Cake Approx.

Ingredients
Unsalted Butter – 1 Cup
Sugar – 4 Cups
Veg Shortening – 1/3 Cup (If you don't get then you can skip it)
Thick Mango Pulp – 1/4 Cup Plus 1-2 Tbsp (For vanilla buttercream skip it)
Mango Essence/Flavor or Vanilla Essence – 1tsp
Yellow Food Color – Optional
My Cake Plan
First Day I baked the cake, wrapped well and chilled it.
Second Day I frosted it with 2 coatings of Buttercream and bordered the edges.
Third Day did some fondant work in the morning again refrigerated and took it out 5 hours before the party starts.
Eggless Mango Buttercream Preparation
Keep the butter at room temperature for 30-40 minutes and when you insert spatula it should break easily but should not melt (Pic 1).
Whip the butter for 2 minutes or until it looks creamy.
Now add veg shortening (Pic 2) whip for another 1-2 minutes until both blends together.
Add 1 Cup of sugar at a time(Pic 3), after each addition beat it for 1 minute at least.
After the 2nd cup of sugar, add mango puree and 3rd cup of sugar (Pic 4).
Add the last cup of sugar (reserve few TBSP) and if needed add tsp of mango puree or milk to attain the spreading consistency.
Whip it till it looks fluffy takes 4-6 minutes approx.
If the mango buttercream frosting is runny you can add reserved sugar and more.
If needed you can add few drops of yellow food color right now.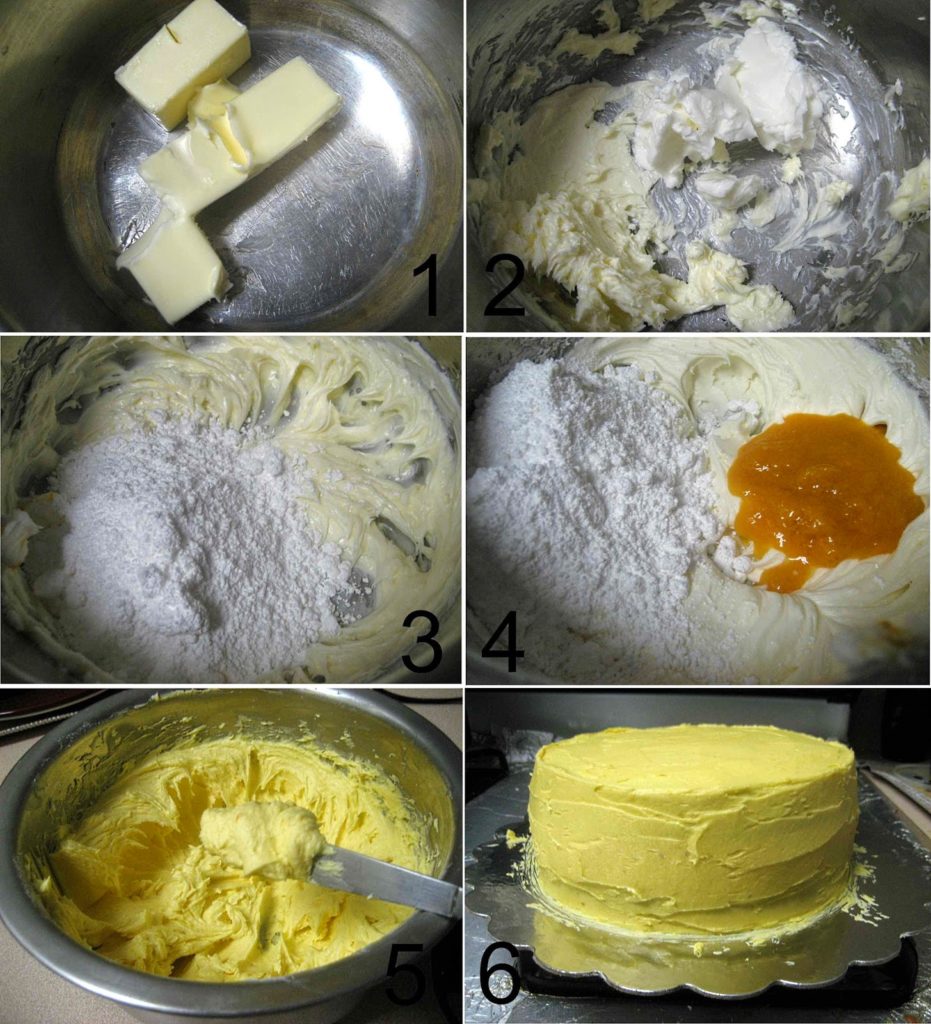 If the cream is very thick and not to spreading consistency then add milk or mango puree.
However the final consistency should be like shown in stepwise pic 5 above.
I have not added milk for this buttercream.
Variations
If you like to make classic vanilla butter cream recipe, skip mango puree and increase vanilla essence also you may need few tsp of milk in this case to attain the right consistency.
Tips
If you feel the butter is melted freeze or refrigerate for a while and then start whipping.
Also I stored the mango puree in freezer and at the time when i took the butter out, i kept puree also out at room temperature.
After couple of minutes just remove the water (if any) from puree and now you get thick puree.
How to apply cream over cake
I have choose my egg and butter free vanilla cake recipe for this cake, you can check more cakes here.
Cool the cake completely; you can bake the cake a day or 2 days before the occasion.
Refrigerate by tightly wrapping it with foils and then cover it in air tight container.
Once butter cream is ready unwrap and level the cake using sharp knife or cake leveler.
Using brush remove excess crumbs if any and then apply a thin coating of butter cream first.
Allow 1 hour in fridge to set or you can freeze it for quick process.
Till then you can keep the unused butter cream in room temperature or you can refrigerate but needs to be at room temperature for couple of hours before applying it over the cake.
Once the crumb coat is set, apply second layer of mango buttercream frosting.
You don't need fancy tools, butter spreader and simple plates can be used to frost the cake, I do so (Step wise Pic 6 above).
Level it and either you leave at room temperature or refrigerate to set completely.
I usually refrigerate the buttercream cake overnight or at least 2 hours to set completely.
If the cream has not stick to your fingers then take the kitchen/paper towel and gently smooth the cake all around.
After smoothing I stored immediately in fridge and started making fondant flowers.
But if you are already done with fondant works then you can apply immediately.
But after buttercream coating I stored in refrigerator and started working with fondant flowers.
Some Marshmallow Fondant works below
I have a simple tutorial on marshmallow fondants here.
Pic 1 Small Blue Flowers
Pic 2 Making shapes in the center.
Pic 3 Purple Flowers
Pic 4 Completed Cake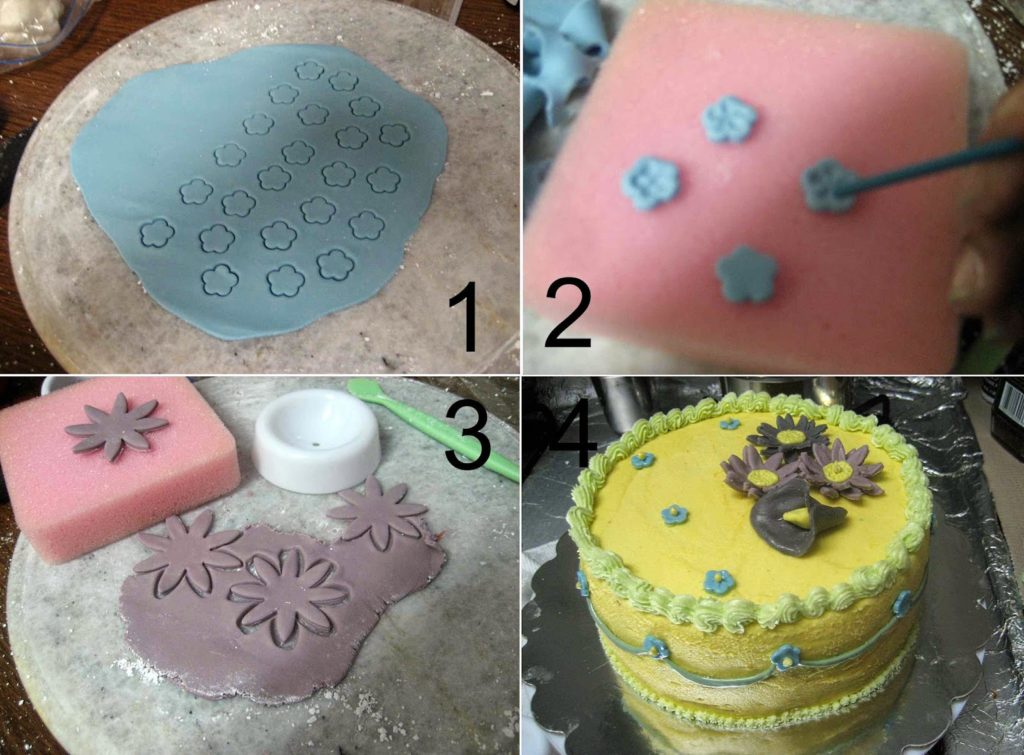 Once everything is done, according to the party time bring the chilled cake to room temperature. I have kept the cake at room temperature 5 hours before cutting it and that worked well for me!!! Here is the picture my MIL holding the cake 🙂