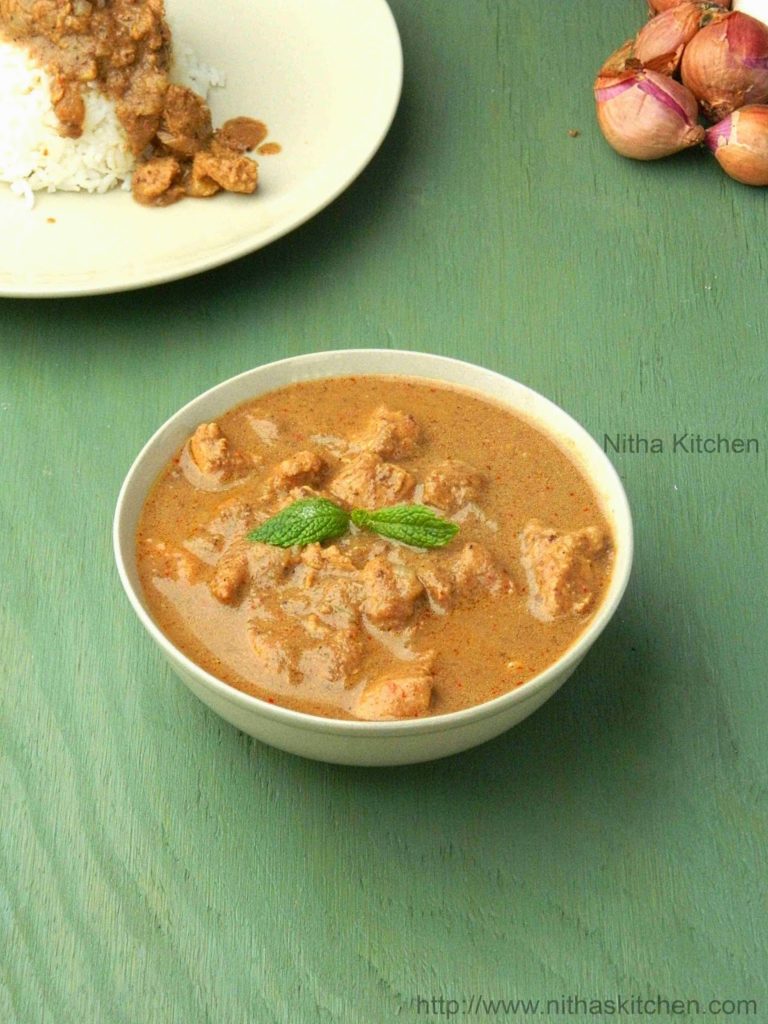 You may aware that I am hosting this month Northern Thai Cuisine for International Food Challenge and today's post is none other than popular Northern Thai recipe/Gaeng Hang Lay but here instead of pork I used chicken. This Thai chicken chicken curry features warm spices in a fragrant homemade curry sauce. It is usually served with plain jasmine or coconut rice with slices of cucumber on the side as a fresh compliment to
the dish. If you enjoy both Thai and Indian curries, you'll love this warm and flavorful dish.
Recipe Source :- Adapted from here
Ingredients
500 gms boneless skinless Chicken
10 red Asian eschalots (see Note), peeled
7 cm piece ginger, peeled, cut into julienne (Optional)
2 tbsp tamarind concentrate (see Note), plus extra, to taste
2 tbsp grated palm sugar (Optional, I add only a tsp)
Coconut Milk – 1/4 Cup
Oil – 2 Tbsp
Steamed Jasmine or Glutinous rice, to serve
Spice mix
1 tbsp cumin seeds
2-3 Tbsp Coriander Seeds
½ tbsp fenugreek seeds
1/2 tbsp black peppercorns
1n1/2 tsp whole cloves
2 cinnamon quills (I  use 2″)
2 curls dried mace (optional)
½ tbsp ground turmeric
½ whole nutmeg, grated
Curry paste
7-8 dried long red chillies
3 lemongrass stalks, white part only, thinly sliced
2 large red Asian eschalots (shallots), chopped
3 garlic cloves, chopped
1 cm piece galangal(ginger), peeled, chopped
1 tsp dried shrimp paste (Optional)
Method
To make spice mix, place cumin, coriander and fenugreek seeds, peppercorns, cloves, cinnamon and mace, if using, in a frying pan over low heat.
Toast, stirring, for 3 minutes or until fragrant; don't allow spices to turn dark brown or burn.
Transfer to a plate and cool, then stir in turmeric and nutmeg.
Grind the mixture to fine powder (Pic 1).
To make curry paste, soak chillies in 250 ml hot water for 20 minutes.
Drain, reserving 60ml liquid. Process chillies, lemongrass, eschalots/shallots, garlic, galangal/ginger and 1 tsp salt in a food processor.
Add enough chilli soaking water to form a smooth paste(Pic 1).
Cut chicken into 4 cm cubes. Place it in a bowl with curry paste and knead/rub paste into it with your hands.
Add 1 tsp salt and spice mix, and knead to coat chicken with mixture (Pic 2).
Leave is as it is for 30 minutes or overnight in refrigerator.
Place a heavy-based pan over high heat. Add oil and chopped shallots, marinated chicken and cook, turning occasionally, for 8 minutes or until lightly browned.
Add 1 litre water, or enough to cover, and bring to the boil, stir in ginger.
Reduce heat to low and cook for 2 hours or until meat is meltingly tender.
Season with 1 tbsp salt, tamarind(Pic 3) and the sugar (Pic 4).
Adjust spices accordingly.
Serve with steamed or glutinous rice.