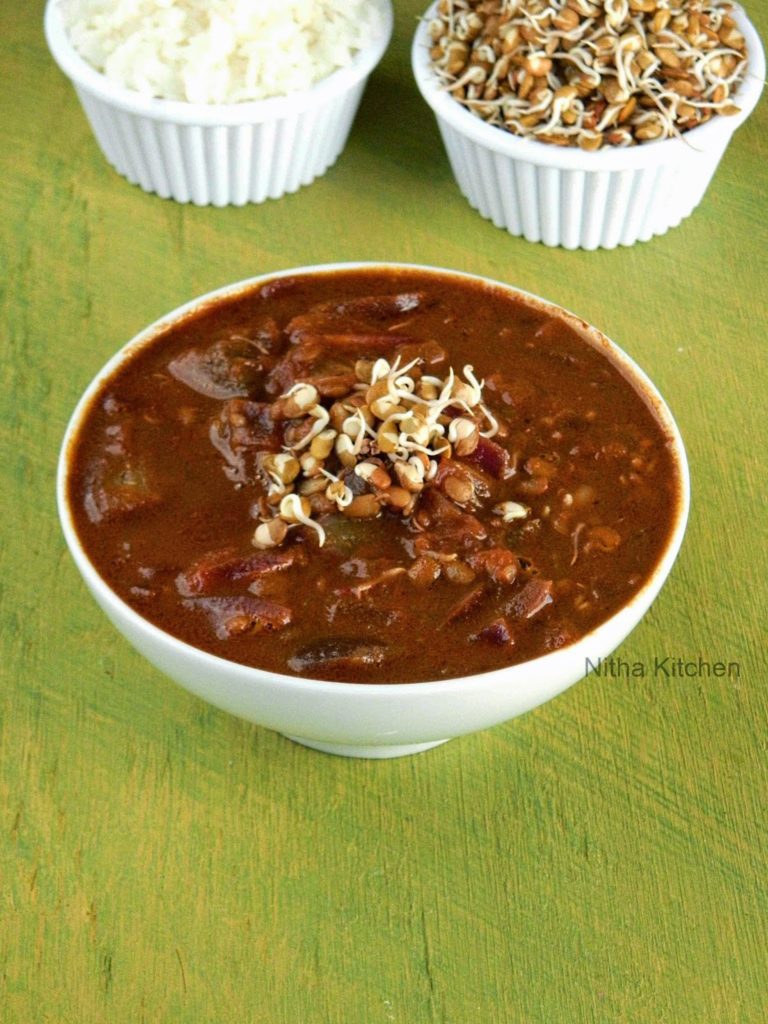 Kollu Kulambu : Kollu/Horsegram/Kulthi/Muthira is a rarely known bean but it has many medicinal properties. According to wiki Horse grams are used in removing kidney stones and lowering high blood pressure also this bean is considered helpful for maintaining body temperature in the winter season. Kollu/Horsegram has the power to burn unnecessary fats in our body so its meant by diet and diabetic patients. Weekly once you can use it in your day to day cooking. I have few recipes with this healthy lentil and making sprouts out of it is really very healthy…This time I used the sprouts in mild tangy curry with some vegetables and it's a super hit at home. You can pair this Kollu Kuzhambu Horse Gram Sprouts Gravy with rice and tiffin varieties.
Ingredients for Kollu Kulambu
Kollu Sprouts– 1/2 Cup
Onion/Shallot – 1 Number Large or 5-6 Shallots
Assorted Veggies – Drumstick/Potato/Brinjal goes very well
Tomato – 1 Large
Tamarind Extract – 1/4 Cup or More as needed
Red Chili Powder – 1-2tsp
Sambar Powder or Kulambu Milagaai Thol – 2tsp
Optional Puli Kulambu Powder – 1-2tsp (You can refer homemade Puli Kuzhambu Powder Here)
Curry Leaves – Few
Turmeric Powder – 1/2tsp
Mustard Seeds – 1/2tsp
Salt and Oil – As Needed
Vegetables
Brinjal – 1-2 Numbers
Drumstick – 1 stick or 4-5 Pieces
Potato – 1 Number
To Grind
Coconut – 1/3 Cup
Green Chili – 1-2 Numbers
Pottu Kadalai/Roasted Gram – 1/2 Tbsp
How to make Kollu Kulambu
In a kadai heat cooking oil temper mustard seeds when oil is hot enough.
Add chopped onion saute well then add chopped tomato and curry leaves.
Saute with little salt(Pic 1) and add all powders except puli kulambu powder.
Clean and cut the vegetables then add it to the onion tomato mixture (Pic 2).
Saute the veggies for a while then add tamarind extract and kollu sprouts (Pic 2).
You can also pressure cook the vegetables separately for 1 whistle with little red chili powder and add it right now.
Adjust water if necessary and allow to cook for 5-8 minutes in medium to high flame.
By this time the sprouts should turn tender.
Finally add the ground coconut paste(Pic 3) and let them boil for few more minutes in low to medium flame.
Dilute the puli kulambu powder in little water and add it to the boiling gravy.
Once the gravy gets thick (Pic 4) and oil floats on top turn off the heat.
Serve with rice or idli/dosa varieties.