I am happy to host this month International Food Challenge (IFC), thanks Saras for giving this oppurtunity!!!  Chiang Mai (the region's focal point for tourism) is the capital, Northern Thailand is a place of 'picture postcard' beauty and wonder. Blessed with some of the best scenery in the kingdom, the north is a region of forests and mountains, and rivers and waterfalls, often set against a backdrop of swirling mists and fog. Living among this scenic splendour are Thailand's hill tribes – peoples whose conventions and customs differ from mainstream Thai culture and whose ways of life have altered little in generations. Many of Thailand's superior handicrafts are produced by northern hill tribes, making this an excellent place to pick up authentic gifts, keepsakes and souvenirs of your journey. The north is also a region of adventure. Rafting on rapids, mountain treks, mountain biking and even elephant safaris make exploring the region as exhilarating as it is fascinating. Northern Thailand – a world within a world and one you will not easily forget!
If you are more interested in tourism do check this link.
When comes to food,  The staple is rice, either ordinary or glutinous, accompanied by a variety of dishes that can be eaten in almost any order, and seasoned to individual taste with several condiments such as fish sauce and chilli peppers. Most often, there will be a soup of some kind, coconut based appetizer soup known locally as Khao soi (or khao soy) featuring fried noodles, vegetables and regular noodles. Main courses which will be served on a large wooden tray and consists of many dishes including a curry, a steamed/sticky rice or fried dish, a salad, and one or more basic sauces. Desserts may consist of fresh fruit or one of the many traditional Thai sweets(banana coconut milk rum like dessert is very popular out of it, recipe follow in next post). A century ago, meals were eaten by hand, pressing the rice into the little balls; today a spoon and fork are used for eating rice, while chopsticks are used for Chinese-type noodles.
Recipe Source :- Adapted from here
Ingredients
Veg Noodles packet (Lo Mein also works well) – 1-8 oz Packet
Fresh Bean Sprouts – 1-1.5 Cup (I Use Mung or Soy Bean Sprouts and reserve few for garnish)
Chopped Veggies – 1 Cup
Firm or Extra Firm Tofu – 1/2 Packet (7 oz)
Tamarind Juice – 2 Tbsp or 1.5 Tbsp tamarind paste
Brown sugar – 1 n 1/2 Tbsp
Red Chili Sauce or Chili Powder – 1-2tsp
Soy Sauce – 2 Tbsp (Plus another 1 Tbsp to add at final stage)
Seasame seeds – 1/2 Tbsp
Salted Peanut – 1/4 Cup
Oil – 3 Tbsp
Pepper Powder – 3/4 Tbsp
Basil or Mint Leaves – To Garnish
Salt – As Needed
Method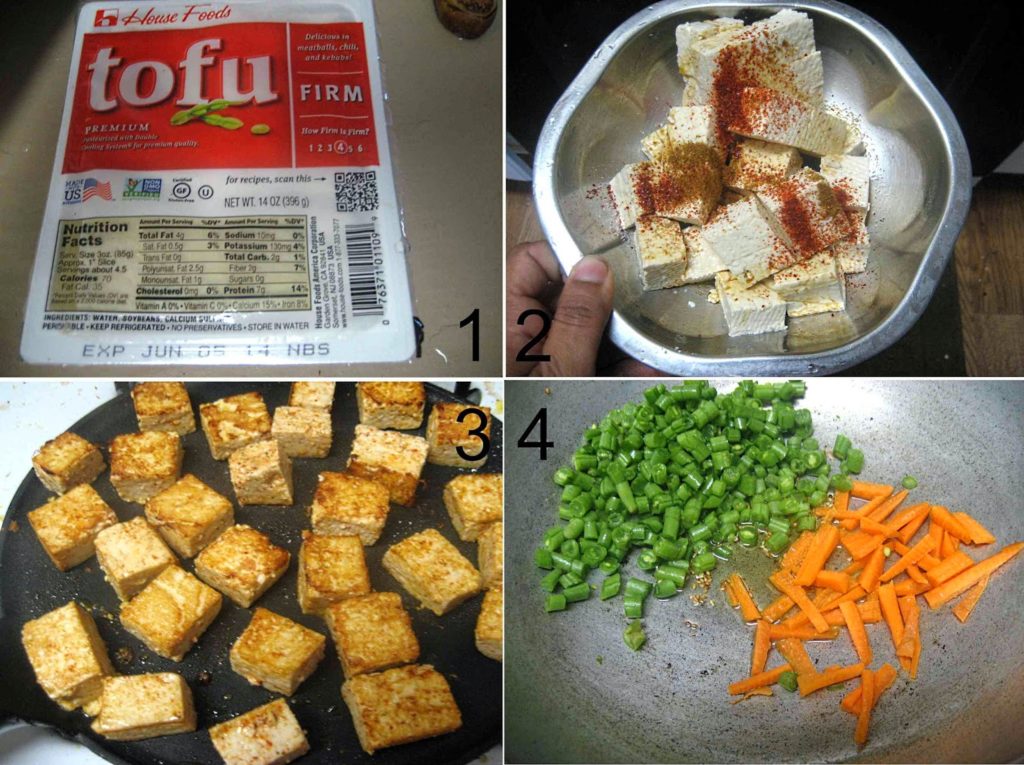 Cube the extra firm tofu and marinate with 1tsp of red chili powder, 2tsp soy sauce, 2tsp corn flour, optional salt and 1/2tsp garam masala powder for 30 minutes at least (Pic 2).
Meanwhile Cut the carrot to very thin finger size strips and beans in to thin rounds.
In the dosa pan drizzle oil and on low to medium flame fry the tofu for 8-10 minutes(Pic 3).
Now and then flip the sides of tofu for even cooking.
In a wide pan add 2 tbsp of oil allow sesame seeds to crackle.
Now add chopped veggies, saute till 1/2 done (Pic 4 ).
Now add tamarind sauce(Pic 5) and cook for another 3-4 mins in low-medium flame.
Meanwhile cook the noodles as per instruction, some packets don't have cooking time in that case cook in well boiled water for 3- 4 minutes or till noodles turn soft and tender (Pic 6).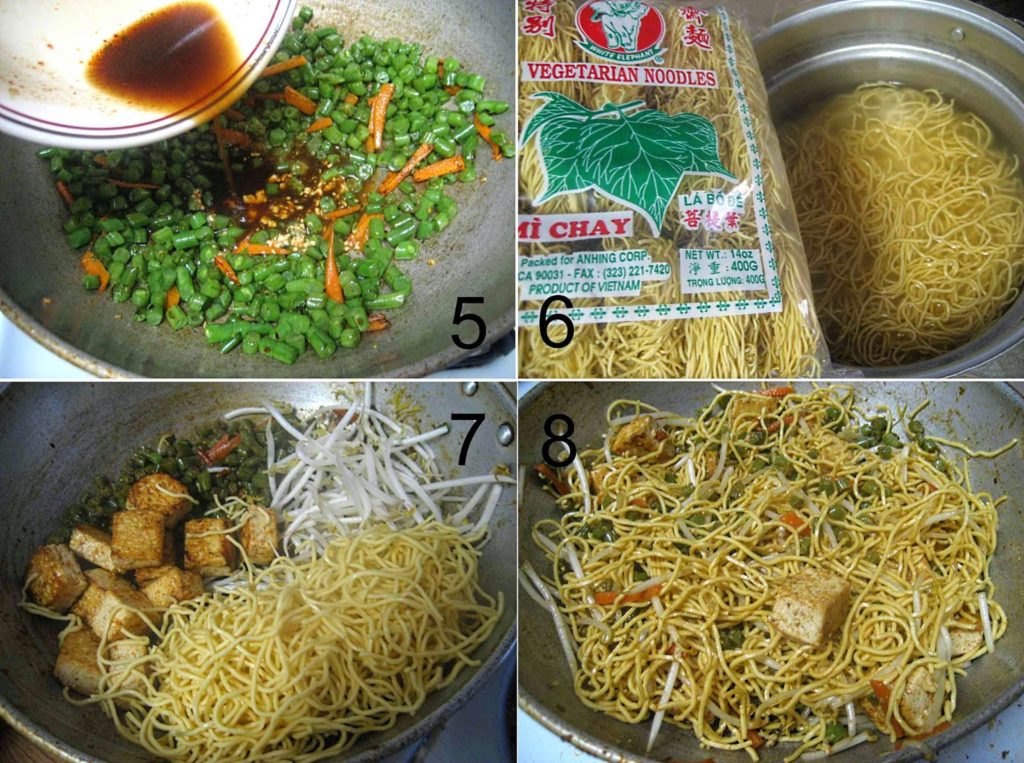 Drain the excess water and keep aside.
Add pan fried tofu (reserve few), cooked noodles, half of peanuts and sprouts(Pic 7), give a gentle stir(Pic 8).
Finally adjust with soy sauce and chili powder for taste.
How to Serve
In the plate add the fried noodles stuff, top it with reserved tofu and sprouts.
And then garnish with Basil or Mint Leaves and reserved/crushed peanuts.
North Thai Cuisine Recipe Collection From Our Group Members!!!