Kuchi Kilangu Maravalli Kizhangu Vadai is a crispier vadai / crispy yuca fritters and using tapioca root I already came out with yucca bonda, a soft version and now its time to post the crispier version . Yucca has many health benefits on its own, which is widely used/available in all countries. Usually I do this fritters / vadai by grinding yucca + soaked chana dhal with some spices. Recently we had family friends get together and our neighbor prepared this version of vada, so I got this idea from them and adapted it to kids friendly one. For this vadai you don't need to add onion/ ginger/ garlic, a very simple and tastier version which can be prepared in jiffy for unexpected guest at home…This is the first snack my little son tasted on his own 🙂Ingredients for Kuchi Kilangu Maravalli Kizhangu Vadai
Yucca/Maravallikilangu – 1 Number (Large)
Whole dried Peanut – 2-4 Tbsp (As Needed to roll the vadas)
Red Chili Powder – 2 tsp
Chopped Curry Leaves – Few (Optional)
Salt – As Required
Oil – To deep Fry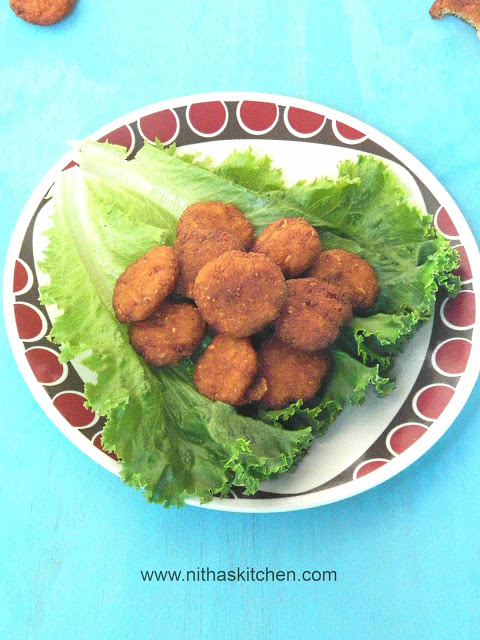 Method for Kuchi Kilangu Maravalli Kizhangu Vadai
Dry roast the peanuts till light brown.
Cool and grind to bit coarse powder.
Remove the outer skins and shred the yucca.
For easy peeling soak yucca for at least 30 minutes (optional).
Squeeze the excess water from shredded yucca.
Mix all powders, salt with yucca .
Roll to round balls and flatten with your palms as we do for vadas.
Otherwise make desired easy shapes you like.
Fry in hot oil till golden brown and drain the excess oil.
Have it with hot tea/coffee.
Once done shredding yuca / kuchi lilangu its a mandatory to squeeze excess starch otherwise the vadai batter turns watery.
If there is peanut allergy then try adding coarsely crumbled corn flakes or gram flour and do make vadai out of it.