Basbousa is a semolina cake popular in the Middle East as well as the countries along the Eastern Mediterranean shores. The cake itself is not too sweet but it is soaked with a sugar syrup scented with rose water. Today I am going to share Eggless Basbousa Rava Coconut Cake , It is very easy to prepare and the best thing is that you can make it a day before and serve it as a no-
fuss dessert. This recipe is off to Priya sis Home Bakers Challenge, thank you Nupur for the wonderful recipe suggestion…
Recipe adapted from here
Pressure Cooker Method
In my moms place during our summer vacation, I baked this cake in pressure cooker for 50 minutes in low flame. I used our farm fresh butter and it tasted yum,  everyone liked this rava cake. For step by step pressure cooker cake baking instructions do refer
Tea Kadai Pressure Cooker Cake Recipe OR
Rose Flavored Pressure Cooker Cake Recipe
Semolina Cake Ingredients
Coarse Semolina – 1½ cups (293 gms)
Fine Semolina – ½ cup (93 gms) (Just powder the coarse one)
Sugar – ⅔ cup (133 gms/10.66 Tbsp)
Yogurt – 1 and 1/4 cup
Unsalted butter (melted) – 1 Stick/8 Tbsp
Baking powder – 2tsp (10 mL)
Dessicated or shredded coconut – 1 Cup (I use 3/4th cup fresh coconut)
Vanilla extract or essence – 2 tsp (10 mL)
Almonds or Cashew nuts as needed
(If you wish you can add 2 Eggs for this recipe)
Sugar Syrup
(Original recipe calls for 2 cups each i reduced the sugar as mentioned below)
Sugar – 1 cup
Water – 1 cup
Lemon Juice – 2tsp (10 mL)
Rose water – 1 tsp (5 mL)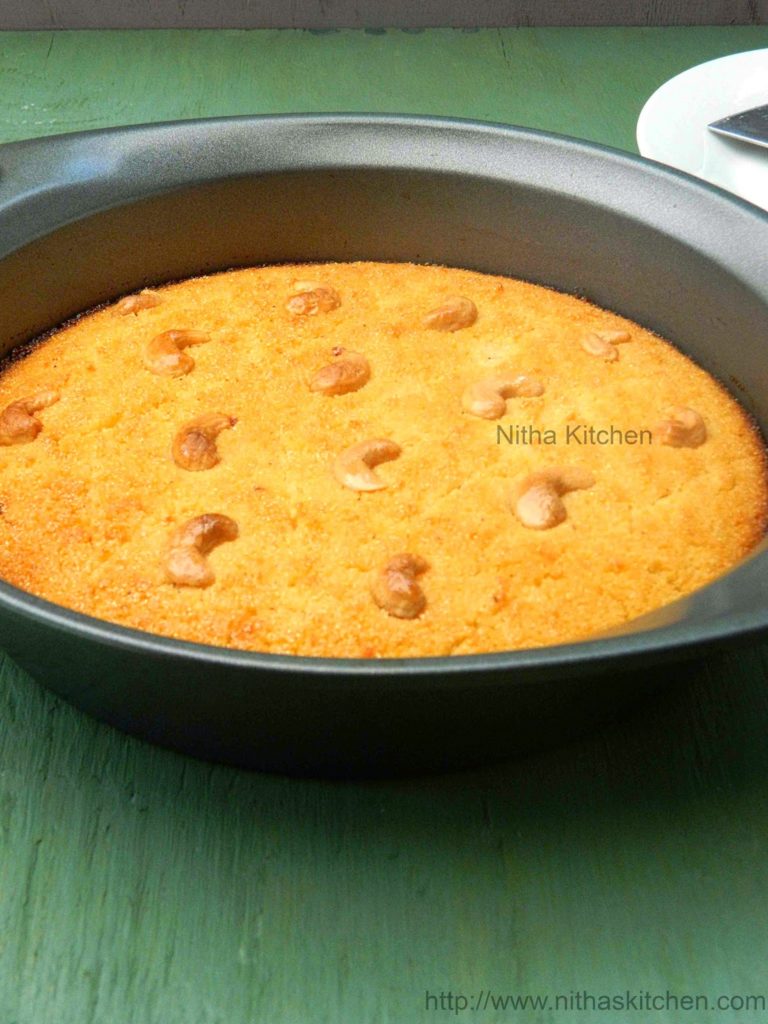 Eggless Basbousa Semolina Cake Preparation
Combine the sugar, water and lemon juice, boil for 10 minutes.
Add the rose water and stir well.
Boil the almonds (if using) for 1 minute and then rinse with cold water. Slip the skins off.
Combine all the ingredients dry ingredients with coconut for the Basbousa and mix well (Pic 1).
Gradually add melted butter (Pic 2) and then yogurt.
Once you add yogurt the batter starts foaming,
Just immediately transfer the batter to a 9″x13″ (23cm x 33cm) or 9″x9″ buttered baking pan (Pic 3).
You can use either rectangle or round cake pan.
Level the batter then refrigerate for 1 to 2 hours.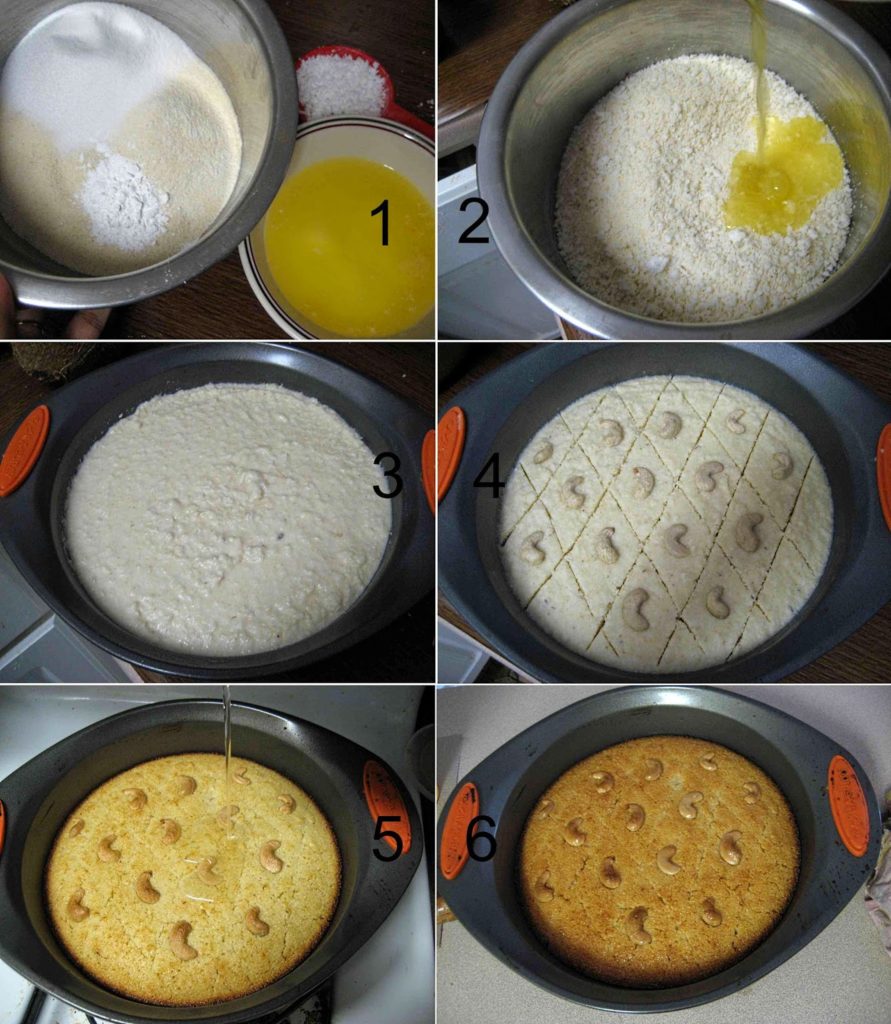 When it is well chilled score the basbousa into desired shapes (Pic 4).
Place the blanched almonds/cashew (if using) on top of each square or diamond shape (Pic 4).
Bake in a preheated oven for 30-35 minutes at 380°F/193°C.
Pour the syrup on top of the hot basbousa (Pic 5) then bake again for another 15 minutes (Pic 6).
Cut along the score lines and let it cool completely before serving (Pic below).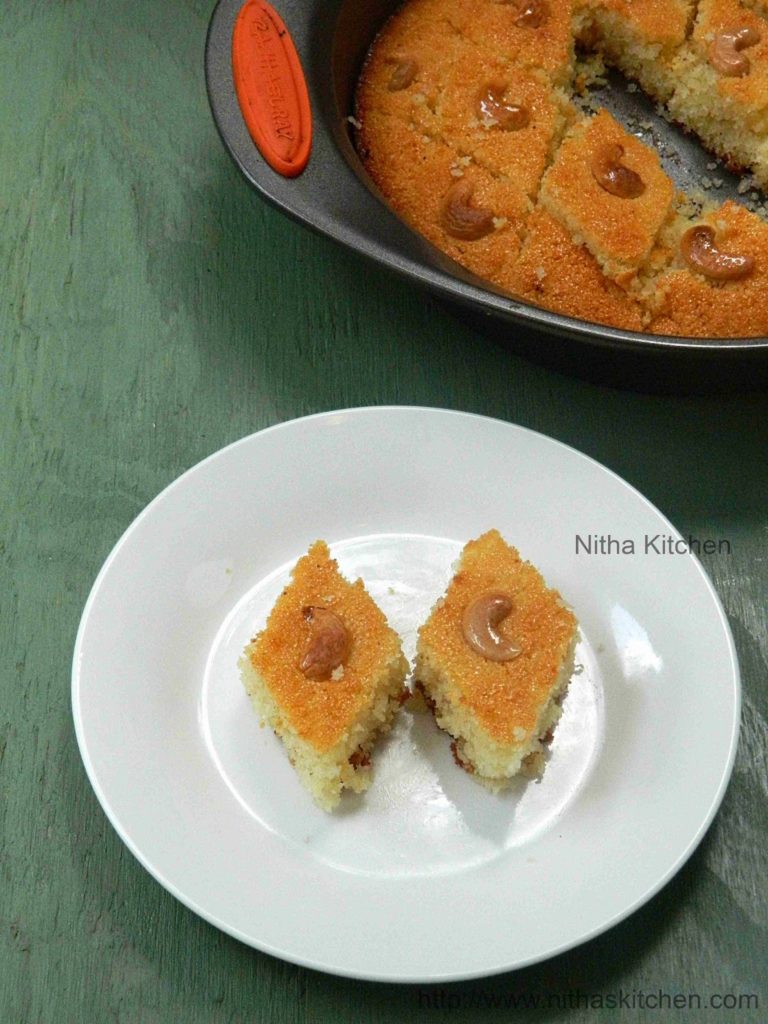 Note:
You can add eggs, increase coconut, sugar syrup or butter but the reduced version above worked well for me…I made this eggless basbousa rava coconut cake 3 times before posting here…