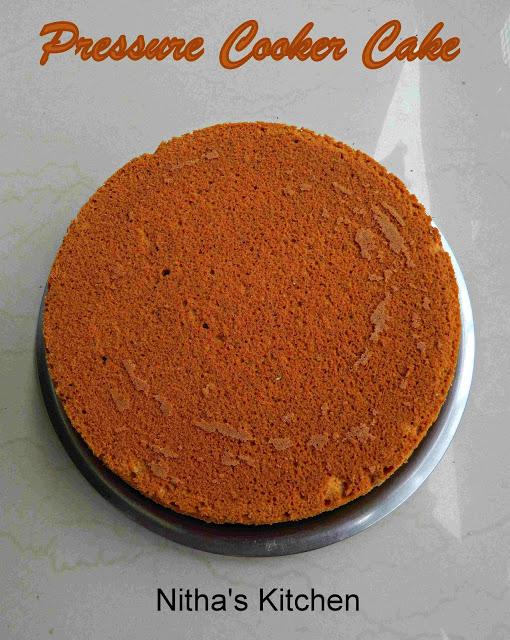 Tea Kadai Pressure Cooker Cake with cardamom flavor is more popular in village side shops / peti kadai . I have not added any cream or fantasy to this cake, with simple ingredients made this Pressure Cooker Cake Tea Kadai Cake recently. Today is my son's 2nd birthday and he loves this cardamom flavored cake to core. Two days back we returned from long vacation
, kids are sick with cold, so i am not making anything special today. During our long vacation I made this cake several times in pressure cooker at mom place and before that I baked it in the oven to keep him comfort during our weekend/long trip. Luckily this was his 1 day food in flight as he was not comfortable with flight provided foods. Not only kids friendly look my grandma nearing 100yrs also enjoying this cake :-). Let's move on to the recipe in detail.
Ingredients for Tea Kadai Pressure Cooker Cake 
APF/Maida – 2 Cups
Egg – 3 Number (Large)
Butter – 3/4th Cup or 12 Tbsp (Room Temperature)
Whole Cardamom  – 5 Numbers
Powdered Sugar – 1 Cup or more
Milk – 3/4th Cup or as needed
Baking Powder – 2tsp
Pure Vanilla Extract/Rose Essence – 1tsp
Salt – 1/4tsp
How to make the cake batter
Dry roast the whole cardamom, discard the skin and powder the seeds along with 1/4cup of sugar Pic 1.
Separate egg yolks and whites (Refer Note).
Mix dry ingredients like Flour, baking powder and salt in a separate bowl.
In a wide bowl/pan beat butter and remaining 3/4th cup powdered sugar Pic 2.
When butter and sugar creamed well add yolk one at a time and preserve egg whites in separate bowl Pic 3.
Now add the powdered cardamom + sugar mixture, vanilla extract and whisk well.
Add the dry ingredients (flour mixture) in batches.
Give nice stir on each addition to prevent lumps.
After 1 or 2 addition of flour add half quantity of milk.
Alternate flour and milk in batches, by starting with flour and ending with milk.
Now whisk or use pulse mode in mixie/blender and beat the egg whites Pic 4.
Check my video to whisk egg whites using hand whisk if desired.
Fold the whipped egg whites at last Pic 5.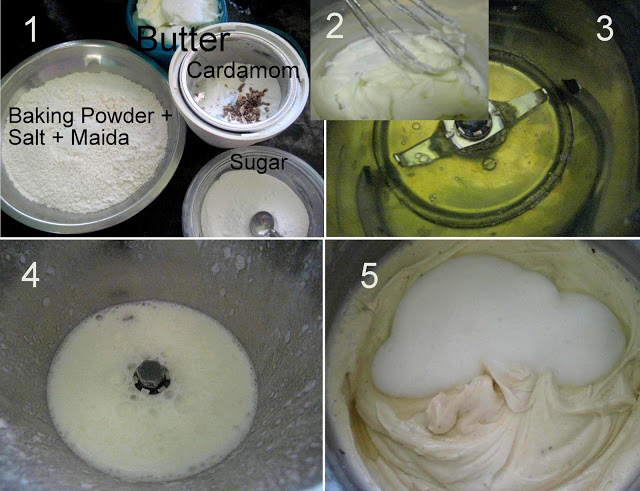 How to bake the cake in Pressure Cooker
Preheat the cooker for few minutes Pic 6.
Grease the cooker/cake pan with butter + Flour or Ghee + Flour Pic 7.
Pour the batter in to the pan and tap it before placing inside cooker Pic 8.
The heat should be constant and in between you can slightly adjust low to medium, but not more than that.
Place the pan inside the cooker, remove the gasket and whistle maker from the lid and close it.
The above quantity will take approx 35-40 minutes to bake perfectly Pic 9.
Its not necessary to switch off the flame when wooden sticks inserted at center comes at clean, you can switch it off a bit earlier ie when it sticks lightly and the heat in the pressure cooker makes it perfect.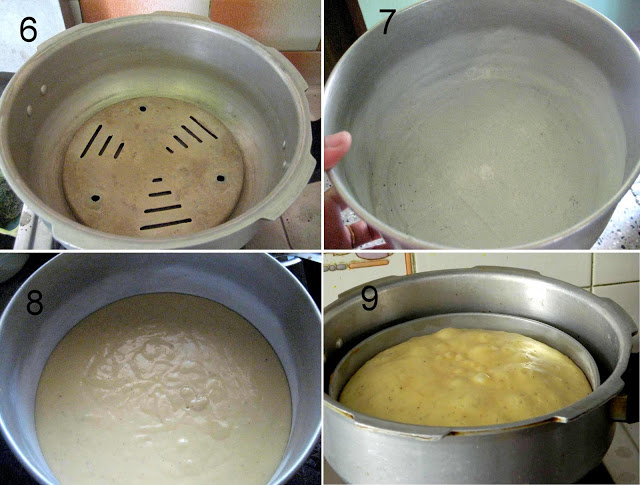 Let it be in pressure cooker for another 15-20 minutes after removing from heat.
If using oven bake at 350°F for 20-25mins.
Drop the cake over plate and slice it.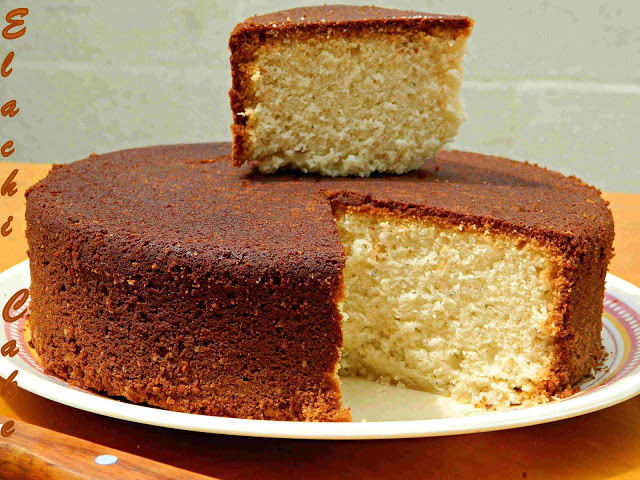 I greased the cake pan with ghee for the above cake and used butter+flour for the first one.
Notes:
Its hard to separate the yolk and whites when bought fresh eggs from stores and not refrigerated, so refrigerate the egg for while before separating.
Can skip cardamom flavor and increase vanilla flavor.
Baking Powder is available in all local shops.
You can add tutti frutti as well.
I usually grind cardamom to bit coarse and sometimes with outer green layer.
Even the batter ie tap before start baking otherwise center takes long time to cook.