A bunch of amaranth leaves has loads of vitamins and dietary minerals, specifically well in Iron and thiamine. Simple stir fry but double nutritious when cultivated from own organic land and today I am going to share few pictures off course. You can make siru keerai poriyal by mixing dhal along with this leaves (Check out my recent Murungakeerai/drumstick leaves toor dhal stir fry recipe) or as Masiyal/keerai kadaisal (click here).
Ingredients
Amaranth Leaves – 1 Bunch
Red or Green Chili – 1 -2 Numbers
Chana Dhal – 2tsp
Urad dhal -2tsp
Mustard seeds – 1/2tsp
Shredded Coconut – 2-3 Tbsp
Sambar Powder – 1/2tsp (Optional)
Onion – 1 Number (Medium Size)
Salt and Oil – As Needed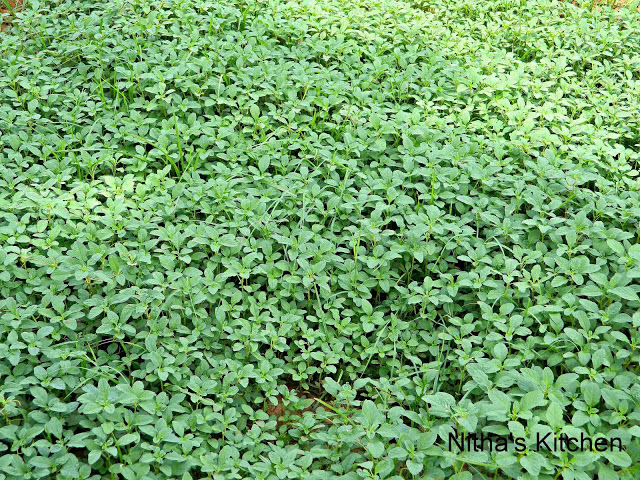 Siru Keerai Poriyal Preparation
Pick the edible parts of amaranth leaves.
If soft and tender you can add few stem parts as well.
Soak in water for at least 5mins and rinse it 3-4 times.
It leaves lot of water while cooking and become tender quick, so u no need to chop it tiny and make sure to drain excess water.
Heat oil in a wide pan, temper mustard seeds followed by chana and urad dhals.
When dhals turn golden brown add chopped onion and chilies.
Add sambar powder, cleaned green leaves and saute till all moisture evaporates out.
If liked to add cooked dhal, add at this point.
Finally add shredded coconut and salt.
This stir fry accompanies well with White Rice, Sambar and Rasam.
Short Note on How to cultivate Siru Keerai
Wet the soil (can grow in small pot too) and sprinkle amaranth seeds all over evenly.
Daily wet the soil and after few days you can see leaves budding all over.
Apply appropriate water and use fertilizer(optional) for good growth.
I have shown 12 days old plant picture and fully matured one below.
Harvest at right time 🙂