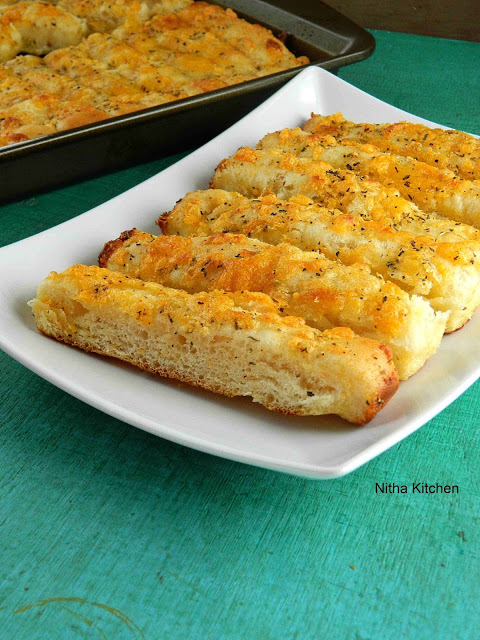 It's quite longtime dream to make Cheese Bread Sticks From Scratch at home. I didn't know this is such an easy to make appetizer for parties when you make the dough in bulk. This is such a wonderful finger food which I realized after the first bake. My kids like it very much, it's better to serve warm and they even love to take them to school. Coming to cheese part you can reduce or add more and the quantity mentioned here is bit more than medium…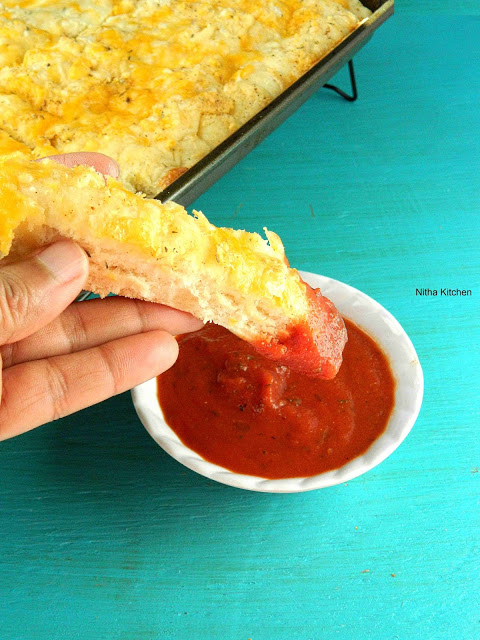 Ingredients For Cheese Bread Sticks
Bread Flour – 3 Cups (You can use unbleached or regular APF flour)
Active Dry Yeast – 1 Tbsp (If using Instant yeast then 2tsp is fine)
Warm Water – 1 Cup + ( 1 Tbsp if needed)
Olive Oil or Canola Oil – 1 Tbsp
Sugar – 2tsp
Kosher Salt – 1tsp
Milk Powder – 3 Tbsp
Shredded Mozerella Cheese – 2 Cups ( I added 1/4 cup of sharp cheddar to it)
Garlic Powder – 1/4tsp
Butter – 3 Tbsp
Cheese Bread Sticks Seasoning Ingredients
Butter – 3 Tbsp
Salt – 1/4 tsp
Italian Seasoning Mix – 1 tsp
Oregano – 1 tsp
Dry Basil – 1 tsp
Garlic Powder – 1 tsp
Parmesean Cheese – 2-3 Tbsp
I use 15LX10W Inch Cookie Sheet or Baking Pan
Yields 24 sticks as shown in pictures.
Cheese Bread Sticks Preparation
In 1 cup lukewarm water add the yeast, sugar and allow to sit in warm place for 5 minutes or till it becomes frothy.
Meanwhile mix flour, salt, milk powder and garlic powder in a wide mixing bowl.
Now add the yeast mixture and either use electric mixer or knead by hand till the whole turns in to a soft ball.
Now add oil and keep kneading for 5 more minutes, if needed you can sprinkle more water.
Grease the cookie sheet with 3tbsp of melted butter, I have used parchment paper over the sheet so i greased the parchment paper with butter.
Lightly roll the dough lengthwise and using hand evenly spread the dough over the cookie sheet as shown in step wise Picture 1 below.
Cover the sheet or baking pan with cling wrap and place it in warm place for 90 minutes, so the dough will rise.
Meanwhile you can shred the cheese and the shredded cheese can be refrigerated till use (Pic 3).
After 90 minutes (1 and 1/2 hours of time, score the dough using pizza cutter or knife in to equal slices, I did 14) and divide them row wise in to 2 as shown in Picture 2.
Now melt 3 tbsp butter and add the remaining ingredients specified in seasoning list in a bowl spread for the bread sticks (Pic 3).
Apply over the scored dough (Pic 4).
Preheat the oven to 425 F and then reduce the temperature to 400 F and bake the bread sticks for 6-7 minutes, now add the shredded cheese and keep baking for another 6 minutes or till you get bubbles out from the cheese (Picture below).
Once done let them cool for a while then slice and serve hot.