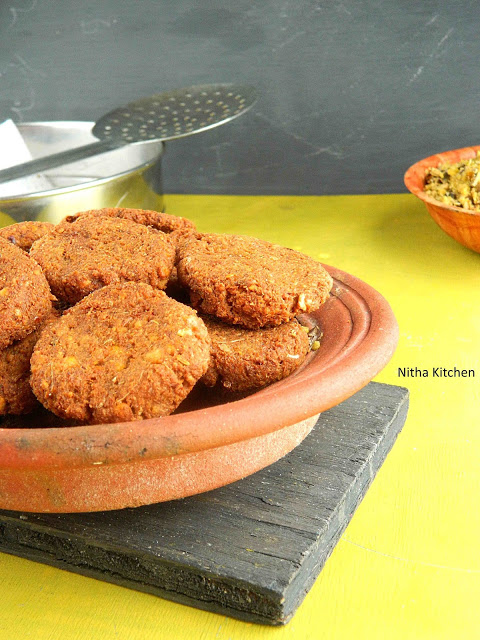 This is how my mom and relatives around Kongu region make vazhaipoo masala vadai. They make a ground paste of onion, garlic and ginger with cinnamom and cloves and then they mix it with dal and fresh vazhai poo to make vadai. I will explain two version of making either you can add the vazhai poo directly in jar to blend or pressure cook and then blend to fine paste. The only difference is the raw pound vazhai poo gives some fiber here and there, my dad won't like that so my mom usually pressure cooks and when cooled they grind it to fine smooth paste. If you feel cooking vazhai poo is time consuming then do directly.

Ingredients
Fresh Vazhai Poo (Banana Blossom) – 1 and 1/2 Cups
Chana Dhal/Vadai Paruppu – 3/4th Cup
Salt and Oil – As Needed
Chopped Coriander n Curry Leaves – Few
To saute and grind Shallots  Or Small Onion – 1/2 Cup
Cinnamon and Cloves – 2 Each
Fennel Seeds – 1tsp
Garlic – 5 Numbers
Ginger – A Small Piece
Whole Red Chili – 1-2 Number (Or more)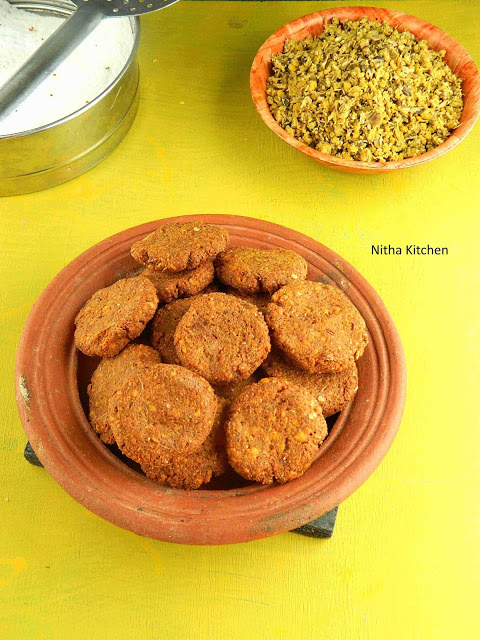 The Banana tree with flower clicked in our garden.
Vazhaipoo Masala Vadai Preparation
Soak dhal for at least 2hrs, drain the water completely and keep aside.
Clean the odds from the flower and keep it ready to cook Pic 1.
Click this vazhaipoo poriyal link to know, how to remove the odds from flower.
If going to add vazhai poo as it is without cooking skip the next three steps.
Pressure cook the vazhai poo for 2 hisses or on stove top for 5-8mins.
Make sure to add sufficient water till the flowers immerse.
You can also chop and cook but I added it as whole.
Fry the ingredients to fry with 1 Tbsp of oil in a wide pan/kadai till onion changes golden brown (Pic 2).
Grind the soaked and water drained dal, fresh or cooked vazhai poo and sautéed onion mixture all together to coarse texture after they are well cooled.
All the blended pastes should be thick (Pic 3) and don't add water at any point.
Add salt and if the vada dough is not up to the consistency sprinkle few gram flour and adjust it.
Now make small balls from the dough and press it using fore finger/palms to get vada shape Pic 4.
You can roll it thick or thin as you like, thin gives a crispy vada.
Fry it in hot oil till golden brown Pic 5.
Drain the excess oil using kitchen napkin before serving it.
Few more steps using quick version (no cooking of banana flower)
Stepwise Picture Explanation…
1) Drain the excess water from banana flower and from soaked chana dal.
2) Grind them all together like soaked dal, flower and sauteed onion mixture.
3) Make it coarse like shown in Pic 3.
4) Transfer the vada bater to a bowl, adjust salt and spice right now, you can add some chopped coriander, mint leaves, onion or green chili as you wish.
5) Make shapes thin or thick as you wish and drop in hot oil 5-8 at a time.
6) Once done drain excess oil using paper towel and enjoy with hot tea or coffee.
Notes
You can increase chana dhal for this vazhai poo quantity.
You can reserve few soaked chana dhal and mix it with vada dough at final stage and before frying it.