Savory sandwich buns or rolls topped with coarse salt and caraway seeds. These rolls are great for sandwiches and even burgers. Kummelweck Kimmelweck means a hard roll, much like a crusty Kaiser roll, but sprinkled with caraway (I replaced with kalonji seeds) and coarse salt instead of poppy seeds. In Buffalo, New York, these rolls are used to make a specialty sandwich called the "Beef on Weck", with thinly sliced rare roast beef and horseradish and it is typically served with fries and a dill pickle. Here I made it as burger buns by warming the cut edges with light butter then topped with Bean Patties(yet to post), Salad leaves and sliced Tomato. Thanks Aparna for introducing me to this rolls…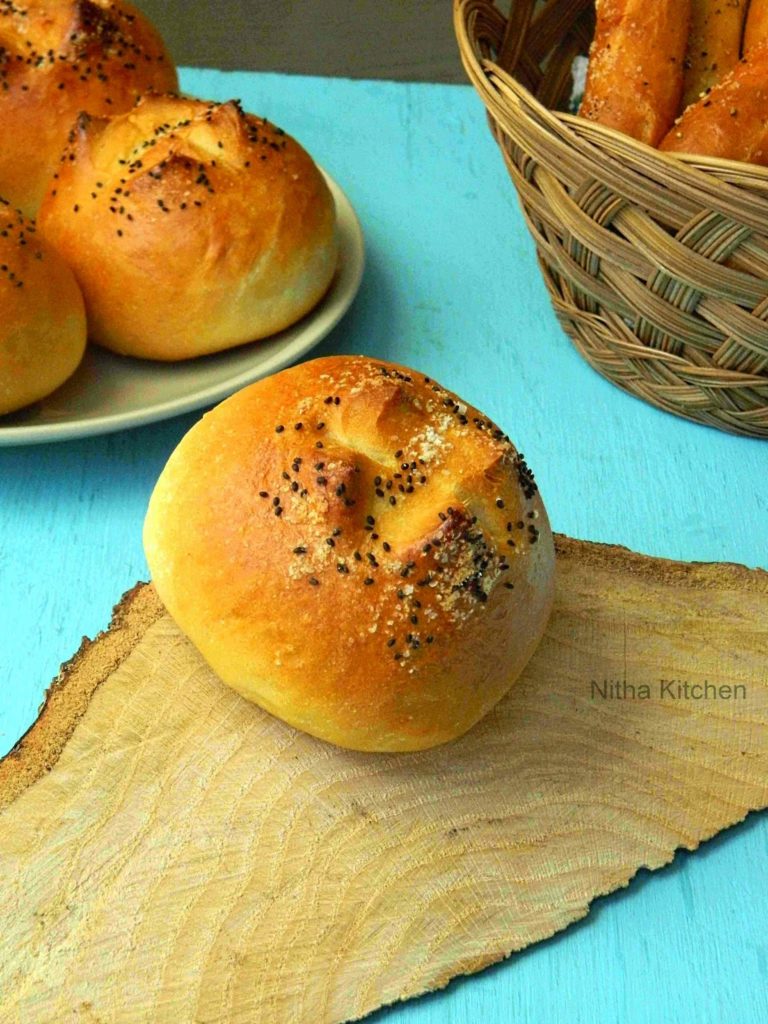 Recipe Adapted from Here
Ingredients
*Bread Flour – 3 to 3 1/4 Cups
Active Dry Yeast – 2n1/2tsp
Warm Water – 1/2 Cup
Warm Milk – 1/2 Cup
Oil – 2 Tbsp
Honey – 1 Tbsp
1 egg white (Optional)
Salt – 1n1/2 tsp
Egg wash (Optional)
Coarse sea salt and caraway seeds
*To substitute for bread flour add 1 tbsp of vital wheat gluten to 2 to 3 cups of all-purpose flour.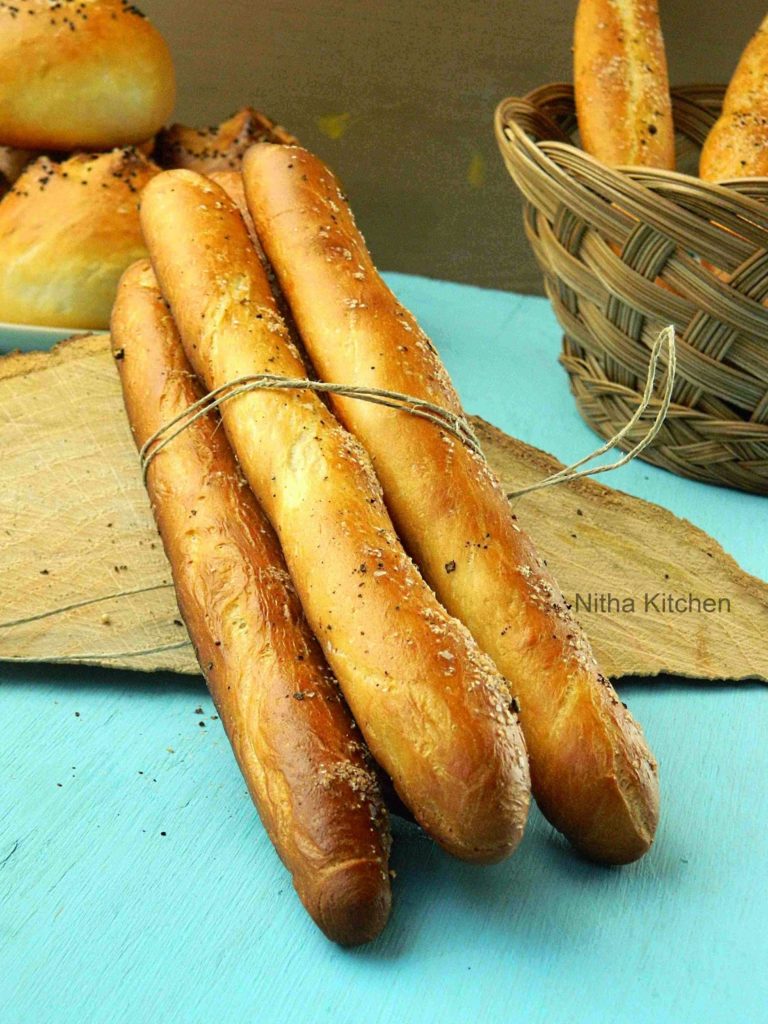 Method
Mix together the warm water and the warm milk and stir in the yeast.
Let it sit aside for about 5 minutes. Knead by hand or with the machine.
In the bowl of your machine, combine the yeast mixture, oil, honey, the egg white and stir.
Now add the salt and about 2 1/2 cups of flour and knead, adding as much more flour as required till you have a smooth and elastic dough that is tacky but not sticky.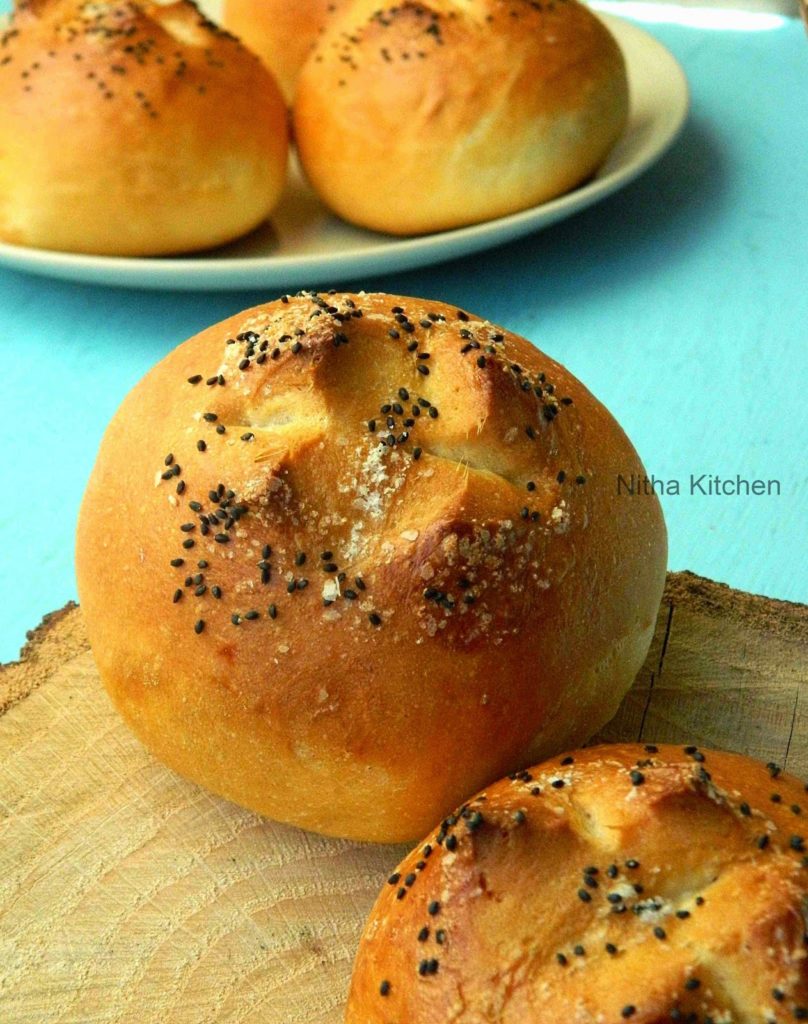 Shape the dough into a ball, and place it in an oiled bowl.
Cover loosely with cling film and let rise for about an hour, until it is almost double in volume.
If making salt and pepper bread sticks take 1/3rd of the dough (240 grams approx) i mean single rise is enough.
Deflate the remaining 480 grams (approx) of the dough well (not kneading), shape into a round and and allow it to rise, covered, for 30 minutes more.
Meanwhile you can make the salt and pepper bread sticks, refer below.
First 3 step wise pictures are Bread Stick Illustration, refer the recipe below…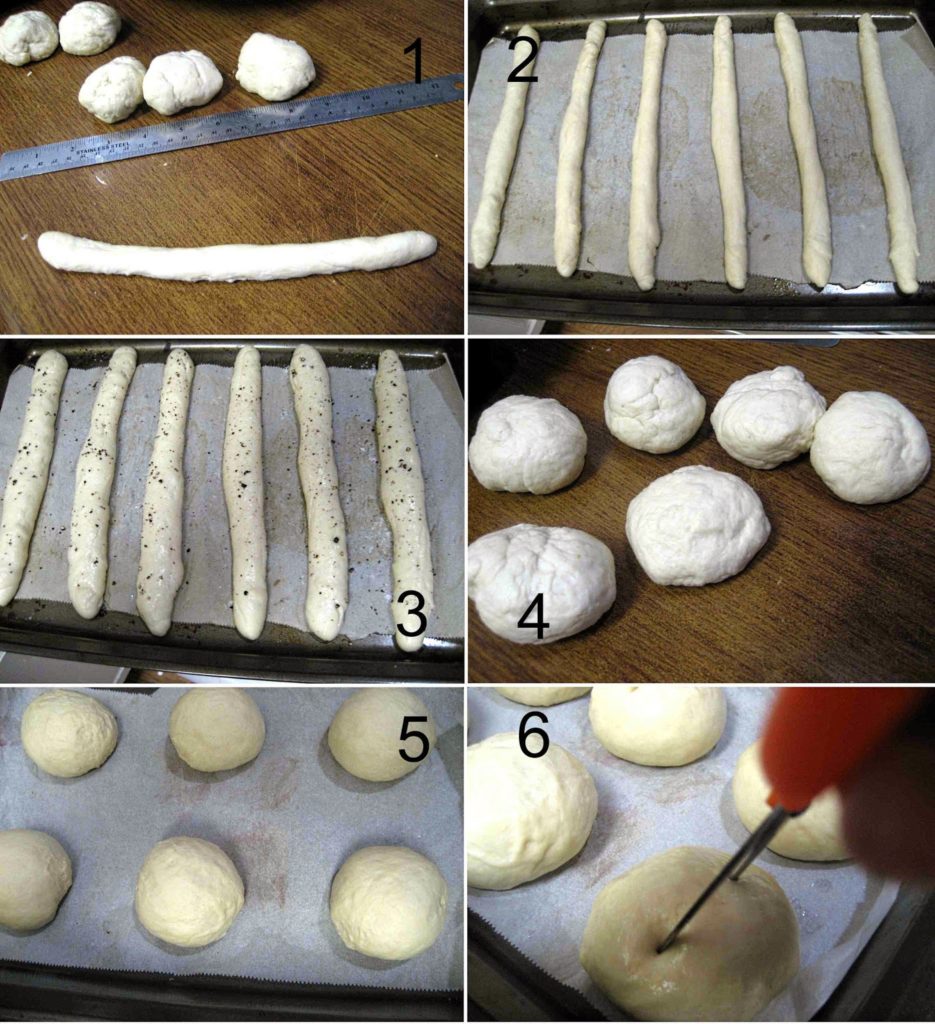 After 30 minutes divide the dough into 5-6 equal pieces (Pic 4) and shape each into a smooth ball, then slightly flatten it.
100 grams (approx) each makes a burger  bun but I used 80 grams each and got 6 buns (Pic 5).
Place them on lightly greased or parchment lined baking sheets (Pic 5).
Spray or lightly brush with oil, loosely cover and let the dough rise for 30 more minutes (Pic 5).
Brush with egg wash (or something else that will make sure the topping sticks when baking), then cut slits ( like an +) on the top using a sharp blade or scissors (Pic 6), Horiontal one cut and veritical one cut.
Sprinkle the top of the rolls with sea salt and Caraway/Kalonji seeds (Pic 7), and then mist with water.
Bake the rolls at 220º C (425º F) for 5 minutes and then quickly mist/spray with water again making sure you don't keep the oven door open for too long.

Bake for another 20 minutes or so until they are brown and done (Pic 8).
Cool on a wire rack.
For the Salt and Pepper Sticks
After the first rise, use the 1/3rd dough and divide the dough into 6-7 equal pieces (approx 40 grams each, Stepwise Pic 1).
Roll each piece out into a 10″ rope of even thickness and place them  1-1/2″ apart on the greased or lined baknig sheet (Pic 2).
Let them rise now. Apply the egg wash, but do not make any cuts.
Sprinkle with coarse sea salt crystals and coarsely ground or cracked black pepper (Pic 3).
Do not spritz with water and bake for about 15 to 20 minutes at 425º F.