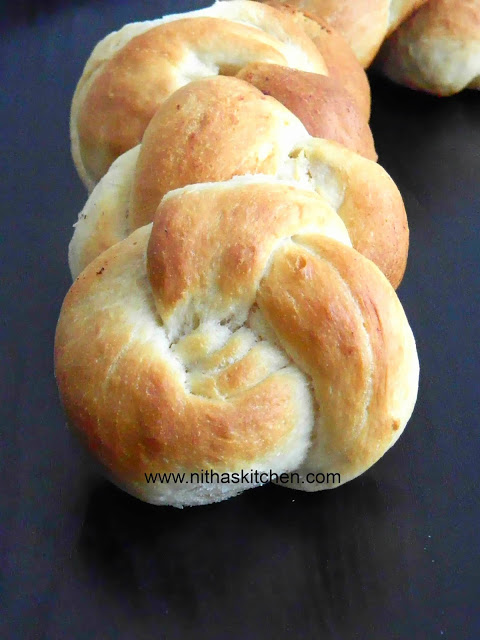 As Thanks giving Day is approaching and is meant for Dinner Rolls…I made these stuffed rosette dinner rolls recently for my Hubby's office party, half of the batch with potato stuffing and half with Non veg stuffing. I tried this rosette shape first during that time. Last week I made it again and the day was cloudy so I don't have better pictures anyway wanted to post as Thanks giving is approaching. I will update better pictures whenever I make it again. Before moving to the recipe let a short intro about Thanks Giving Day…. It's religious tradition celebrated in US and few other countries, In US the fourth Thursday of November (28th 2013) has been celebrated as a day of giving thanks for the products harvested (Corn/Pumpkin), to the family and of the preceding year…Few special dishes prepare and seeve on the meal table are Turkey, Pumpkin/Apple/Banana Pie/Tart, Bread/Dinner Rolls, Casserole etc.
Yields – 12-14 Large Stuffed Buns
Ingredients
All Purpose Flour/ Maida – 3 Cups
Rapid Rise Yeast – 2 n 1/4 tsp (One Envelope) *
Milk – 1 Cup + (2 – 4) Tbsp More
Butter (Softened) – 5 Tbsp
Salt – 3/4 tsp
Sugar – 1/2 tsp
Heavy Cream/Regular Milk – For brushing on the top of buns* If using Instant Dry yeast dissolve in luke warm milk and just add it to flour n other ingredients…
For Filling
Whole Potato – 2 Large Numbers
Red Chili Powder/Flakes – 1tsp
Garam Masala/Curry Masala Powder – 1 and 1/2 tsp (You get 5 mix Spice Powder/Curry Powder in Walmart also)
Oil – 1 Tbsp
Salt – 1 tsp
(If trying plain round shape, you can add onion,capsicum/sambar powder/green chili,fennel seeds, which enhances the taste and those large chunks are easy to stuff/roll in round shape, check the Potato Podimas recipe here)
Stuffing Preparation
Clean and cut the potato in to halves.
Boil with enough water (or Pressure cook for 2 hisses).
When cooled completely mash well without any lumps.
Heat oil, add red chili flakes,curry powder,salt and cook in low flame for another 5-8 minutes or till raw smell diaappears.
Dinner Roll Preparation
Add Flour,Yeast, sugar and salt, mix well (Here don't need to proof the yeast).
Add butter to luke warm milk and stir for butter to dissolve (Reserve 1/4 Cup Milk separately).
In a large bowl make a well in the center of the flour.
Gently add milk butter mixture to the flour.
Knead to soft pliable dough by sprinkling the butter milk mixture, if needed add the reserved milk also.
I divided the dough in to three and kneaded for about 5-7 minutes using hand.
Rest the dough in warm place for 45-60mins or till it doubles in size (Pic 1).
Roll to equal lemon size balls.
Flat it and keep the filling inside (Pic 2) and cover it up (Pic 3).
You can use milk to seal the stuffing but i didn't do so…
Again knead gently/rub with your palms, to make a log shape (Pic 4 – Step 1).
Roll gently otherwise the stuffing come out…
Now bend/make a knot as shown in (Pic 4 – Step 2).
Insert/bring one of the edge to top (Pic 4 – Step 3).
Bring the another edge to down (Pic 4 – Step 4)…
Place all the shaped buns in oven safe tray by leaving enough space in between (Pic 5).
If you keep it very close then they touch each other.
Again rest the shaped rolls for another 45mins to raise, cover the top with cling flim, in between for every 20mins once brush the top with milk (atleast 2 times before start baking).
Preheat the oven to 400°F and bake for 12-15mins or buns turn light golden brown (Pic 6).
Variations
You can make any shapes and any spice for the stuffing, for sweet version check the recipe here.
Check the video here to make this shape without any stuffing.