Assorted Homemade Dinner Rolls : As said before this is the egg based dinner rolls recipe for this month baking partenrs challenge. I actually tried this first and
Eggless
which I posted earlier did after this…So this is my very first experience of baking dinner rolls, very happy that I got the perfect shapes. Thanks
Swathi
for giving such wonderful assignment.
Ingredients
APF/Maida – 1 and 1/2 cups
Dry active Yeast – 1tsp
Salt n Sugar – 1/2tsp each
Butter (Softened) – 3 Tbsp
Egg – 3/4th n remaining I used for brushing on the top
Milk – 1/2 Cup
Homemade Dinner Rolls Preparation
In warm milk add yeast, sugar n salt, mix just to dissolve yeast.
In a largebowl add butter,egg and milk+yeast mixture.
Gently add flour mixture in batches.
Knead to soft pliable dough, if needed add more salt.
Rest the dough in warm place for 45-60mins or till it doubles in size.
Punch it, Knead well to release the air, then make desired shapes.
I have made 3 shapes out of it,
1) Kaiser or Rosette Shape
2) Clover Shape
3) Swirl Shape
I saw this video to make Clover/Swirl shapes and click here for rosette shape.
Otherwise just roll to simple round balls/buns.
After making shapes, grease the muffin pan with oil/butter and place the rolled buns.
Again rest the shaped rolls for 30mins to raise after that brush the top with egg+milk mixture and start baking.
Preheat the oven to 400°F and bake for 12mins or buns turn light golden brown.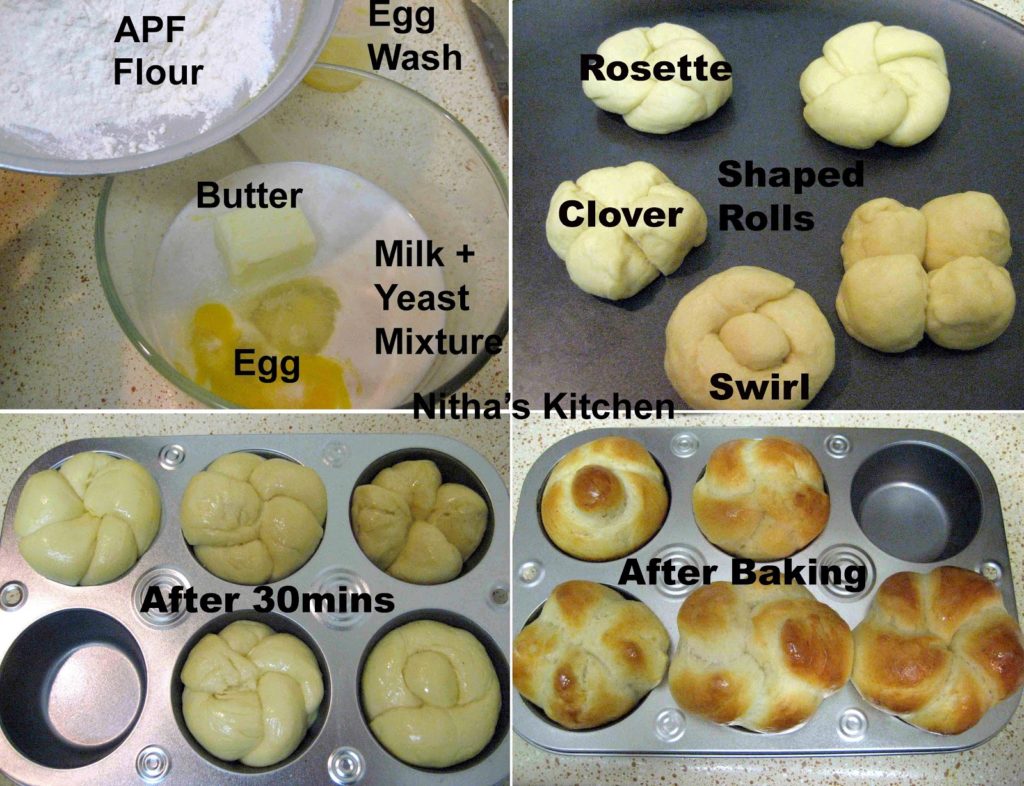 After taking out from oven, immd apply butter on top…
Have it with  ur favorite spread…
Note:
Clover shape usually needs 3 pieces but my first exp tends to place 4 pieces 🙂