I delayed posting non veg for the past 2 months becoz of Puratasi/Navrathri and other festivals…Sorry guys hereafter I will randomize my posts to cover all categories…This Chicken cutlet is my DH and DD favorite. On Sundays either this cutlet or Fish cutlet they like to have with Chicken Biryani, but I limit this deep fry for not more than 10 medium size cutlets :-).  This tasty cutlet is made with cooked/minced chicken, potato and onion with flavors of garam masala and ginger garlic paste. Will look in to the detailed recipe.
Ingredients
Bonelesss Chicken – 1 lb (Around 1/2kg)
Potato – Half (Large Size)
Ginger Garlic Paste – 2tsp
Onion – 1 Number
Garam Masala Powder – 2tsp
Red Chilli Powder – 1tsp
Turmeric Powder – 1/2tsp
Bread Crumbs – 2 Tbsp
Oil – For Deep Fry
Fennel Seeds – 1tsp (Optional)
Salt – As Needed
For Coating
Bread Crumbs  – As Needed
Egg – 1 Number
Pepper – 1/2 tsp
Salt – Pinch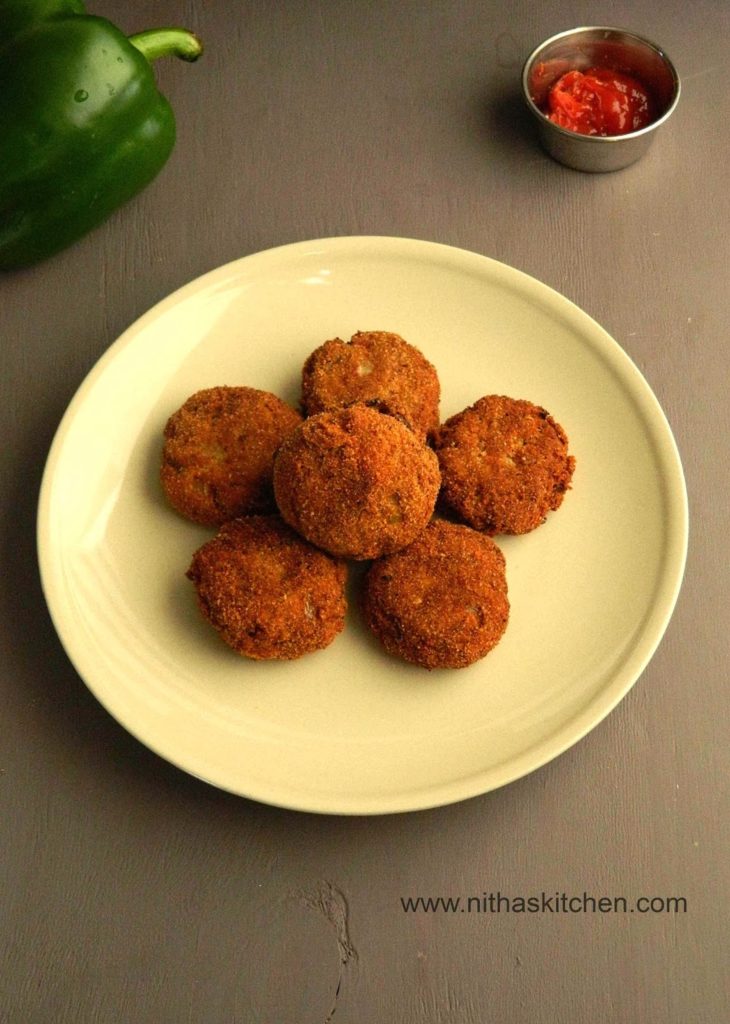 Method
Cut potato in to halves, Pressure cook for 2 whistles with required water.
Chop the chicken in to small pieces.
In a pan add Chicken, ginger garlic paste, 1tsp garam masala, turmeric, salt and cook till chicken turns tender.
If needed sprinkle little water and cook (don't overcook).
Cool the cooked chicken, take the cooked chicken alone and grind it finely with mixer.
Cut the onion, optional green capsium to very thin slices, add salt and squeeze the excess water.
Spread the bread crumbs in a plate.
Beat egg, pepper and salt to coat the cutlet and keep ready.
Add Ground Chicken, bread crumbs, 1tsp garam masala, Red Chilli powder, Mashed potato, onion, salt n fennel seeds, mix well.
If needed add finely chopped coriander or curry leaves.
Now roll the chicken mixture to round balls, brush it with egg mixture, don't dip in the egg mixture, just brush on both sides.

Now coat it well with bread crumbs, make atleast 4  before start frying.
Then heat oil and fry the cutlets till golden brown.
Notes
Egg brushing forms some bubbles while deep frying, nothing to worry its normal.
I used carrot/paneer grater to grate onion to thin slices.
If u have left over chicken juice, use it in gravies or biryani you prepare.
Make any desired shape.
I used homemade whole grain bread crumbs.