After few non bake recipes here comes a delicious Orange Blossom Brioche Rolls aka Buns. Broiche means a light, sweet yeast bread typically in the form of a small, round roll. Usually my kids like soft buns and they liked this mildly sweetened buns too. I halved the recipe and got 7 rolls/buns as shown in picture above. I have planned to post some other summer recipe since this recipe has to go on particular date I postponed it, definitely my next post will get publish in another 2 days without fail.
Recipe Adapted From :- Dominique_Ansel
Ingredients
Bread Flour – 2 Cups/ 280gms (1 Cup Bread Flour = Fill a cup with 1tsp of vital wheat gluten and remaining with All Purpose Flour/Maida)
*Eggs – 4 Large (I reduced 1 Egg)
*Unsalted Cold Butter – 11 Tbsp/153gms (You can go for reduced butter ie 7 Tbsp, i did so)
Whole Milk – 1 Tbsp/15gms
Granulated Sugar – 1/4 Cup/ 51gms
Instant Yeast – 2 ¼tsp (If Using Active Dry Yeast then take 3tsp)
Salt – ½ tsp
Orange Extract – ¼ tsp
Grated Orange Zest – From one medium Orange
Orange Blossom Water – 1tsp/5gms (Replace with rose water, then change the name to rose water brioche)
Non stick spray or oil as needed for greasing
All purpose flour or Maida for dusting
* If reducing egg and butter then adjust that with milk or water to get the right dough consistency, 2-3 Tbsp)
Orange Blossom Brioche Rolls Preparation
First Day Evening
Brioche Roll Dough Preparation
If using active dry yeast dissolve it in lukewarm milk for 2-3 minutes and keep aside.
In a mixing bowl, combine the bread flour, salt, sugar, yeast (instant yeast if using) and one egg and mix well using hand or if using stand mixer use dough hook.
It looks crumbly then add yeast milk mixture (Pic 1).
Add the remaining egg, milk, mix everything until combined (Pic 2), knead well so that it develop gluten may be 10 -15 minutes.
When it develops gluten the dough will leave the sides and it will pass the window pane test. ( when you pull a piece of dough you can extend the dough without breaking it, also you can make a see through sheet that is called window pane test).
Add cold diced butter, and mix again until all the butter is incorporated well.
Finally add orange extract, orange zest, orange blossom water and mix until everything is fully incorporated.
The finished dough should be smooth, shiny and sticky (Pic 3).
Proofing Dough
Lightly grease a medium bowl and transfer the dough to the bowl.
Cover with plastic wrap pressed directly on to the surface of the dough to prevent a skin from forming.
Proof the dough at room temperature for doubled in size, It will take about 1 ½ hours (Pic 4).
Remove the plastic warp and punch down the dough by folding.
Cover the dough again with plastic wrap pressed directly on the surface.
Refrigerate overnight in a zip-lock or air tight container of large size to relax the gluten.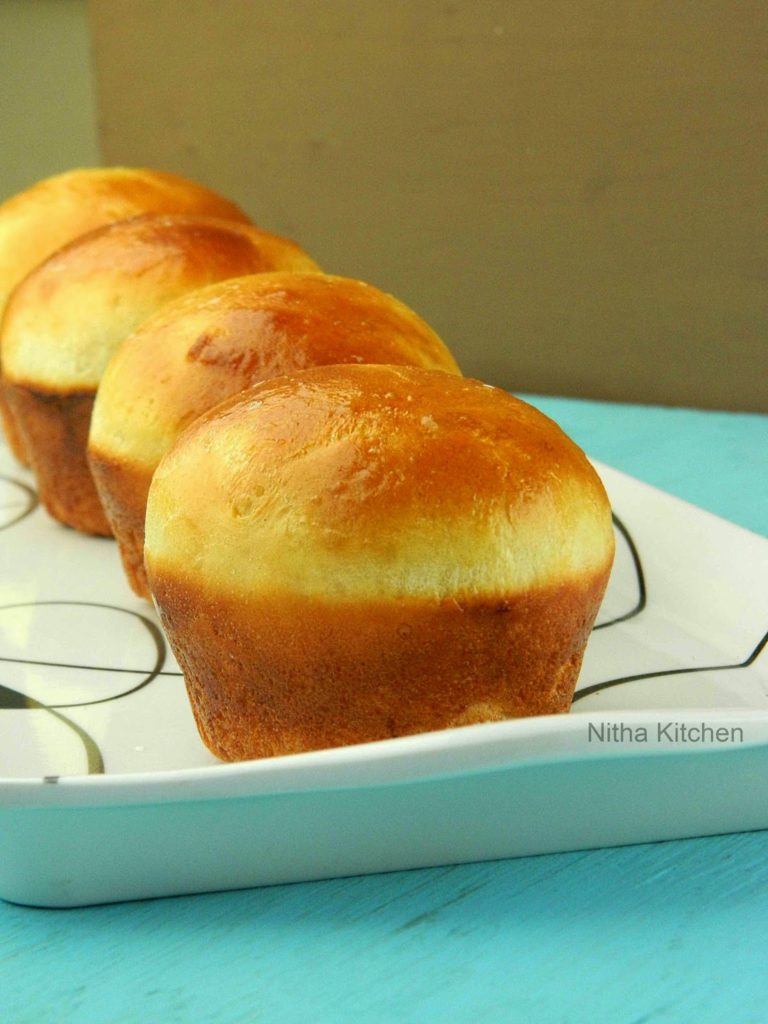 Next day
When you are ready to bake, transfer the dough to lightly floured area and divide the dough into small pieces of 50 grams each approx and shape it into balls/rolls or any shape you want.
If you using muffin tin grease them well and transfer the shaped balls (Pic 5), set aside for 30 minutes to 45 minutes until the rolls puffed up well.
While the shaped rolls are proofing preheat oven to 400º F/205º C.
Baking the Rolls
After 45 minutes, brush the brioche rolls with egg wash (Pic 6) and bake them(Pic 7) for 10 minutes or until they become golden brown in color.
When its out brush the top of buns with butter.
Leave the brioche for 5 minutes in the pan and carefully remove them.
These buns are good to taste as it is or you can add any spread/Jam.