I usually prepare carrot cake with egg. Last time I prepared an eggless version for my husband's birthday. So I updated with recent pictures.
Ingredients
All Purpose Flour Or Maida – 2 Cups ( Replace half with Wheat Flour)
Brown Sugar / Jaggery – 1/2 Cup
Regular Sugar – 3/4th Cup
Unsalted Butter – 1 stick (4oz/8 Tbsp)
Yogurt – 1 Cup
Baking Powder – 1 and 3/4 tsp
Baking Soda – 3/4 tsp
Salt – 1/4 tsp
Cinnamon Powder – 2 tsp (Powder cinnamon with sugar)
Milk – 1/4 Cup
Vanilla Extract -1 tsp
Carrot – 2 cups (grated/shredded)
Whipped cream for frosting.
Method
In a bowl add flour, Baking Soda, Baking Powder, Salt incorporate well.

In another large bowl add Butter, Brown Sugar, Sugar & Vanilla extract. Mix well.

Add Yogurt beat well with whisk.

Add Flour and milk batch by batch whisk until a smooth batter is formed.

Finally add Carrot and Cinnamon powder, stir well.

Take 2 round cake pans, butter the bottoms and sides, dust with flour or parchment paper.

Evenly divide the batter into 2 cake pans and gently flatton the top or tap it.

Bake for 30 mins at 350°F. Remove from Oven and allow the cakes to cool in the pan for 10 minutes.

Flip them out onto any plate and allow them to cool completely before frosting. Place one cake on a plate.

Add the whipped cream/frosting on top of the cake. Place second cake (face down) over the first cake,  frost top and sides evenly.
Decorate according to your taste (I used Blueberries on top).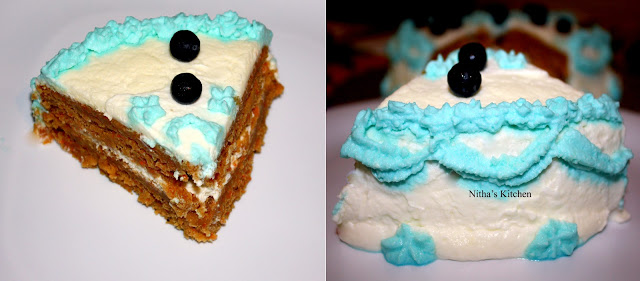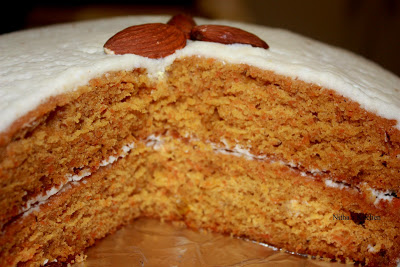 Note:
I have added less sugar, dessert lovers please increase a bit.

I have eggs based carrot cake video recipe with homemade spice mix, you can refer HERE