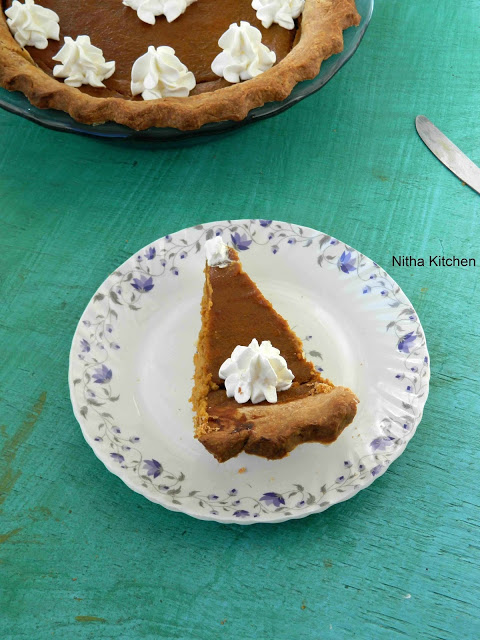 Traditional Pumpkin Pie Recipe : Its holiday season here, In grocery stores you can find ready to bake pie plates, pumpkin spices, fruit mixes, instant cake mixes, pumpkin puree and lot and lot of baking stuffs in a separate row for this holiday season. For holidays when kids stay at home they always needs something special. On Thanksgiving break their requests was so many, Pumpkin Pie, Turkey, so and so. Kids wish list is always vast they likes to carve Pumpkin, Light/decor the house, needs Christmas tree, wants snow so that they can build snowman, the list continues :-). Its hard to fulfill thier needs within a short span of time. I don't have courage to bake turkey anyways I intend to make pumpkin pie for them and I have chosed the traditional version with homemade pie crust. We are approaching another big holiday yup its none other than Christmas and New Year break, hope to come up with few more bakes soon….
If you are going to use frozen pie crust or graham cracker ready to use pie crust, you can directly go to the pie filling part…
How to choose Pie Dish/Plate
I prefer pyrex glass pie plate/stoneware or ceramic to bake pies for even baking and best result. Whatever the pie plate is, place the filled pie pan over a cookie sheet or over another pie pan or over a cast iron skillet before into the oven. That ensures even baking and easy to handle the pie dish.
Ingredients For the Pie Crust
APF – 2 + 1/4 Cup
Salt – 3/4tsp
Regular Sugar – 2tsp
Butter – 13 Tbsp (1 Stick + 5 Tbsp)
Sour Cream or Yogurt – 1/2 Cup
I have used 9.5 inch Plate. I already have the pie from scratch using reduced butter and yogurt combo, so I followed the same recipe with some changes. You need just simple ingredients to make this yummy and crispy crust. Let's see how to make pie crust from scratch….
Homemade Pie Crust/Pie Base
Shift flour, sugar and salt keep aside in a mixing bowl Picture 1.
Slice the cold butter stick like shown in stepwise Picture 1.
Add the butter in to the flour mixture and using fork or pastry or dough blender incorporate cold butter in to the flour (Pic 2) and at one stage the dough looks crumbly (Pic 3).
Now at this stage add yogurt  (Pic 3) and using hand, mix it gently and it looks like shown in Picture 4.
Sprinkle teaspoons of cold water to make it tight dough (Pic 5).
Cover with cling wrap and refrigerate it overnight or at least 3 hours or till the dough becomes firm (Pic 6). Meanwhile you can prepare the pumpkin filling.
Mine is 9.5 inch pie plate, So measure your pie plate and roll the pie dough accordingly (Pic 7).
Cover the pie plate with rolled dough (Pic 8), flatten the base with your hands, trim the corners and pinch the dough around the edges at regular intervals to look like shown in Pic 9.
You can chill it till you use.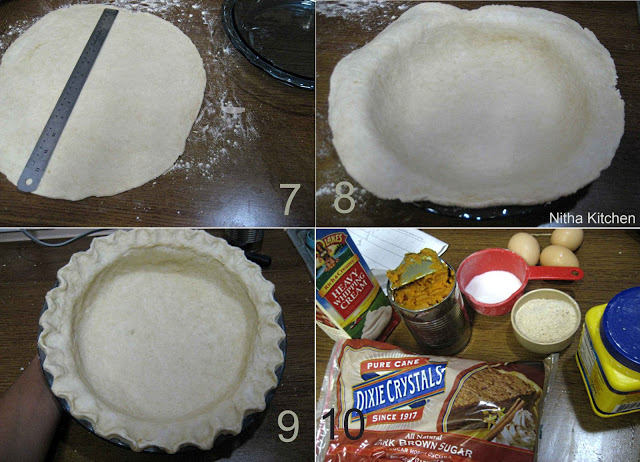 How to make Pumpkin Pie Filling
I usually go for fresh spice powder so I have made the spice powder by slightly warming the spices and once cooled down using food processor I powdered them well and sieved before using it in the filling. But I have given them in tsp measurement hope it helps.

Ingredients for the Pie Filling
Egg – 2 + Yolk of the third egg
Dark Brown Sugar – 1/2 Cup
Granulated Sugar – 1/3 Cup
Kosher Salt – 1/2tsp
Corn Starch – 2tsp
Cinnamon Powder – 2tsp
Ginger Powder – 1.5tsp
Cloves Powder – 1/2tsp
Cardamom Powder – 1tsp
Lemon Zest – 1/2tsp
Pumpkin Puree – 2 Cups or 15 oz can
Heavy Cream – 1.5 Cups
Traditional Pumpkin Pie Preparation
Keep all the necessary ingredients over the kitchen counter (stepwise picture 10 above).
Add eggs and brown sugar (Pic 11), blend them well.
Then add white sugar and pumpkin puree, mix them well (Pic 12).
Now add heavy cream (Pic 13), finally the spice mix,corn starch and lemon zest.
Mix all together and the final filling looks as shown in Pic 15.
Pour it in the already made unbaked pie crust (Pic 15).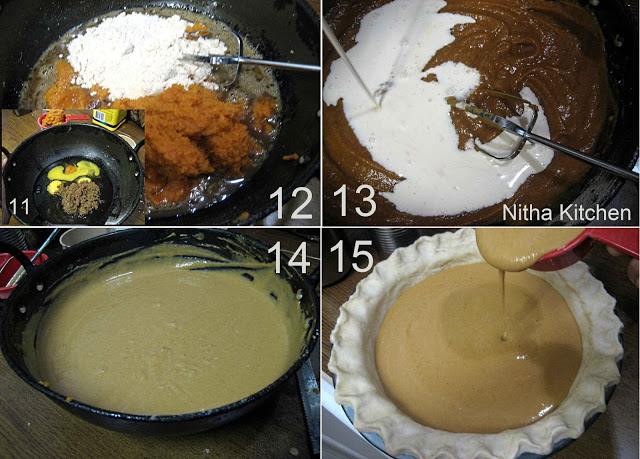 Keep the pie plate over cookie tray or another pie plate as said earlier (Pic 16).
In preheated oven bake them 400 F for first 15 mins (Pic 16).
Reduce the oven temperature to 350 F for remaining 45 minutes.
So total baking time is 1 hour and after first 30 mins cover the edges of pie with aluminum foil (Pic 17) so that it prevents pie turning dark color on the edges.
So after 1 hour of baking when tooth pick inserted at center comes with some filling then take it out (pic 18).
Remove the foil and let them cool completely at room temperature for 2 hours..
Slight shrinking and mild crack is absolutely normal, once it cools you will get some cracks, because even after baking they will cook for some time.
After 2 hours refrigerate whole night by covering with cling wrap before slicing the pie.
Top it with whipped cream before serving (Optional).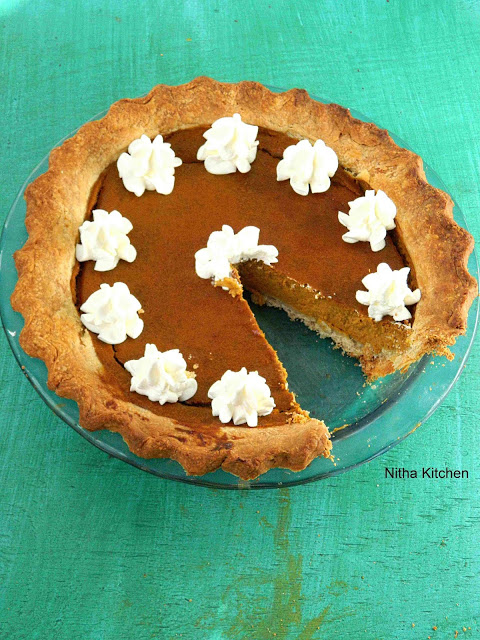 Notes
I strongly prefer canned/store buy pumpkin puree for the pies, make sure it is not too watery otherwise it will take long time to cook.
The most common way to prevent a soggy pie crust is by a process called blind baking. Blind baking means you pre bake the crust by covering the pie crust with parchment or foil and weighed down with pie weights(usually dry beans work here) to prevent the crust from bubbling up, so that it sets and crisps up before you add any wet filling.