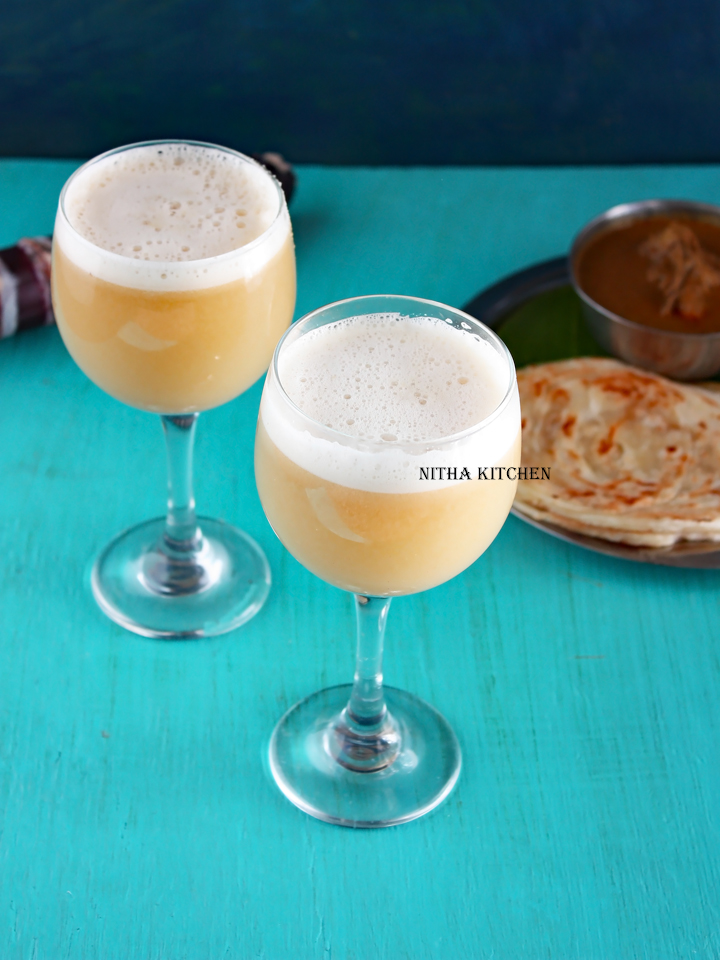 Homemade Sugarcane Juice : during the weekend purchase I got whole Karumbu / Sugar Cane from Korean Super Market and was on cloud nine awhen I saw it in the store after ages. In our last India trip during summer break I wondered when my daughter sipped the sugarcane juice without any leftovers. So I was remembering those memories
and purchased sugarcane especially for her. The same day prepared sugarcane juice, the work is bit messy and little complicated but outcome is really tasty/fruitful :-). You should try this very hygienic and healthy juice at least once, when you have Sugar Canes at home…Also after Pongal you may have sugarcane leftovers and for kids who have wiggling tooth try this method. Even we adults prefer this way since most of sugarcane skins are hard to peel with teeth.
I made it in small quantity for my daughter during my first trial (She liked the new homemade punch :-)very much and she was keen in knowing how I made it) and second day as my H tried after lunch, I again made it and updated few more pictures…
Nowadays sugarcane billets are well available in Indian grocery stores and sugarcane skin peelers are available in market as well.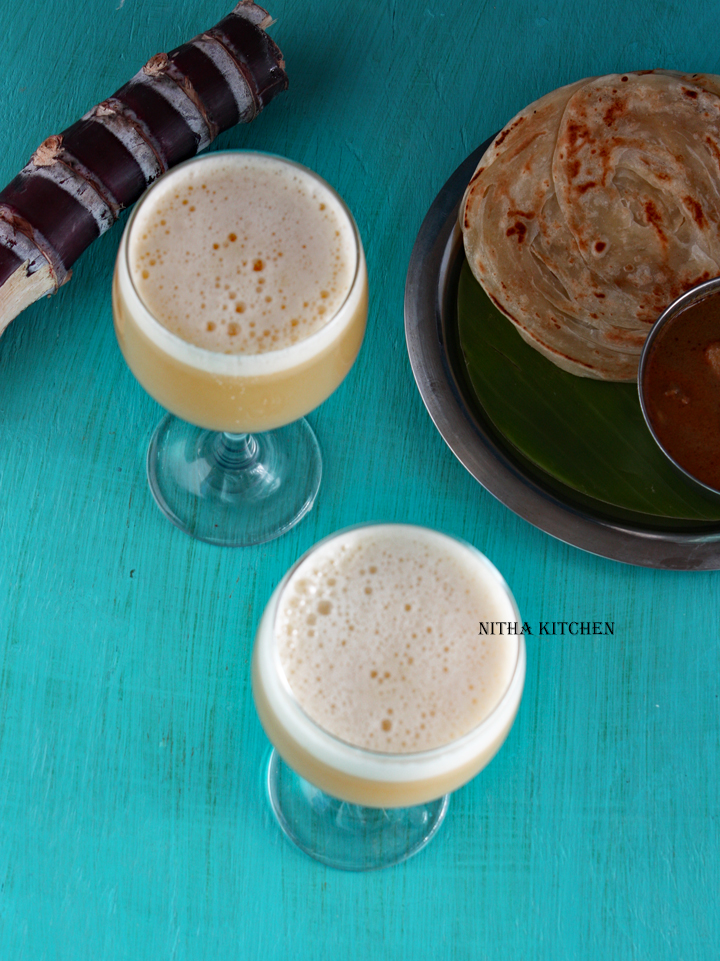 Serves – 3 Adults
Ingredients for Homemade Sugarcane Juice
Sugar Cane/Karumbu – 4 Slices (Or 2 12″ Pieces)
Lemon Juice -1 Tbsp or More
Ginger – Very Small Piece
Water – 1/2-3/4Cup
Sugar – 2 Tbsp (Optional)
The shoppers use loads of Ice Cubes instead I went for Cold Water + Few Ice Cubes as water helps to grind the sugar cane well. Also they mostly use green sugarcane as it has high water content and mashes well. I am the only one to cook and click at home, So I tried my best to explain with pictorials.
How to clean Sugarcane Billets
Wash the sugar billets/slices well.
Start peeling the outer hard layer with sharp knife (Pic 1).
Usually we at home use Koduvaal in Tamil (Agriculture equipment) to slices the hard outer layer.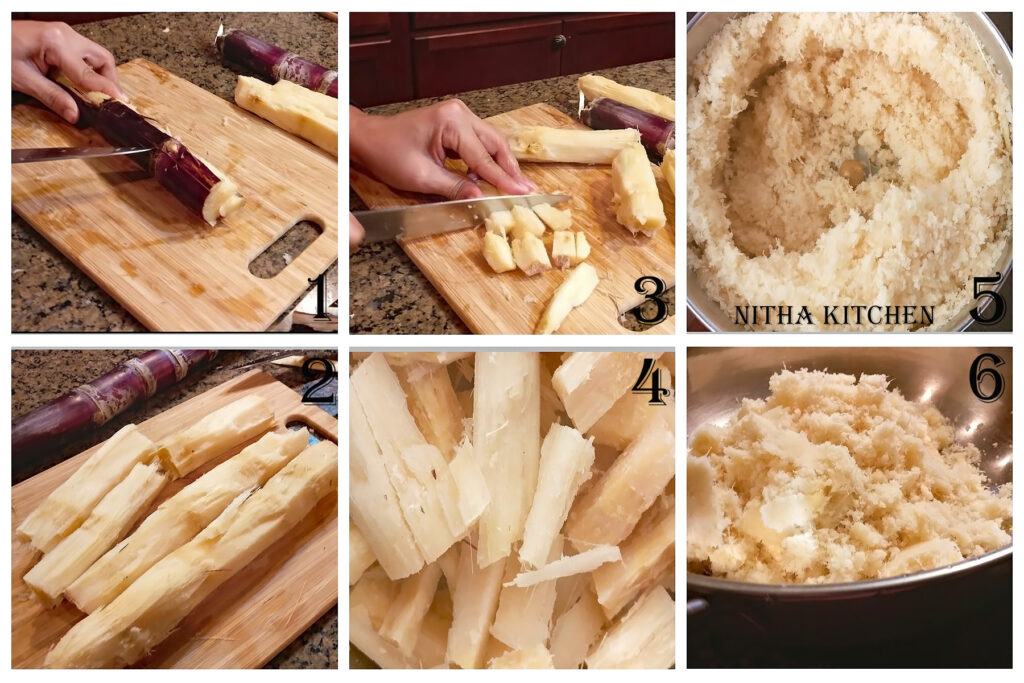 Once done removing the outer layer (Pic 2), do chop them into rough pieces (Pic 3&4).
Tip to not overload your Mixer
Here is a tip , not to give overload to your juicer.
Grind the chopped pieces in food processor or mixer (Pic 5 &6) to crumble like texture as shown in below picture….Its optional and depends on the juicer you use.
But in this way it grinds well and you can make juice very easily if you own a juicer jar.
Otherwise use regular food processor, once it crumbled add water and other ingredients for this juice and grind few times to extract its juice.
Sugarcane Juice Preparation
Once you cleaned, removed the outer hard layer of sugarcane , keep it ready by chopping into few pieces or grind it.
I used Juicer jar with filter attachment at the bottom of the jar, it is an Indian Juice Extractor Jar, add crumbled sugarcane here with water, lemon juice and ginger (Pic 3).
Its optional to use Juicer Extractor, this can be done using regular Mixer, food processor, but do follow tips I mentioned above not to overload the machine.
First time while grinding the sugarcane it wont leave much water (it depends on the variety you use). So adding water (Pic 7) helps to gets its juice.
Later use the extracted juice twice or thrice in to the remaining ground sugarcane stuff in the jar (Pic 4) and extract the thick juice (Pic 5 & 8).
Filter with cloth or strainer to filter the tiny particles (Pic 6&9) and adjust with optional sugar as needed.
How to Extract/Filter Sugarcane Juice
Kids wont like fibers in the juice so I filter several times before serving.
Cloth (Pic 6) or Tea strainer(Pic 8) with tiny holes is the right option to filter the sugarcane juice unless you use Juice Extractor.
That's it serve chilled (Pic 10) and its all set to taste :-).
Tips
As the filter is just an inch height than blades, use the chopped sugar cane in batches.
Sometimes the blender stops if you overload, so add it in small batches.
If you are making in more quantity the same trick works, add the already extracted cane juice instead of water and blend till all mashes well.
You can use regular jar also to blend this chopped sugar cane and filter it as suggested before…
Video Tutorial