Nowadays getting this manathakkali keerai/ wonderberry green leaves bunch in local market and luckily saw one bunch with lot of green fruits (FRESH!!! FRESH!!!), grabbed it immediately by keeping this Manathakkali Kai Kara Kuzhambu on mind. I came to know about this dish when I stayed in hostel for my Under Graduation. 10 days once can except this gravy from our cook and only few like me dare to taste this because of its bitterness…After that I never tried nor tasted it anywhere. When I googled I couldn't find the exact one so I used the steps I follow for Araithuvitta pavakkai puli kulambu. Wow I got the perfect taste how our hostel cook make and luckily with no bitterness (I tasted the raw fruit before making gravy which bitter much), for that you have to saute well in oil for a while. Hope I had given a very healthy gravy a best medicine for ulcer/diabetes/healing wound so and so, also called as medicinal plant (Hierba Mora in Spanish)…I rarely prefer dried manathakkali vathal because of its high salt content but if you don't get fresh fruits then try with dried once make sure to rinse well in water to get rid of extra salt before making gravy. Recipe Source :- Own
Ingredients for Manathakkali Kaai Kara Kuzhambu
Fresh Green Fruit/Manathakkali Kaai – 1/2 Cup (replace with dried manathakali vathal)
Shallots – 10 Number (Highly recommended)
Garlic – 5 Number (Optional)
Tomato – 1/2 Number
Cumin – 1/2 Tbsp
Pepper – 2tsp
Coriander Powder – 1 Tbsp
Whole Red Chili (Or) Red Chili Powder/Sambar Powder – 3 Numbers or 1n1/2tsp (Spice up as you like)
Shredded Coconut – 1/4 Cup
Curry Leaves – Few
Water and Salt – As Needed
Tamarind Juice – 1/2 Cup
Oil – 2 Tbsp
Method
I have sliced the shallots and garlic roughly.
Heat 2 tsp of oil and in quick succession add onion, garlic, cumin, pepper, red chili, half of curry leaves, Tomato and salt.
Saute well in medium flame when onion changes color and tomato mashes up add coriander .powder, coconut and remove from heat.
Cool the mixture and grind finely with required water.
Heat the remaining oil, temper with mustard, when splutters add curry leaves then green fruit and few salt.
Toss well in oil in medium flame for 5 mins or otherwise the fruit pops a bit with oil.
Add the tamarind juice and allow boiling, after 3-4 mins of boiling add the ground paste.
Add enough water and cook in medium flame till oil separates.
I can't wait to taste it so when saw few oil spots over the gravy I removed from heat.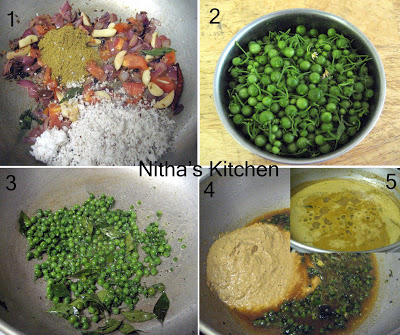 Picture I – Shallot coconut mixture ready to grind.
II – Fresh green fruit yet to clean.
III – Sauting in oil.
IV – Tamaring juice and ground paste added at this time.
V – Gravy is almost done.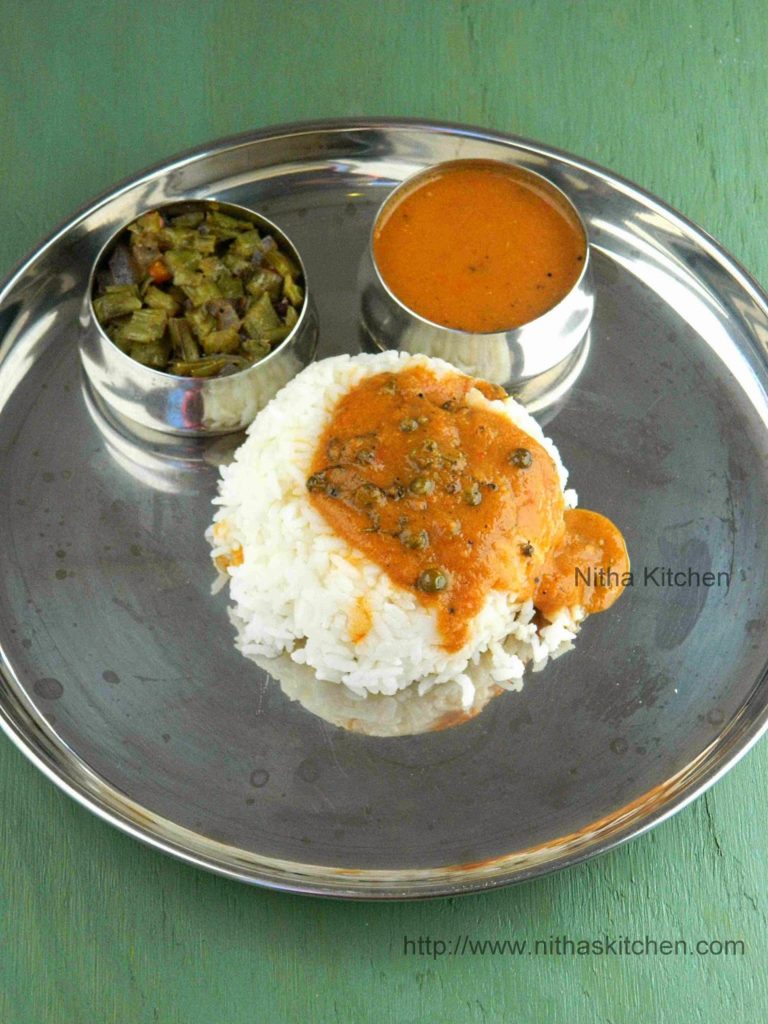 Note:
Take time to fry the fruits in oil that suppresses the bitter taste.
Can add few jaggery in the gravy.
Manathakkali Kai Kara Kuzhambu goes well with rice and tiffin varieties.