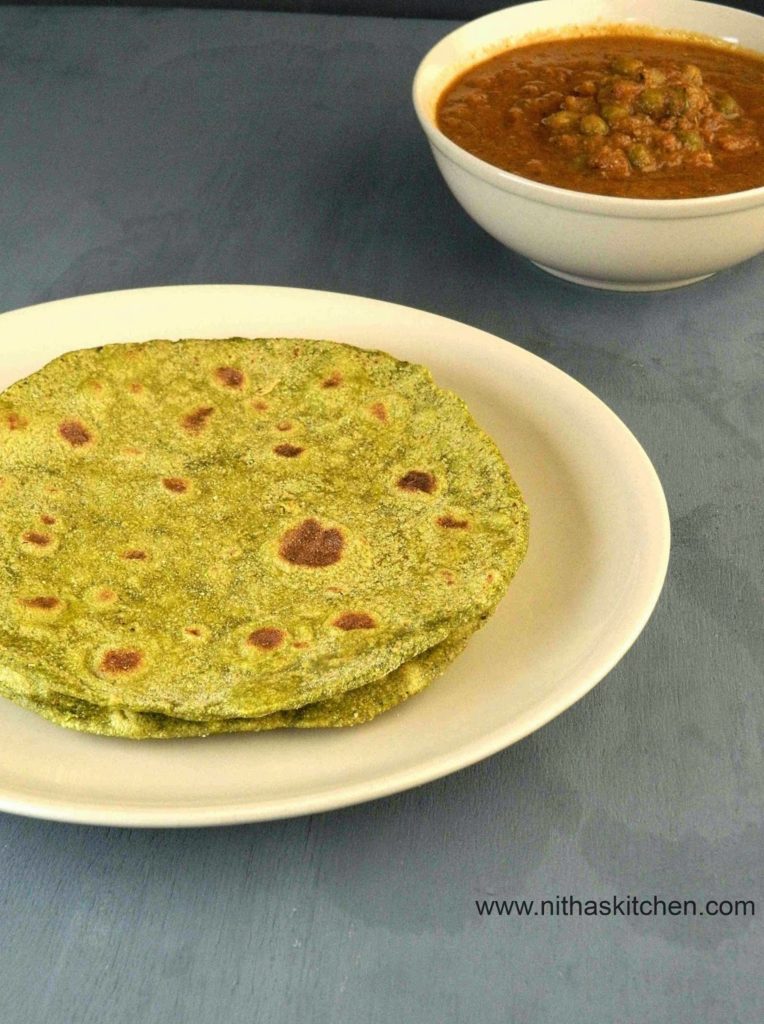 Lettuce Paratha? It was new for me unless I made it sudden for our guest. One week ahead I invited our bachelor family friend to dinner, totally forget that and involved in my experiments No bake parle G cake and Left over bread cookies that day. He called n reminded 30 mins before coming home. Stumped for a minute, don't know what to do and checked what's there in the fridge. Salad lettuce was there, so quickly I made this paratha and onion raitha before he reached home…Surprisingly it came out well, the other day I mixed some left over spring roll stuffs with lettuce, really it enhanced the first attempt lettuce paratha taste. Very healthy recipe for kids, also good for all age groups…
Ingredients
Multigrain Atta/Wheat Flour – 3 Cups
Green Leaf Lettuce – 1/2 bunch (Alternate with Spinach)
Cumin Powder – 2tsp
Salt – As Needed
It's optional to add veggies
To Saute
Cabbage – 1/2 Cup
Carrot – 1/4 Cup
Capsicum – 1/4 Cup
Onion – 1/4 Cup
Oil – 1 Tbsp
Salt – 1/4tsp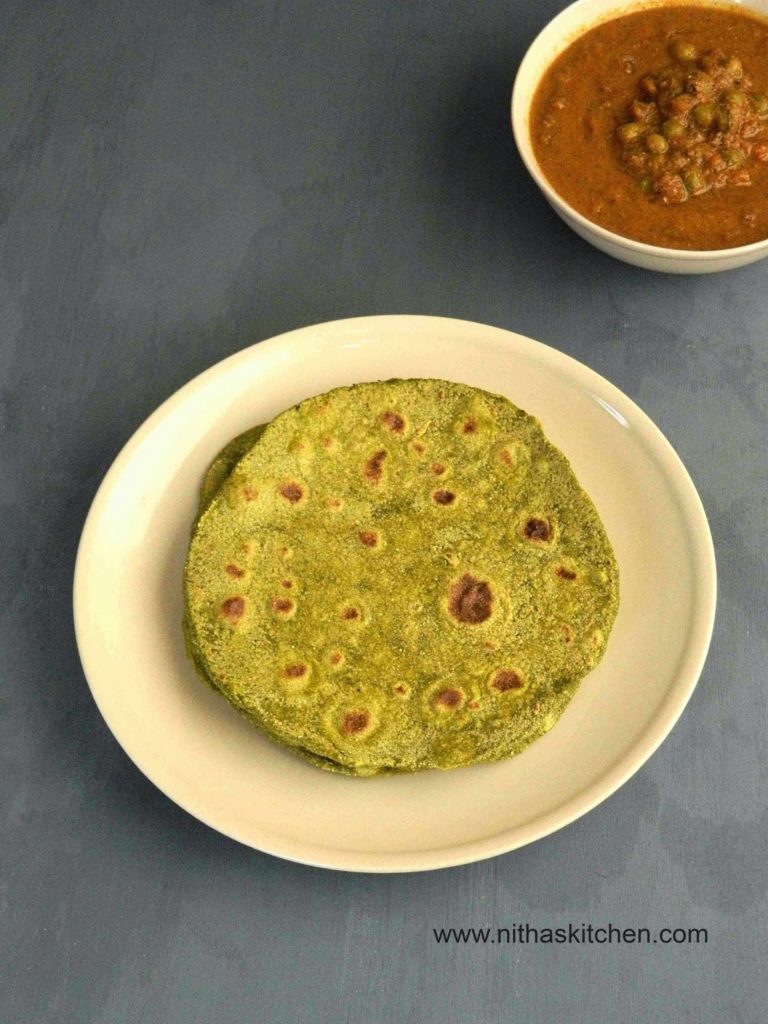 Method
Saute the ingredients given under "To Saute" for 3-5mins (Just half cook is enough)
Allow to cool, meanwhile clean the lettuce.
Blend the cooled mixture with batches of raw lettuce (I never chop or remove the lettuce stems), just split the bunch before blending.
Mix dry ingredients atta flour, cumin powder n salt well and then add ground paste (Water is not necessary if needed sprinkle) knead the dough.
Roll in to lemon size balls, make the shapes as you desire.
Pictorial I  – a) Carrot/Cabbage stuff.
                    b) Green Leaf Lettuce.
                    c) Atta flour and ground paste.
                    d) Making shapes using health drink cap.
Heat the nonstick pan/griddle and cook the paratha by flipping both sides till getting brown spots over it.
I Served with Onion raita or Peas/Matter gravy (recipe follows) in the final display…
Green Peas Gravy
Peas – 1 and 1/2 Cup
Onion – 1 Number (Big)
Tomato – 1 Number (Big)
Coriander Powder – 1 Tbsp
Red Chili Powder – 1/2 Tbsp
Turmeric Powder – 1/4tsp
Cloves – 1 Number
Cinnamon – 1 Number
Oil/Butter -1 1/2 Tbsp
To Grind l
Cloves – 2 Number
Cinnamon- 1 Number

Cardamom – 1 Number
Shallot – 10 Numbers
Garlic – 5 Number
Ginger – 1 Medium Piece
Grind II
Coconut – 2-3 Tbsp
Fennel Seeds – 1tsp (Optional)
Kaskas – 1tsp
Method
Pressure cook the peas with salt and water for a whistle (I bought the peas in Indian store which is big in size).
Grind the ingredients (raw) given above.
Temper cloves and cinnamon with hot oil.
Add chopped onion and pinch of salt when turns golden brown add chopped tomato.
When half mashed add the grind I ground paste along with Red chilli,Coriander and Turmeric powders.
Cook till the raw smell disappears.
Add the cooked peas stock/water first (If you like to have dry/thick gravy then don't add water) finally add peas , grind II paste and bring to boil in medium flame.
When oil separates remove from heat.
Pictorial II – a) Peeled Shallots.
                     b) Ground raw paste dropped in sauted onion/tomato mixture.
                     c) Adding Peas to the boiling gravy.
                     d) Gravy ready to serve 🙂
Serve paratha with this peas gravy and any raita.
Keep the thick stuff in center of paratha. roll n pack for lunch, this gravy can also be used for sandwiches.