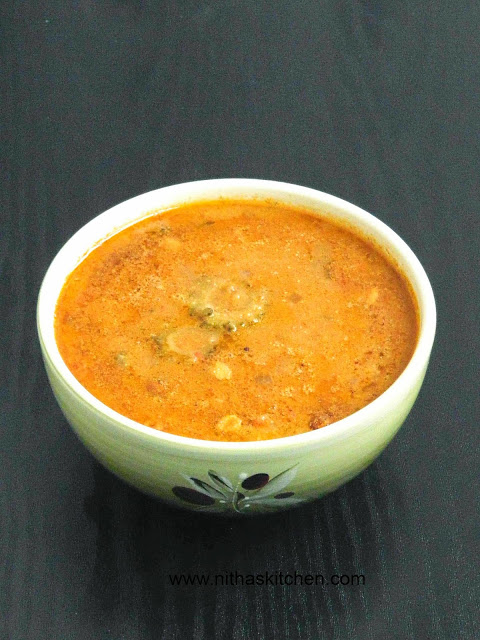 I want to add Bitter gourd in various forms for my kids so I purchase it without fail whenever I go to Indian Grocery. Today's Araithuvitta Pavakkai Puli Kuzhambu ie Bitter Gourd in Coconut Based Gravy is one favorite of kids since the bitterness gets suppressed in that coconut and other ingredients we use for grinding…I make Puli kuzambu without adding any coconut and using MIL's Puli kulambu powder. Apart from that today's version which I make it on alternate weekends. Never get bored with  this 2 version gravies, Poriyal/stir fry and Bitter gourd Pulav. Let's move to today's recipe in detail and will come up with any interesting bitter gourd recipes in future…

Ingredients for Araithuvitta Pavakkai Puli Kuzhambu
Bitter Gourd – 2 Numbers (Roundly Sliced)
Tamarind – Small Goose Berry Size
Tomato – 1 Medium Size
Mustard Seeds – 1/4tsp
Turmeric Powder – 1/4tsp
Red Chili Powder – 1-2tsp
Fenugreek Powder – 1/4tsp
Salt and Oil
To Saute and Grind
Shallot/Chinna Vengayam Or Onion – 10 numbers or 1 Medium Size
Coriander Powder – 1 Tbsp
Red Chili – 4 Numbers
Shredded Coconut – 1/2 Cup
Garlic – 4-5 Numbers
Curry Leaves – Few
Oil
How to make Araithuvitta Pavakkai Puli Kuzhambu
Heat 2 Tbsp of oil and saute whole shallot/onion (if using onion chop it roughly), chili and garlic.
Add coriander powder,curry leaves and coconut to it and remove from heat.
When cools down grind it to fine paste.
In the same pan fry the roundly chopped bitter gourd to light golden brown and not so crisp.
Extract juice from tamarind by soaking it in warm water for 15 minutes at least.
Add tamarind juice, red chili powder, fried bitter gourd and cook in microwave/stove top for 5 minutes.
Heat oil in same pan, splutter mustard seeds.
Add curry leaves, turmeric powder, fenugreek powder, chopped tomato.
When tomatoes mashed well add half cooked bitter gourd mixture.
After a single boil add ground onion paste.
Now check salt and allow to cook till gravy thickens well.
Serve with hot white rice and papad.
Notes
Onion and garlic should fry well otherwise gravy gets raw onion smell.
I usually add seeds and its up to you.