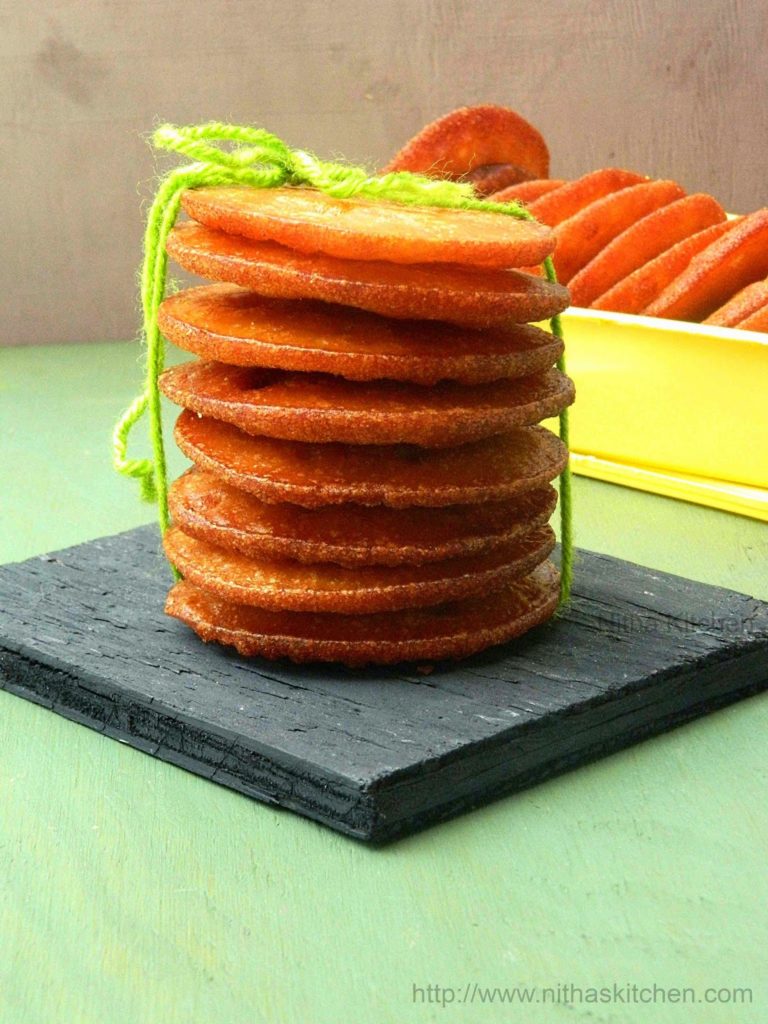 Wish you all a very HAPPY and PROSPEROUS PONGAL/SANKRANTHI!!! Pongal an authentic Tamil festival is nearing and I want to share few about it. After the end of harvest period/season farmers thank god (SUN) with the cultivated products. I am proud of being that family and my Appa (Dad) is a very good farmer cum retired central govt employee, now a full time farmer :-). They usually harvest paddy yearly 3 times, even we prepare unpolished boiled rice from own rice mill. Rice plays main role, with the harvested rice they make plain pongal/white pongal in vengala panai. Very auspicious and never mingle sweet/spice while cooking. Actually use the washed rice for cooking this white/venn pongal, so it has to foam and fall on the right side which is another auspicious belief. They thank god with other harvested items like coconut/banana/sugarcane, manjal kothu/fresh turmeric bunch/country vegetables and harvesting equipment. When I go there I will definitely share those recipes and greeny greeny paddy field pictures :-). Today my recipe is using the same raw rice but not the pongal, a very traditional Jaggery Adhirasam Athirasam Recipe, the powdered raw rice mixed with jaggery/sugar and deep fried. Though I don't have very good pictures( taken in dull light) I am posting it. I did first for Diwali n came out so gud n happy succeeding in my first attempt itself. For softer version u need sieve to filter the powdered rice otherwise the bit crisp adhirasam can be done from coarse rice powder which is called Ariselu in Telugu (heard this when I shared this athirasa sweet with my neighbor). After that one day I got sieve from them and made both soft and crisp versions (visually both look same) for my DH colleagues. Everyone enjoyed and appreciated, so here comes the perfect recipes to try your hand.
For Jaggery selection and more tips do check this post.
Whenever I make I just update it with better pictures, so you can see mix of old and new clicks!!!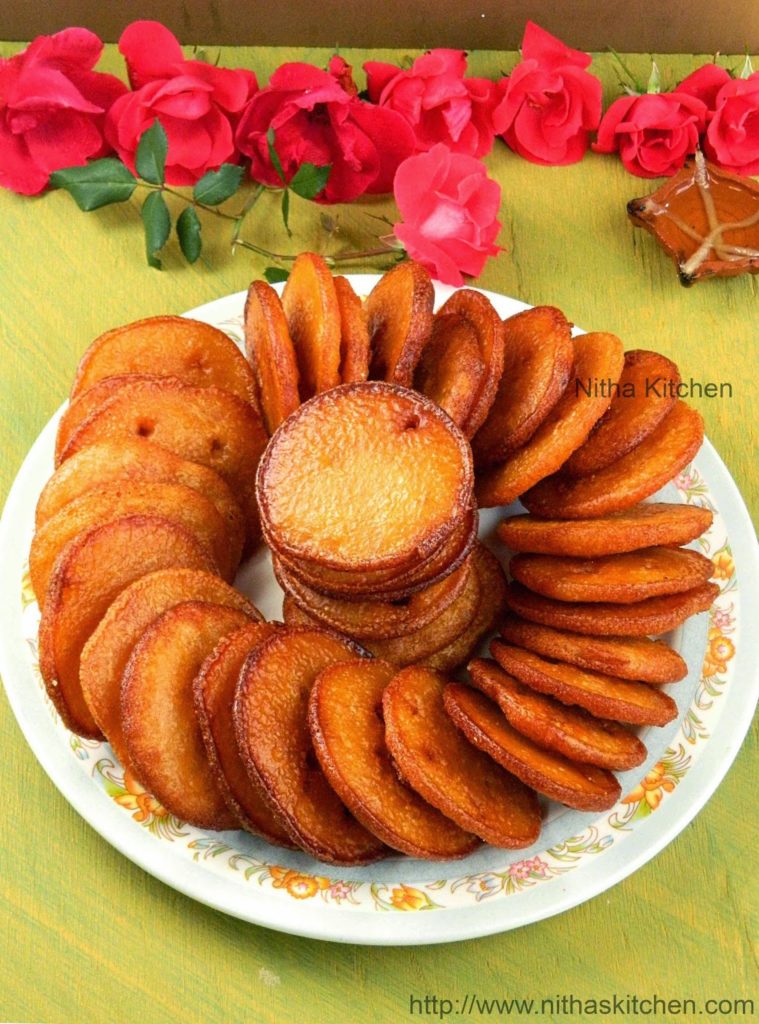 Yields 10-12 Adhirasam approx
Ingredients for Jaggery Adhirasam Athirasam Recipe
Raw Rice/Sona Masoori – 1 Cup (I use Raw Rice and sometimes Sona Masoori Rice)
Grated Jaggery – 3/4th to 1 Cup (Quantity is bit more than what we need exactly)
Cardamom Powder – 1/2 Tbsp
Sesame seeds – 2tsp (Optional)
Oil n Water – As needed
Flour Preparation
Soak rice not more than 2hrs.
Pat drain the excess water by spreading over a cotton cloth also cover the top and leave it aside for 30mins.
Powder the rice to fine flour in 2 batches.
If your mixie/blender has sharp blades then no need to sieve, I made crisp Ariselu version like that.
Otherwise sieve and make fine powder for soft Jaggery Adhirasam Athirasam Recipe (Below Pic 1).
After you sieve transfer to the bowl or stainless steel utensil in which u r going to rest the dough later (See Note 4)..
Just press the flour (Below Pic 2) while u sieve/store in the utensil to retain wetness till u mix with jaggery.
Both versions use the same procedure and jaggery consistency, only the flour and dough consistency varies.
Jaggery Syrup Preparation
Grate the jaggery, add water just to immerse the jaggery n start heating.
At one stage all the jaggery melts, strain the impurities right now n bring to boil again.
Add cardamom powder to it and syrup will start foaming in short time.
You will attain the jaggery consistency in 3-5mins appox after foaming refer (above pic 1).
For this add a tsp of syrup to the clear water, when its not dissolve and sits separately then immediately put off the stove (Above Pic 2).
After a fraction of sec, if u rub the jaggery it may not dissolve and forms string/thread.
Simmer it while checking the consistency otherwise u may cross the right consistency (Check Note 1).
One More Stepwise Picture For Soft Version!!!

Dough Preparation

For Jaggery Adhirasam Athirasam Recipe
Mix the powdered flour, few sesame seeds (Optional but i added) with immd with the hot jaggery syrup prepared above.
When your flour is very fine powder (Adhirasam) then mix with little moisture as shown in pic 1.
When u mix the dough with spatula it leaves a track and thats the right consistency (Pic 1 below).
The only thing u have to keep in mind while preparing the dough don't add too much syrup or don't pour everything into the flour, just reserve 1/4th prepared syrup and if needed add at final stage (See Note 2).
Check my below pictures how the dough consistency should be.
For Ariselu
Mix the powdered flour, few sesame seeds (Optional but i added) immd with the hot jaggery syrup prepared (Pic 1 below).
When your rice flour is coarse (Ariselu) then needs more moisture (batter should be bit runny) as shown in Pic 2 below.
Don't worry when it is coarse everything will be perfect with this bit runny batter ie absorbs all moisture in another 8 hours or more,it looks like in Pic 3 below.
Once you mixed up leave it open for few mins just 10-15 mins or till the heat goes off, then cover the dough with tight lid/plastic wrap n leave it in room temp for at least 8hrs.
This dough is good in room temp for 2-5 days (max 7 days when handled with clean spoon).
If you add sesame seeds in the dough then you have to use it in 2 days.
Final Jaggery Adhirasam Athirasam Recipe Preparation
Heat required oil, add less oil because you cannot fry more than 1 or 2 at a time.
Take the dough and make small lemon sized balls.
Use any parchment/butter paper/oil greased ziploc/banana leaves and flat it to moderate thickness (Don't make it very thin, that makes very crispy outcome).
Make holes at center and if you like garnish with Sesame seeds.
Press the topping as shown in above soft version picture 3 otherwise they sesame seeds go separately while frying.
In very medium flame this has to be cooked, when one pops up u can add second but make sure both not stick each other.
When u make small holes in center this disappears while frying, so make a big hole if u like.
Flip both sides, cook evenly and when bubbles/ushh sound goes off, take two ladles and press/squeeze it to drain excess oil.
Even after that drain and wipe gently with paper towel all over.
Can have immediately but tastes great when consumed after few hours.
Do check this
full video
for Jaggery Adhirasam Athirasam making….
Few notes to nail Jaggery Adhirasam Athirasam:
If you crossed the right jaggery consistency, the adhirasam will dissolve while frying.
After 8hrs when the dough is so much dried u can add few milk drops otherwise if u have reserved jaggery syrup heat (luke warm) n mix it up, leave it again for couple of hours and fry, both methods works great.
If the dough is little watery after first 8hrs take a portion of dough mix few tsp of rice flour n try it.
If you have any left over raw rice flour, refrigerate and use it to fix runny batter.
When doing with more than 1 cup of rice, after u sieve, the filtered coarse rice can again be powdered with few drops of water and from this u can get few more fine powder.
At last the leftover coarse rice can be mixed with dosa batter or make Uppu pidi kozhukattai too.
Only one thing to keep in mind is, have to remove the jaggery syrup from heat in right time.
Also oil makes difference for softer version peanut or sunflower oil works great.
Old Picture