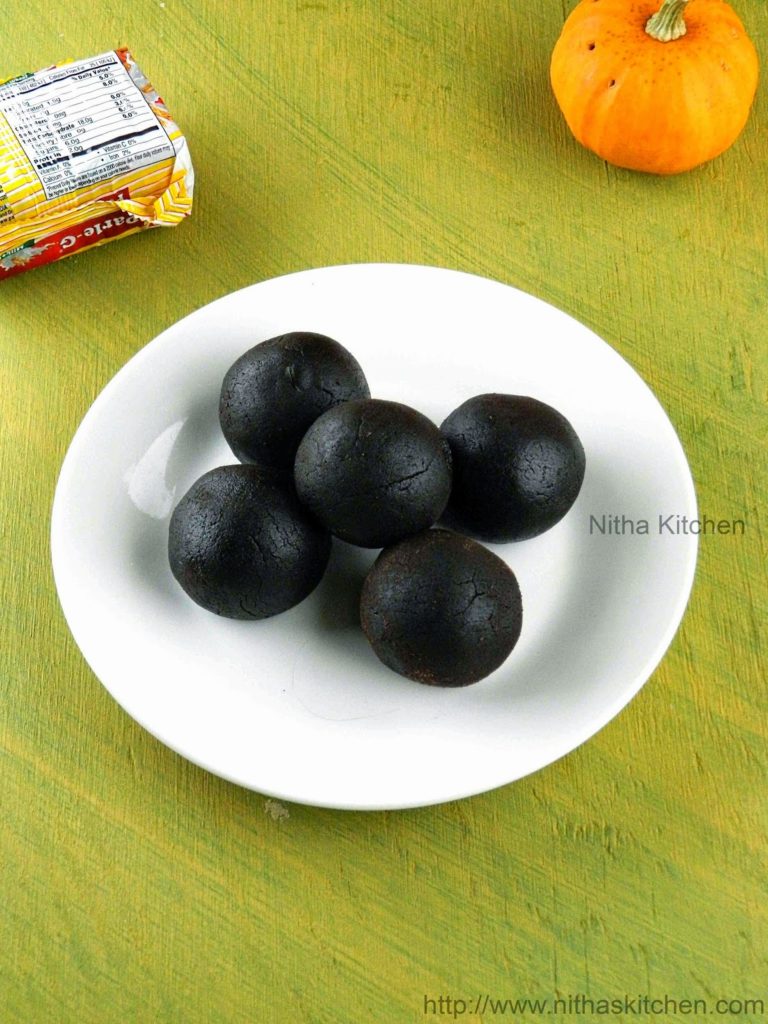 Today I thought of making some simple dessert (no bake) for my kiddo and checked the kitchen shelves for available ingredients. I had lot of unattended chocolate chips and Parle g biscuit packets. So mixed both and made some delicious truffles and Pops. I assure its a quick, easy and great dessert for kids. Will move on to the detailed recipe…
Ingredients
Parle G Biscuit or any digestive biscuits – 32 Numbers
Dark Chocolate Chips/Any chopped chocolate – 1/3 Cup (I used Semi Sweet)
Heavy Cream or Regular Thick Milk – 2 or 3 Tbsp
Cocoa Powder – To Dust (Optional)
Method
Grind the biscuit to fine powder.
Warm the heavy cream/milk in microwave for 30 secs (or) about to boil.
Mix the chocolate chips with the cream, stir continuously till all chips dissolved well.
Leave it to cool completely and when it is not so hot add the powdered biscuit in batches.
Mix well with spoon, keep it in air tight container undisturbed for 10-15 minutes in refrigerator.
Make balls, will get (5-6) medium sized truffles from this quantity.
Otherwise make even balls, cover and freeze it for 15 minutes, both works…
It won't stick when rolling and finally you can dust it with cocoa powder which is purely optional.
For making pops, roll to small balls after freezing just insert the pop sticks in center of each small balls.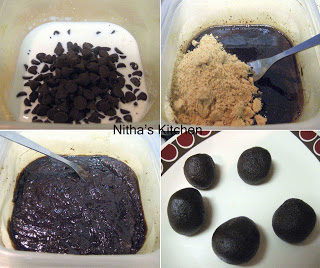 Pictorial 1 – Adding dark Chocolate chips to warm milk.
2 – Adding powdered biscuit to chocolate + cream mixture.
3 – Keep stirring after each addition of biscuit powder.
4 – After that roll to truffles.
Notes
You can dust with Powdered Sugar/any nuts powder as you like.
Don't add biscuit powder when milk+chocolate mixture is warm, also increase or decrease biscuit powder, the consistency depends on the type of milk you use.
Old Picture