Here comes the recipe for cookies and coffee ice cream for all cookie lovers. The coffee flavor in this ice cream recipe enhances the taste and it smells heaven. This recipe is from scratch and you can make it without ice cream maker.  I have used my hand mixer to whip the cream and even you can use hand
whisk to make this yummy summer treat. The taste was awesome and I could click the very last scoops 🙂
Ingredients
Whole Milk – 1 Cup
Sugar – 1/4 Cup to 1/2 Cup
Brown Sugar – 1/4 Cup
Salt – 1/8th tsp
Heavy Cream or Whipping Cream – 2 Cups
Egg Yolks – 4 Numbers
Vanilla Essence – 1/2tsp
Coffee Syrup – 1/2 Cup (Instead I used 1.5 Tbsp Nescafe Regular Coffee Powder)
Cookie Pieces – 1 Cup (I used oreo, you can increase few more cookies)
For eggless version check the bottom of this post…
Cookies and Coffee Ice Cream Preparation
Randomly break the cookies, just a second pulse in food processor (Pic 4) works otherwise do it with hand and keep aside.
Meanwhile separate egg from egg yolks and whisk the yolks and keep it ready.
Boil milk, sugar and salt in a sauce pan over medium heat (Pic 1).
Keep stirring the milk mixture.
Once sugar get dissolved add coffee powder or coffee syrup to it and remove from flame.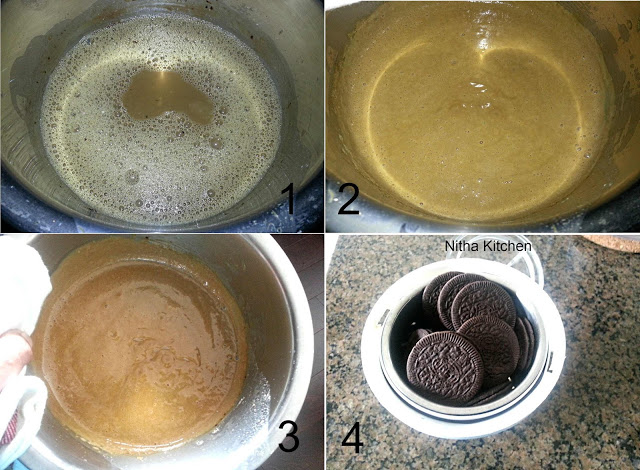 Add this hot mixture to egg yolks whisking continuosly.
Once done bring this egg mixture to boil in medium flame (Pic 2).
Cook the mixture with continuous stir until it reaches thick coating consistency.
The mixture should coat on the back of hte spoon.
Strain this mixture using large mesh strainer or colander (its optional).
Keep stirring under ice bath or cool water placed bowl so that it cools down quickly (Pic 3).
Keep this coffee mixture in refrigerator till use.
You can churn in the icecream maker as per direction but I have used hand mixture for the remaining steps.
Whip the heavy cream starting from low speed to medium and then high to achieve stiff peaks (Pic 5).
Add the Vanilla essence (Pic 5), coffee mixture and cookie bits (pic 6) that we prepared already.
Gently whip all the stuff for a minute, scrap the sides (Pic 7), cover the lid and store in freezer for for 3-5 hours or overnight.
Now the perfect textured ice cream (Pic 8) is ready to enjoy 🙂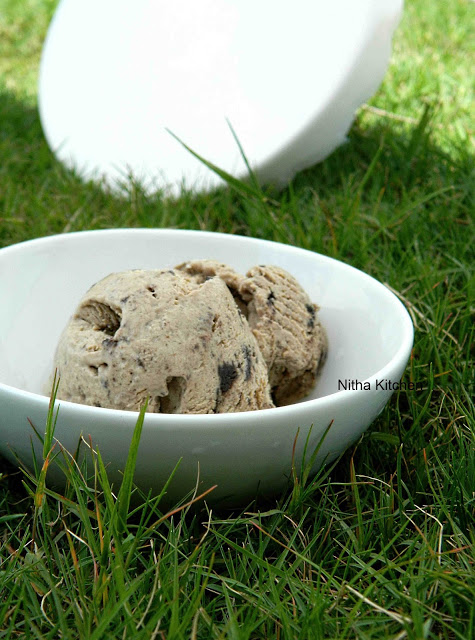 For Eggless Version
Skip the eggs and instead add a Tbsp to 1.5 Tbsp of corn flour/corn starch or maida with cold milk and thicken with other ingredients.
For the flour/custard consistency you can check the pictures HERE.
The other procedures remains same.