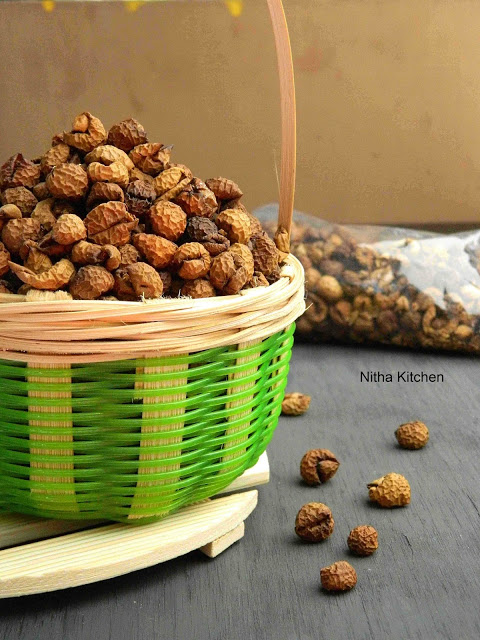 Sundakkai Vathal | Sundried Turkey Berry
This is my mom's way of making sundakkai vathal/sundried turkey berry at home. Last year when I was there she made the vathal for us and so I clicked the pictures of her making. Hope this post helps you to learn how to make the vathal in traditional way. Also you can use minimal salt unlike
the store buy version. If you are looking for traditional vathal kulambu recipe do check HERE , for coconut based version HERE. To incorporate this healthy stuff for kids i make podi often, do check the Sundakkai Vathal Paruppu Podi recipe HERE. You can just fry the vathal in oil and have it along with our south indian meal 🙂
What are all needed to make Sundakkai Vathal | Sundried Turkey Berry at home Fresh Sundakkai / Chundakkai Butter Milk Salt Mortar and Pestle or a Stone Hot Sun Light
How to Make Sundakkai Vathal
We usually have the plant in our backyard so if you have plant at home you can very well use it or otherwise you will find the green fresh sundakkai in markets.
The first step wise picture below shows the freshly picked sundakkai from the plant.
Just pick the veggie alone from the stems ie remove the heads as shown in
picture 2.
Wash it twice or thrice and drain the water.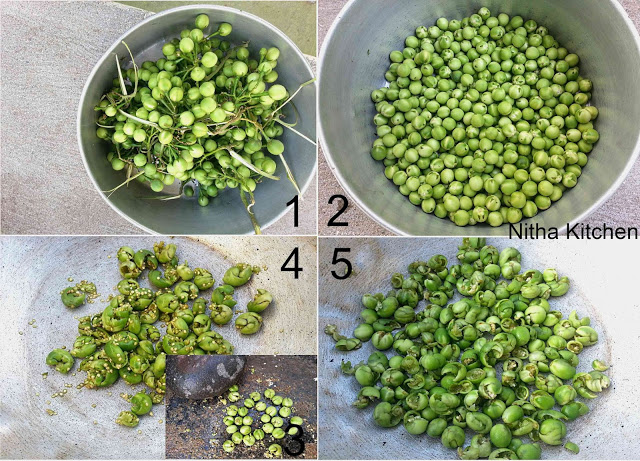 Once cleaned completely, take a mortar pestle or stone and gently break the veggie in to two or more Pic 3), at this time some seeds come out (Pic 4), nothing to worry.
Once you done breaking all, wash it again and the cleaned one will look like as shown in picture 5 above.
Now make thick buttermilk with necessary salt, mild salt also works well.
Soak the cleaned sundakkai in the buttermilk (Pic 6). Not mandatory to add buttermilk till they are fully covered.
On and off shake it so the bottom stuff comes on top also don't cover it, leave it open.
In another two or three day (depends on the weather) they will turn brownish as shown in picture 7.
This is the right time, drain the excess buttermilk and just spread it over cloth or mat to dry in direct hot sun.
Don't wash the buttermilk once it turned brownish directly dry it in sunlight.

It will take another 2-3 days to turn in to vathal.
The vathal turns crispy that is the right indication of doneness.
Once done store it in air tight container and this remains fresh for more than 6-12 months when they are properly dried out.
You can make vatha kulambu or podi or just fry it in oil and take it directly along with south Indian food.
These homemdae Sundakkai Vathal | Sundried Turkey Berry are very good for health and even my kids like it to have with sambar when just sauteed in oil.