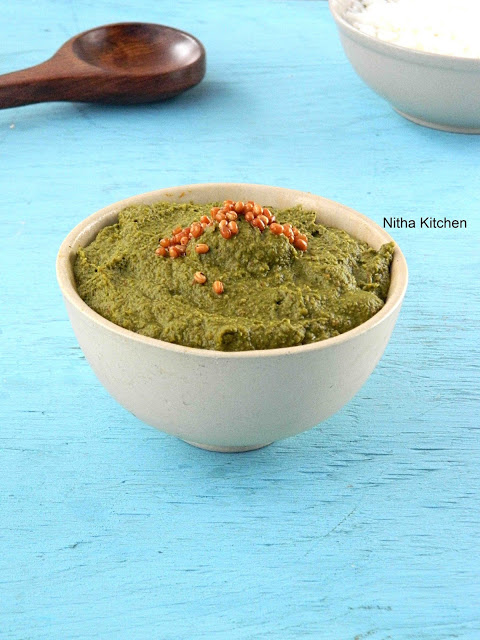 I heard from my friend that Water Crest is similar to our south Indian Vallarai Keerai, so I gave a try when I got a bunch of water crest from Asian supermarket here…It is healthy and the taste was delicious as well. If I get it again I would love to try different dishes with it. Today let's see the basic chutney using this green…You can make it as thick thogayal like shown in picture or dilute some water and have it…If you are lucky to get vallarai/brahmi then follow the same steps to make chutney.

Few Info about Watercress
Watercress is a Cruciferous plant grown for centuries as a mineral rich green leafy vegetable. Its a member of the mustard family. It is commonly used in salads and is also good in sandwiches and soups. The Pesto with this leaf will be delicious. Watercress is available year-round, but it peaks from April through June. The health benefits of watercress are providing nutrition, boosting immunity, cancer preventive, and thyroid support.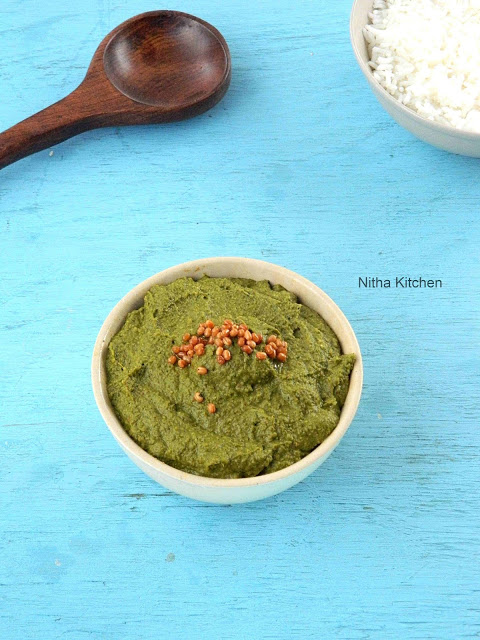 Ingredients for Vallarai Keerai Thuvaiyal
Urad Dal – 1/4 Cup
Tamarind – Goose Berry Size
Shreded coconut – 1/3 Cup
Whole Red Chilis – 4-5 long
Shallot or Pearl Onion – 6 Numbers / Replace with Regular Onion
Water Cress – 1 Bunch
Salt and Water – As Needed
Vallarai Keerai Thuvaiyal Preparation
Soak the tamarind in water till use.
Trim the root part of the green leaves bunch and wash twice or thrice to remove muds, keep aside.
Heat Oil in a pan, saute the roughly chopped onions (if the size of the shallot is small you can add it whole) till it turns golden brown.
Transfer this to the mixie jar or plate to cool completely.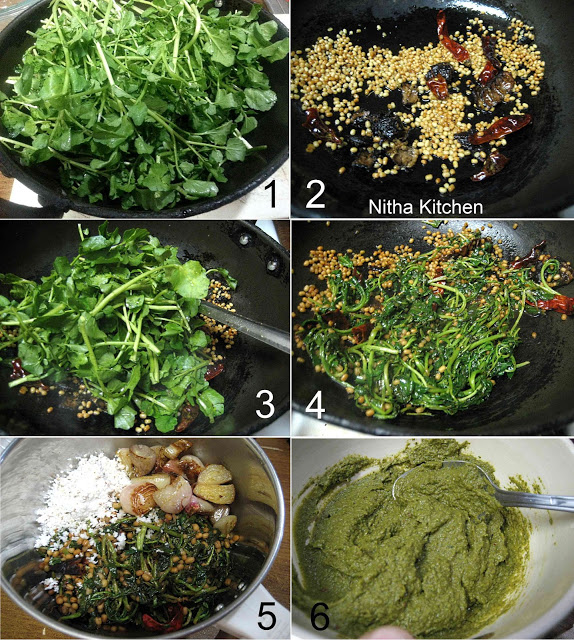 Add few more drops of oil in the same pan, add urad dal, add red chillis and soaked tamarind.
Saute with 1/4tsp salt, whenl the dal gives nice aroma now add cleaned water crest.
Saute in medium flame till it shrinks and cooks well.
Let it cool, finally add shredded coconut to the sauteed stuff, add enough water and remaining salt then grind it smooth to get chutney or thuvaiyal.