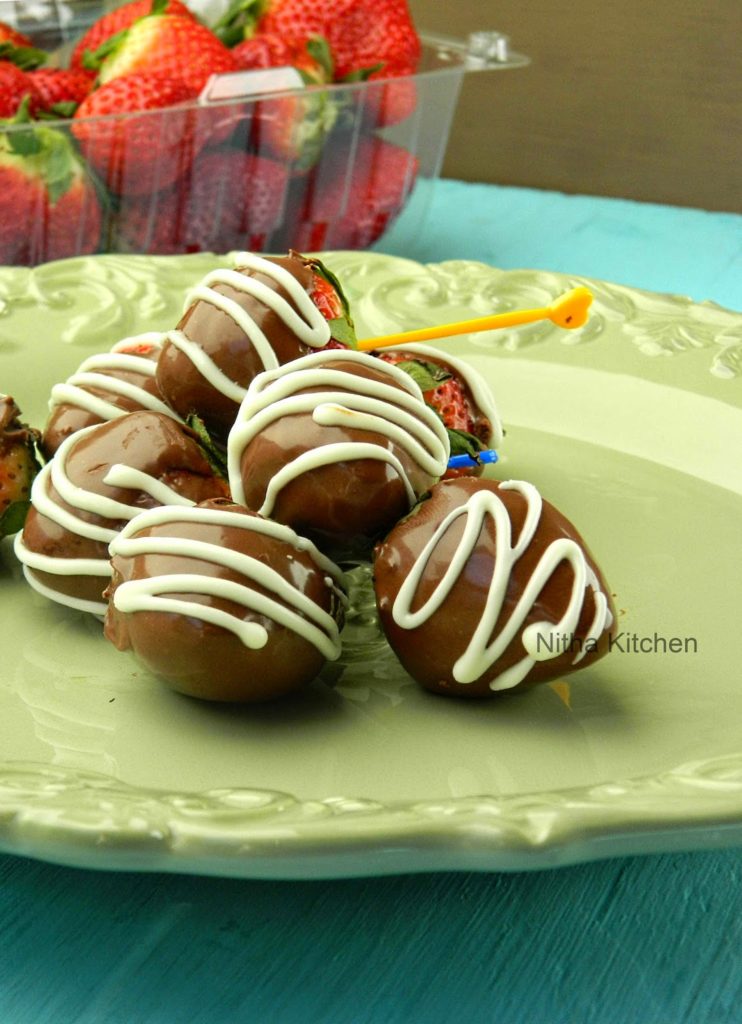 The one most common thing among my two kids is strawberries, they both like this fruit to core and sometimes I get requests from my elder one for this chocolate covered strawberries. She takes to school for morning snacks or as after school snack at home. This is a very easy to make dessert you can make it for a party or get together in minutes 🙂


Ingredients
Chocolate Chips or Chocolate – 3/4th Cup
Strawberries – 12-15 Medium Size
White Chocolate – 3 Tbsp (To make white patterns)
* Veg Shortening – 1 Tbsp
* Oil – 1/2 Tbsp
* In some chocolates you may not need the shortening and oil once they melted to perfect consistency.
Method
Wash the strawberries and wipe the excess water over strawberries using kitchen towel (Pic 1).
Place the chocolates or chips in glass bowl (Pic 1).
Insert tooth pick at the center of each strawberries (Pic 2), if you skip this step then your fingers become messy while dipping in chocolates.
Melt the chocolate chips or chocolate over simmering water ie double broiler.
Keep stirring once 3/4th melted take it out and keep stirring.
Once all melted and turns smooth texture add shortening (optional).
Stir well and dip the bowl in cold water for the chocolates to cool down, otherwise they may turn hard and sometimes crumbly.
If its of perfect consistency (you can check pictures here) then start dipping strawberries (Pic 3).
Otherwise add oil and check it for dropping consistency, if not you can add more shortening but make sure the chocolate is warm to melt the shortening.
Dip the strawberries using the toothpick as a grip and rotate gently to remove the excess chocolates (Pic 3).
I felt comfortable with the cooler rack from Wilton, while placing carefully drop it with the toothpick facing down (Pic 4).
Repeat the above process till you done covering all the strawberries.
It may take 20 minutes approximately for them to dry at room temperature, refrigerate for quick setting.
Meanwhile melt the white chocolates (Pic 5) using double broiler and pour it in Ziploc or piping bag.
Trim the edge using scissors, make sure the hole size is small.
Squeeze the piping bag and make patterns over chocolate covered strawberries (Pic 6).
This may take just 5 minutes to set.
You can serve immediately or chill/refrigerate it for later use.