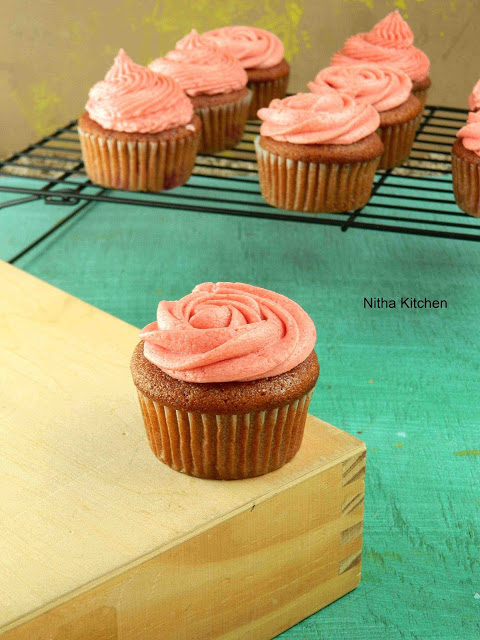 Fresh Strawberries overloaded in both the cupcake batter as well as in frosting! This is the right season to get strawberries and making healthier bakes is one good way to use fresh strawberries… I made these cupcakes by adding the homemade strawberry puree in the cupcake batter and also added few chopped fresh strawberry bites in to it…Also the frosting has the same prepared strawberry puree. I made it late night so the color variation took place while clicking step by step pictures…
Yields – 18 Cupcakes
Ingredients for Strawberry Cupcakes
APF – 2 and 1/4 Cup
Butter – 1.5 Sticks (16 Tbsp)
Eggs – 2 Large Size
Egg Whites – 3 Large
Strawberry Puree – 8 Tbsp
Diced Strawberries – 1 Cup
Regular Sugar – 1 Cup – 1.25 Cups (you can increase another 1/4 cup for more sweetness)
Buttermilk – 1/3 Cup (Optional if needed add Few tsp for cupcake batter consistency)
Baking Powder – 1.25 tsp
Baking Soda – A Pinch more than 1/2 tsp
Salt – 1/2 tsp
Vanilla Extract – 1 tsp
Red Food color – 2-3 Drops (Optional)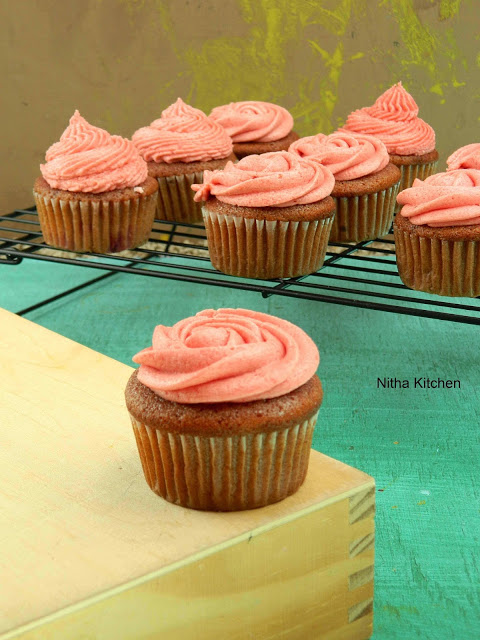 For Strawberry Buttercream Icing
Unsalted Butter – 1 Stick (8 Tbsp)
Icing or Confectionery Sugar – 2 – 2.5 Cups
Red Food Color – One or 2 Drops
Vanilla Extract – 1 tsp
* Strawberry Puree – 2 Tbsp or More
* To make puree, just blend strawberries in food processor, strain the seeds and then bring to boil till it reaches thick consistency as shown in step wise pictures below…
You can refer HERE to make strawberry puree in large quantity and store it for later use.
Strawberry Cupcakes Preparation
Add cupcake liner to cupcake pans and keep aside
Cream room temperature butter in hand mixer at medium speed till it turns light and pale.
Add sugar and continue beating in medium speed till sugar mixes well with butter (may be 2 mins approx) and turns fluffy.
Add the whole eggs one at a time and then egg whites.
Beat them well till the batter looks shiny and glossy may be 3-4 minutes in medium speed (Pic 1)
Alternately add the Flour Mixture and Strawberry Puree (Pic 1 and Pic 2).
Once done with flour mixture and puree, add drops of food color and mix it well (Pic 3).
Finally add the finely chopped berries (Pic 4) and give a gentle stir using spatula.
Drop 2/3 of cupcake batter in each baking cups/ liner (Pic 5).
In preheated oven bake the cupcakes at 350 F for 12-15minutes or toothpick or cake tester inserted in the center comes out clean (Pic 6).
Remove from hot oven and cool them on the wire rack for 30 minutes or till they cool completely.
You can either decorate it immediately or store in air tight container and refrigerate for later use…
Method to make Strawberry Buttercream Icing
Cream softened room temperature butter until it becomes soft and pale.
Add icing sugar in batches and during first batch of sugar add vanilla extract too.
Add strawberry puree (Pic 7 below) and food color then add final batch of sugar.

If the consistency is thin add more sugar to achieve right stiff consistency frosting, at the same time if the frosting is too hard then add tsp of puree or drops of milk to make it perfect.
Check the strawberry puree in the step wise pictures for its consistency.
Once done decorate your cupcakes, i use Wilton 1M tip to decorate it (Pic 8).