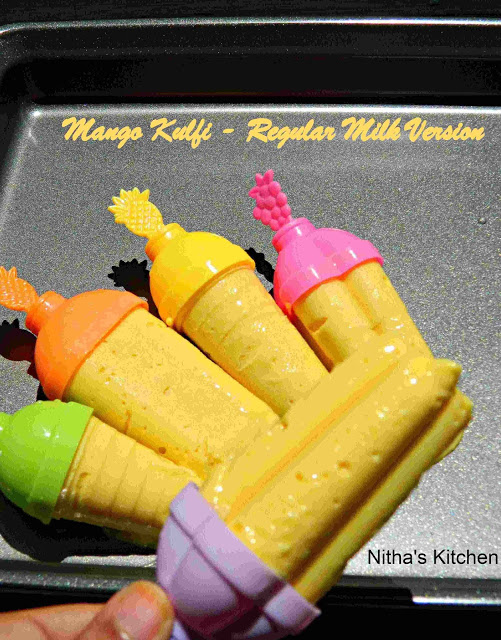 During my vacation I bought this kulfi mould and from that day my daughter was asking for ice popsicles. I thought of making mango kulfis but unfortunately either fresh/heavy cream or condensed milk was not available at mom's place. Luckily I remembered the tangzhong bread in my space so implemented that flour starch here with other simple ingredients like mango puree, regular milk and homemade paneer. My daughter had almost all the kulfis :-), Let's move on to the detailed process of making delicious kulfis.
Ingredients
All Purpose Flour/Maida – 2 Tbsp
Fresh Mangoes or Mango Puree – 2 Number or 1 Cup of puree
Thick Regular/Whole Milk  – 5 Cups (divided 2 + 3 Cups for making paneer)
Mango Essence/Rose Essence – Few Drops (I used Cardamom Powder)
Sugar – 3/4th Cup or More
Lemon Juice – Few Drops (For making Paneer n see note section)
Yields – 9 Kulfis as shown in picture below
You can see my lil one standing behind n urging me to click the pictures 🙂
Method
If using store bought paneer (3/4th Cup) then take 2 cups of milk alone.
For making paneer boil 3 cups of milk when milk reaches high boiling point add lemon juice and keep stirring.
Add few more drops for the milk to curdle well.
Filter the chenna in a cloth and immediately wash it under running water for the lemon bitter to go away.
Squeeze excess water and keep the paneer ready.
To know more in detail about making paneer at home with pictures click here.
Boil 1 cup of milk till it reduced to half cup.
Take the remaining 1 cup milk, all purpose flour mix together (Pic 1) and keep stirring to form thick paste as shown in pic 2.
Now in blender add mango and puree it first then add cardamom powder Pic 3.
To the mango puree add homemade paneer, sugar, all-purpose flour paste, evaporated milk ie reduced milk (Pic 4).
Blend all together to smooth paste as shown in Pic 5.
Now using spoon drop it in the kulfi moulds Pic 5.
Tap well and freeze it for 3hrs at least to set.
Now delicious kulfi using regular milk is ready to enjoy 🙂
Note:
For whipped cream or condensed milk based creamy rich kulfi version click
here
.
Here is the picture i clicked initially by experimenting kulfis without adding paneer 🙂
Adding paneer to kulfi enhances the taste and also stabilizes the kulfis in room temperature for more time…