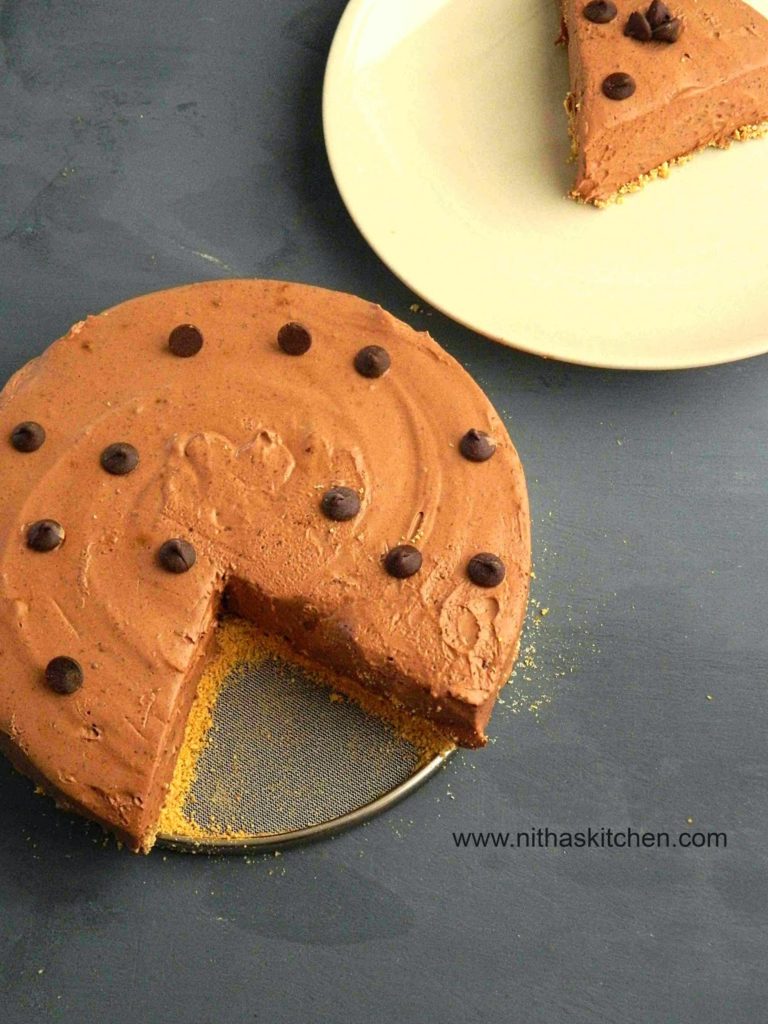 Christmas and New year are nearing, here is a simple delicious treat from my side for the chocolate lovers :-). I assure this no bake cake hit your home during the forthcoming holidays. No need to beat eggs or wait for the cake to bake, can be done easily with few ingredients but needs time for the cake to set. Let see what are needed to make this chocolate cheese cake n how to make…Sorry kids intervened much while clicking pictures, you can see their finger print in it 🙂
Ingredients
Dark Chocolate Chips/Morsels/Any Chocolate – 6 oz (I used Nestle toll house morsels/semi sweet chocolate chips)
OR
Any Left Over Chocolate Ganache/frosting – 1 and 1/2 Cups
Low Fat Cream Cheese – 1/2 cup (Half in 8oz package, see Note 1 )
Heavy Whipping Cream – 1 and 1/4 Cup
Butter – 3 Tbsp
Cocoa Powder – 1 Tbsp Or Instant Coffee Powder – 1/2 Tbsp (Optional See Note 2)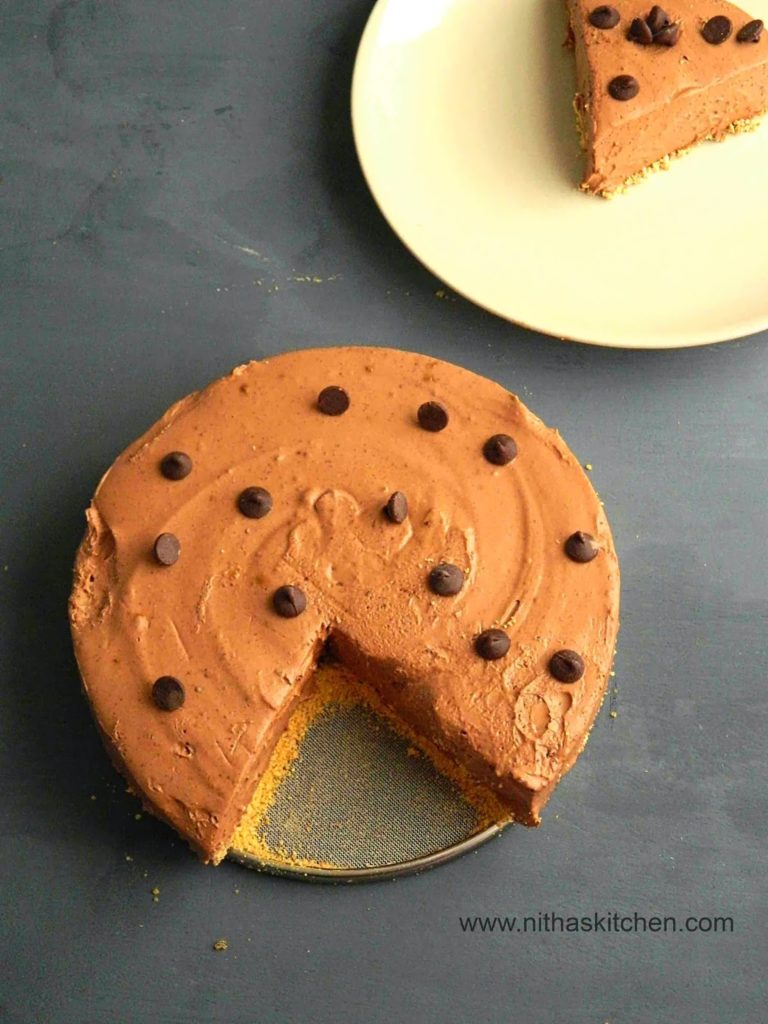 Method
Powder the biscuits using blender to coarse crumble.

Melt the butter and put off the stove,when its at room temperature add the coarse biscuit powder to it, mix well.
Then press this mixture in any round cake/pie pan/glass bowls (Press well as shown in Pic 1).
Seal it with plastic/food wrap and refrigerate for 1 hour.
Meanwhile whip the cream cheese till it gets soft (2-3 mins).
Add the heavy cream to it and whip to soft peaks (see Note 3).
Melt the chocolate using double broiler or just microwave for 30 sec it will melt.
Allow to cool completely by this time you can refrigerate the whipped cream n cheese to avoid melting in room temperature.
If needed add cocoa/coffee powder to hot boiling 1-2 Tbsp of milk, allow to cool and keep it ready.
Now add melted chocolate and dissolved cocoa/coffee powder to the whipped cream and beat till you attain stiff peaks, as shown in the picture 3.
By this time the crumb coat sets in the pan, so pour the whipped cream over it (Picture 4), check the spreading consistency in that picture, should not be watery…
Layer evenly n again refrigerate by covering with plastic wrap for 3-4 hours to set. (I left it overnight).
When u touch the top of the cake, it wont stick in your fingers or toothpick inserted at center comes out clean that is the perfect consistency.
Now slice it gently and enjoy by having it chilled 🙂
Notes:
Can increase cream cheese to 1 cup that is 8 oz (1 package) and reduce heavy cream to 1 cup.
Taste the whipped mixture before spreading and add more cocoa or coffee powder/powdered sugar, its up to you…
Can whip the heavy cream separately n fold it along with the cream cheese n chocolate mixtures finally…
Keeping in Room Temperature for more than 30 mins make the cream/cake to melt.
If like to add more sugar then add dark brown sugar…
I have not greased my pans…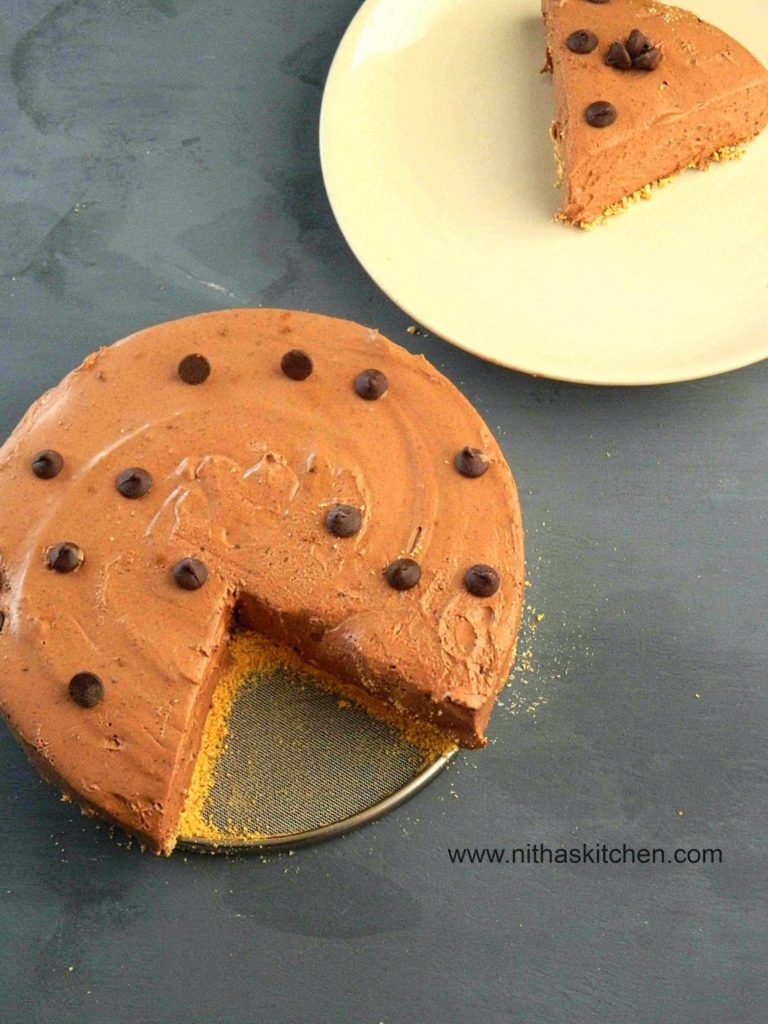 Check out my more no bake Parle G biscuit recipes here
1) Strawberry Jello no bake cake
2) Biscuit Chocolate Truffles n pops