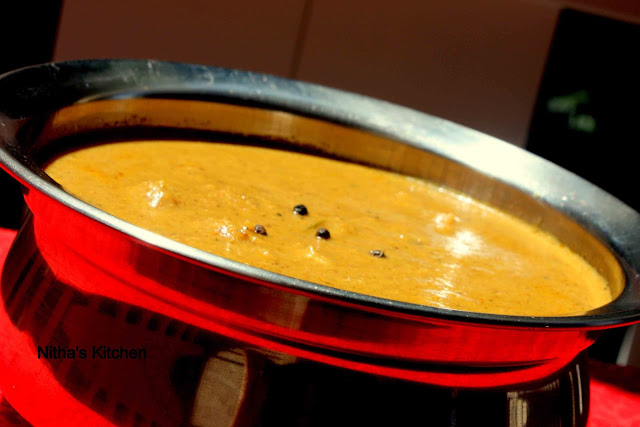 I usually prepare this gravy at least once in a week, a delicious gravy goes well with rice/roti/dosa…I took this pictures few months back n just got time to post it :-(. Many of you asked for non veg recipes, so here it is…Try this weekend and have gr8 time with your family 🙂
Ingredients to grind
Big Onion – 1 and 1/2 (Medium size) chopped roughly
Tomato – 1/2 (Medium No.) chopped roughly
Curry Leaves – 4-5 No.
Dry Red Chillies – Lenthy 4 No.
Sliced Garlic – 5 No.
Coriander seeds – 3 Tbsp
Cumin seeds – 1 tsp
Black/Whole Pepper corns – 1 tsp
Fennel seeds – 2 tsp
Whole Cinnamon – 1 No.
Whole Cloves – 4 No.
Shredded/Grated Coconut – 1/2 cup
Roasted gram/Dalia (Pottukadalai) – 1 Tbsp
Turmeric Powder – 1/4tsp
Other Ingredients
Chicken – 1 lb or around 500grams
Tomato – 1/2 No.
Yogurt – 1/4 Cup
Oil – 2 Tbsp
Pepper – 1tsp
Curry leaves – Few
Small Onion – 12 No. (or replace with 1 Big onion)
Coriander Leaves – To garnish
Salt n Water – As Needed
Method
Clean and cut the chicken in to pieces.
Marinate the chicken with yogurt, turmeric n salt for at least 30mins.
Heat 1 Tbsp of oil in a pan, add cumin, pepper, fennel, whole red chili, onion, garlic n coriander seeds, saute well.
When onion changes light brown finally add turmeric powder, coconut n dalia, remove from heat. Toss for few mins when the mixture cooled completely grind it to a fine paste.
Again add oil to the same pan temper with whole pepper, curry leaves then add finely chopped small onion(Picture 3), tomato saute till tomato mashes well then add marinated chicken and start cook in medium flame for few more mins.

When chicken starts leaving water add the ground paste (Picture 4 n 5) and transfer it to the pressure cooker (like I did for Pepper Chicken Chettinad gravy) allow 2 whistles (Picture 6).

When pressure goes off again transfer to the wide open pan/kadai and allow to cook for few mins till the gravy gets thick, the gravy consistency is up to your desire.
If you like to have bit watery then cook for short time otherwise add less water while grinding n cooking chicken then cook in low flame to evaporate excess water and when oil floats on top, then put off the stove…
Notes:
Can substitute coriander powder in place of whole coriander.
If you like to have more spicy then add red chili powder at any time.
Can use mix of red n green chilies too..