Thalapakatti Briyani / Thalapakattu Mutton Biriyani is one popular biryani from southern part of India. We often go for parties and there is no other way to entertain us and kids as we are far away from family and relatives…In few recent parties I noticed this green Biriyani with lamb and it tasted awesome that is the trending biriyani from a local restaurant in our area I heard from friends. My hubby challenged me whether I can make same kind of tasty biryani at home. In the first trial I added tomato and felt a slight variation from that version, so from then I skipped tomato and with slight increase in homemade biriyani masala ingredients
I attained the same exact taste. Later this is the weekly trending biryani in our sunday non veg menu, no one want to go back to basmati rice biriyani s and I am happy to share the exact recipe I am using in my sunday samayal to you all…I have mentioned few star ingredients and please don't skip or alternate the taste differs when you change those.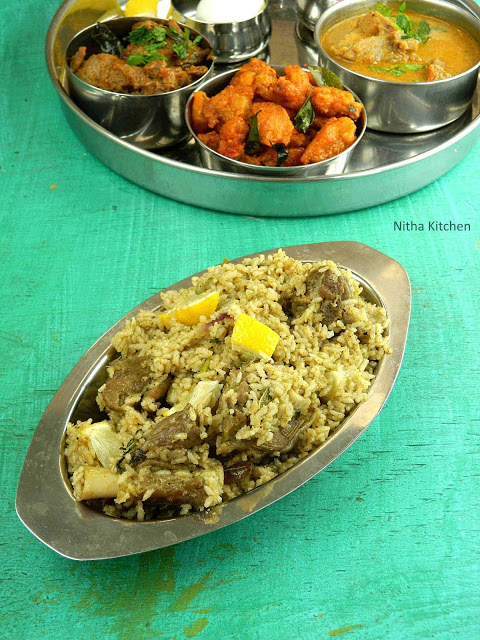 Star Ingredients
Green Chili
Samba Rice
Butter or Ghee
Grind Part II Ingredients
and Pressure Cooker
Recipe Source :- Own
Ingredients for Thalapakatti Briyani
Seeraga Samba Rice – 3 Cups
Mix of Oil and Butter – 4 Tbsp + 4 Tbsp (Be generous for this recipe)
Coarse Onion Paste – 1/2 Cup (try to use shallot/small onion otherwise regular onion works)
Sliced Big/Regular Onion – 1/2 Cup
Lemon Juice – 2tsp
Whole Garam Masala – 2 Each for tempering
Garam masala to grind I
Cloves – 6-8 Numbers
Marati Mokku (Star Anise) – 2 Numbers
Cinnamon – 3 splited pieces of each 2 inch length
Bay leaves – 2 Numbers
Cardamom – 4 Numbers
Whole Pepper – 1/2tsp
Salt – 1/2tsp
Coriander Powder – 1 Tbsp (you can use whole coriander too)
Grind Part II
Garlic – 8 Cloves (Big Size)
Coriander Leaves – Little more than Mint
Green Chili – 10 Numbers (I use small little finger size as shown in stepwise picture 1 below, so use accordingly)
Mint – 1/2 Bunch
Ginger – Little More than Garlic
* Blend green chilis, ginger, garlic, 3/4th of coriander leaves and 3/4th of mint leaves(reserve few to chop and add finally in the biriyani) and keep them aside.
Marinate Part (Only applicable for bone in meats, if it is boneless directly add all the ingredients specified here in the biriyani gravy you prepare)
Turmeric Powder – 1/2tsp
Red Chili Powder – 1tsp
Thick Yogurt – 3/4 Cup
Meat (Mutton or Chicken) – 450grams to 500grams Approximate
Mix Red Chili Powder, Turmeric Powder, 1tsp salt, remaining half quantity of mint, coriander leaves and half quantity of yogurt (remaining half part of yogurt is going to add in the gravy later) in a wide bowl.
Let the cleaned mutton or chicken marinate with it for 30 minutes at least.
How to make Thalapakattu Mutton Biriyani
Dry roast the ingredients given under "garam masala to grind" and make nice powder (Pic 1).
Keep the other ingredients ready (Pic 1).
In a wide pan kadai add oil/butter, let the butter to melt completely.
Now add whole garam masala like bay leaves, star anise and cinnamon.
Add the sliced onion and once it turn nice brown add the coarsely ground small onion/shallot paste.
After 2-3 minutes add ground ginger garlic chili mixture.
Once the oil separates and nice aroma attains(Pic 3), add the marinated chicken or mutton pieces, if I use boneless meats I directly add it in the masala preparation and skip marination part (Pic 3)).
So if using boneless chicken its optional to marinate, you can directly add the meat with other ingredients given under "Marinate Part" in to the biryani gravy.
Now add the homemade garam masala we made in Grind Part I.
In the chicken part the masala gravy looks like shown in Pic 5.
If using mutton then pressure cook this mixture with 1 cup of water for 3 hisses (Pic 6 below).
Once done with the meat cook with masala either chicken or mutton, add the remaining yogurt, lemon juice, chopped reserved mint and coriander leaves to it (Pic 4 & 6).
Now mix the prepared gravy either with chicken or mutton to soaked rice and necessary salt
You can use either pressure cooker or electric cooker to make it.
Remember for 3 cups of Basmati rice 4.5 cups of water is fine and for samba add 5 cups of water to 3 cups of uncooked rice.
The water includes the soup out of gravy we prepare for the biryani.
Once pressure goes off spread it immediately in a tray and mix some lemon wedges to it.
It tastes awesome when you serve with sliced onions too.
Here is the pictures from different weeks, below I have served lamb biriyani with village/ country style Chicken Kuzhambu.
Here in the below picture it is Chicken Thalapakattu Biryani with Chettinad Chicken Curry, Fish Kuzhambu (Recipe Later ), Cucumber Raita and White rice.
Here in the below picture I have served the biriyani with chilli chicken (post recipe later), Mutton Kuzhambu Mutton Varuval, Onion Raita and Boiled Egg. Most of our weekends goes likes this and hope you enjoyed this post.