Its everyone dream to make perfect vanilla sponge cake at home, this cake is a base for Tiramisu or Pineappple pastry cake. Also If you are not comfortable with beating egg whites separately and fold with the cake mixture do try this method whisk beats the whole eggs until fluffy and i was hooked with no butter and no baking powder recipe. I gave it a try few months back by increasing the height of my 6 inch cake pan using parchment. I doubled the recipe mentioned below and used two cake pans, one 6 inch and another 8 inch cake pan. The 6 inch i used for making tiramisu cake (recipe next week) and 8 inch we had it for tea time snack.
This cake is very light, feature like texture and dry since there is no butter and its best for any syrup soaked desserts like cassata, tiramisu etc. It can be soaked with your favorite mixture and layered with cream fillings, covered with fondant, or just eaten on its own, sprinkled with icing sugar. I was impressedwith the minimum ingredients (no butter, no oil, no baking powder) and the way the cake was made and gave a try, its worth trying when you follow the tips correctly. Trust me you can bake this cake using handheld mixer too, i too tried several egg white based cake, macaroons using hand beater…
Ingredients for Vanilla Sponge Cake
Cake Flour – 120 grams ( 1 Cup + 1 Tbsp, if you use all-purpose flour/maida, 120 grams = 1 Cup, so minus 2 Tbsp and add corn flour to fill it to 1 cup of cake flour using APF/Maida)
Granulated Sugar – 120 grams (½ cup + 1½ Tbsp)
Extra Large Eggs – 4 at room temperature
Grated lemon zest or Vanilla Extract – 1tsp (I used both for rich flavor)
How to make Vanilla Sponge Cake
Method
Keep out the eggs from the fridge ahead of time or soak them in a bowl of warm water for a few minutes.
Butter and flour a 20 cm (8 inch) pan or 6 inch pan with 3 inch height (you can increase height as shown here).
I forget to mention how I added height to my regular 2″ cake pan. Cut a long 5 inch parchment paper.
Grease the pan with melted butter and neatly cover the side with parchment strip made.
Also cover the bottom pan with round parchment before inserting this side parchment. All set to go.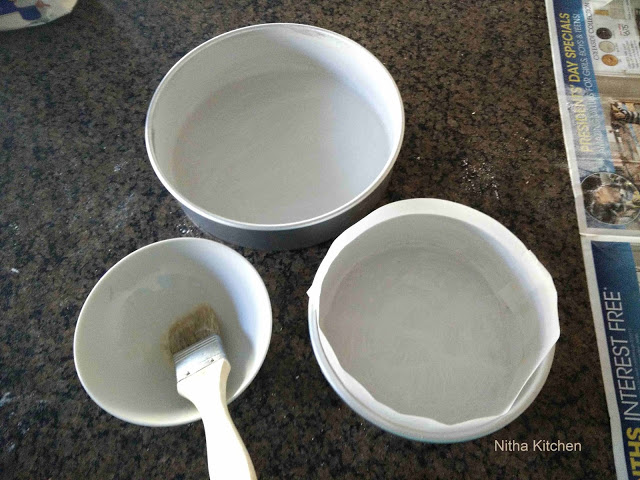 Sift the flour and keep aside. Put the eggs, sugar, and lemon zest in the bowl of a stand mixer.
Use the wire whip attachment beat the eggs until very fluffy and pale yellow about 15 minutes on medium to high speed.
I have attached a short video and few step by step beating stages below.
After first 2-3 minutes…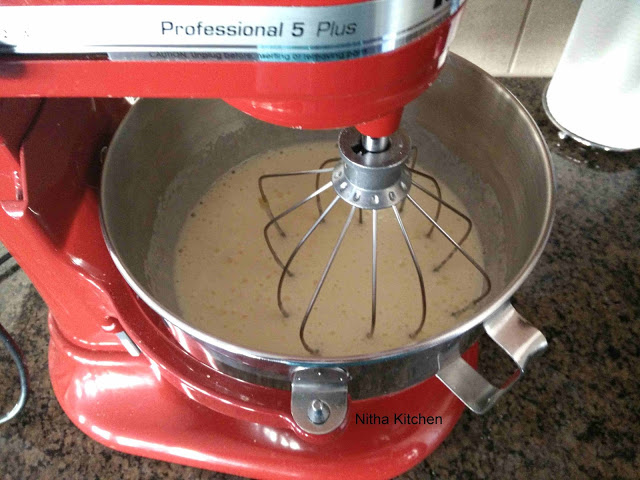 Half way thru…
Check the short video its almost done in it and i have slowed the video while editing…
To test that the eggs are beaten well, drop some of the mixture in to a plate.
The above picture looks few more seconds it has to be beaten for the eggs to hold/stand.
After few more seconds of whipping the below picture is the right consistency to stop..
If it remains sitting on top then it means it is ready, above picture.
Sift the flour on top of the egg mixture, a little at a time, and fold it gently with a wooden spoon.
When it comes to mixing part I become nervous so i forget to click picture sorry.
Baking Process
Pour the batter into the prepared pan. gently level the sides don't work too much or bang the pan on the counter, leave it as it is!
In preheated oven bake at 340 F for 40 minutes or until a toothpick inserted into the center comes out clean.
Do not open the oven for the first 20 minutes, it will make the cake deflate.
Turn off the oven, remove the pan from the oven, let it cool for 10 more minutes.
Later loosen around the edges with a knife, then flip the cake on a wire rack upside down (without the pan) to cool.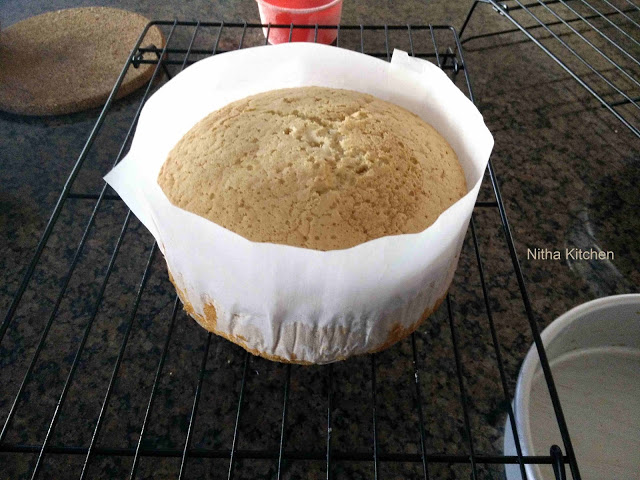 Tips
Beat the eggs and sugar for no less than 15 minutes. It is during this stage that air is incorporated.
Sift the flour on top of the egg mixture, a little at a time, and fold it gently with a wooden spoon.
It will be easy when you cut the sponge cake when it is cold.
If the beaten eggs are not fluffy and you missed the right consistency then add 1tsp baking powder to the flour and mix it up and bake as mentioned.
How to prepare Vanilla Sponge Cake a head and store
It is better if you prepare the cake a day before, wrap it in cling film and leave it in the fridge overnight.
Also you can make it up to 3 days ahead.
When going for Tiramisu make the cake ahead and the next day you can decorate it.
This is how i decorated this vanilla sponge cake (pic below). Hope you all like it, will
post
how I made it by mid of next week..Thanks for visiting 🙂