Gevulde Speculaas : I am part of International Food Challenge group event started by Saraswathi. This month she has suggested few Dutch recipes and this is one yummy keeper dessert from Dutch cuisine for sure. It's a three layered dessert ie flaky speculaas dough sandwiched with sugar almond paste and finl;ly topped with almonds.I have adapted the recipe to eggless version. You can make it in advance for parties and refrigerate till use. Here I
mentioned sugar syrup that is nothing but equal proportion of sugar and water boiled well for one string consistency or 3-5 minutes in medium flame approx.. Let move on to the recipe in detail.
Ingredients for Speculaas Spices (Homemade Fresh Spices Flavors and Tastes Better)
The spice mix I used here is
Whole Cardamom – 5-7 Numbers or Powder – 3/4tsp
Whole Cinnamon –  3-4 Small Pieces or Powder – 1tsp
Cloves – 10-12 or Ground – 3/4tsp
Whole Pepper or Powder – 1/2tsp or 3/4tsp
Nutmeg – ½ tsp
Ginger – 1tsp
Optional
Coriander – 1/2tsp
Anise – 1/2tsp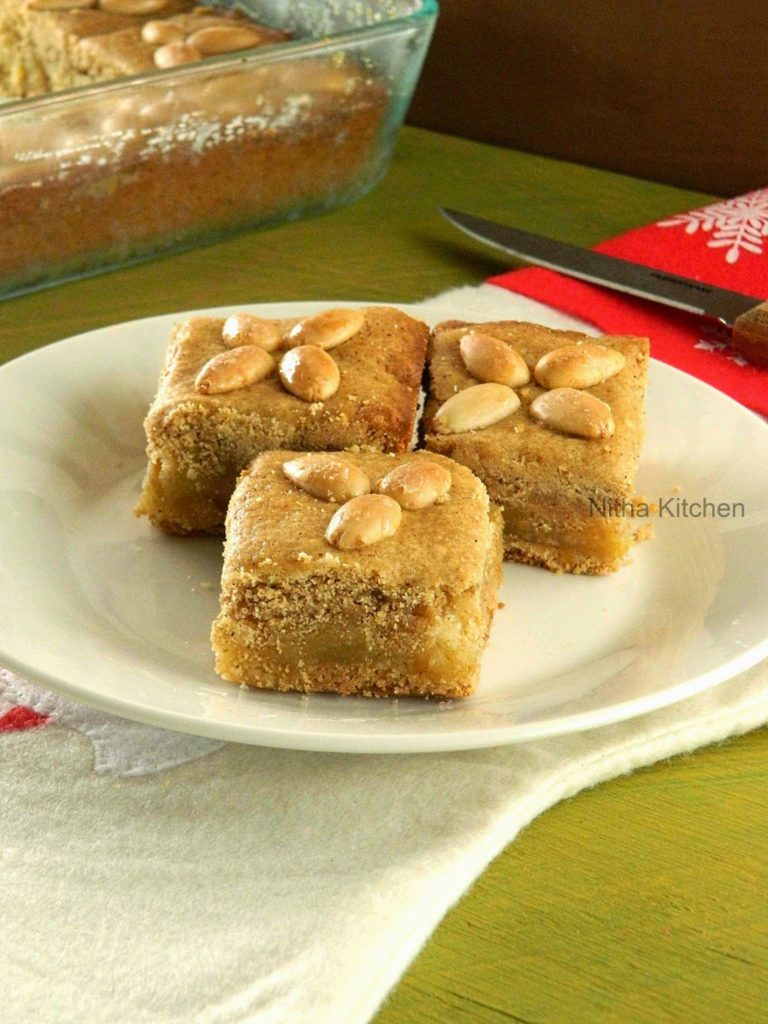 How to make fresh Homemade Spice Powder
Dry roast the spice mix (Stepwsie Pic 1 below) and powder with half of the dark brown sugar mentioned below in the speculaas dough ie 1/4 Cup and sieve it to fine powder(Pic 2).
Make it ready and keep aside.
Ingredients for Speculaas Dough
All Purpose Flour/Maida – 1and1/4 Cups
Baking Powder – 3/4tsp
* Dark Brown Sugar – 1/2 Cup, firmly packed
Salt – A Pinch
Speculaas Spices – 1 and 1/2 to 1 and 3/4 Tbsp
Unsalted Butter – 1/2 Cup (1 stick)
Milk – 2-3 Tbsp (To bond the dough)
* If making homemade spice powder then use 1/4 cup sugar in the spice mix and remaining here.
Adapted from Here
Method
Mix the flour, baking powder, sugar, salt and above prepared spices in a bowl (Pic 3).
Cut the butter into cubes and add to the dry ingredient (Pic 4).
Knead until you get a smooth dough. You may need to add a little milk if the dough is too dry (Pic 5).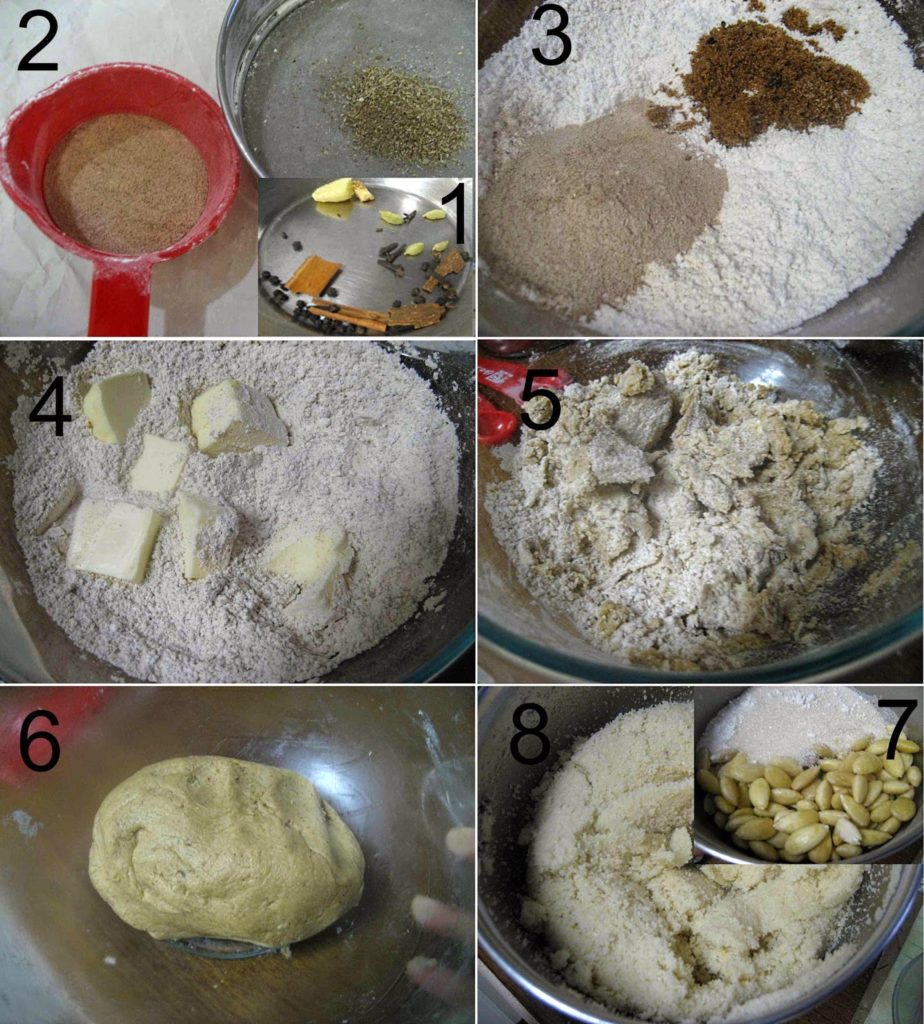 Wrap in clingfoil and put in the refrigerator for two hours (Pic 6).
If you wish to get more flavor it would be better to keep the dough in the fridge for a couple of days.
Almond Paste Recipe
Ingredients
Raw Whole Almonds – 1n 1/4 Cup
Sugar – 100grams
Lemon Zest – 1tsp (5 ml)
How to Blanch the Whole Almonds
Bring water to a boil, when well boiled add the almonds, rest it for 2 minutes, drain immediately and let cool for a few minutes.
Rub them between your fingers to remove the skins.
For garnishing you may need another 1/4 cup almonds so increase the quantity and make it ready.
You can refer step wise pictures for blanching the almonds Here.
Method for Almond Paste
You can use store bought almond paste/meal but homemade almond paste tastes better.
Grind the almonds for one or two minutes in a food processor, until you see nothing but very small pieces. (Or skip this step if you use ground almonds.)
Add the sugar (Step by step picture 7 above), and grind for another one or two minutes. It must be very fine after this step (Pic 8).
I used lemon juice instead of egg so till you make the dough you can store the almond meal in refrigerator.
At the time of Gevulde Speculaas assembling add lemon juice and lemon/orange zest (Pic 9) to bind the dough (Pic 10).
How to bake & Assemble Gevulde Speculaas
Ingredients
Speculaas dough
Almond paste
Whole almonds without skins for decoration – 1/4 Cup Approx
Sugar Syrup or Corn Syrup – As Needed to brush each layer
Shallow baking pan, I used rectangle 8×6 inch, you can use round cake pan too.
Method
Grease your pan or line it with parchment, I greased with butter and flour (Pic 11).
Preheat the oven to moderate 350°F/180°C/gas 4
Divide the Speculaas dough in half into two parts (Pic 11).
Roll out both portions on a lightly floured surface, until they are the size of your baking pan.
Place one of the layers in the pan and press it lightly to make sure it fills the bottom (Pic 12).
Brush the layer with sugar or corn syrup.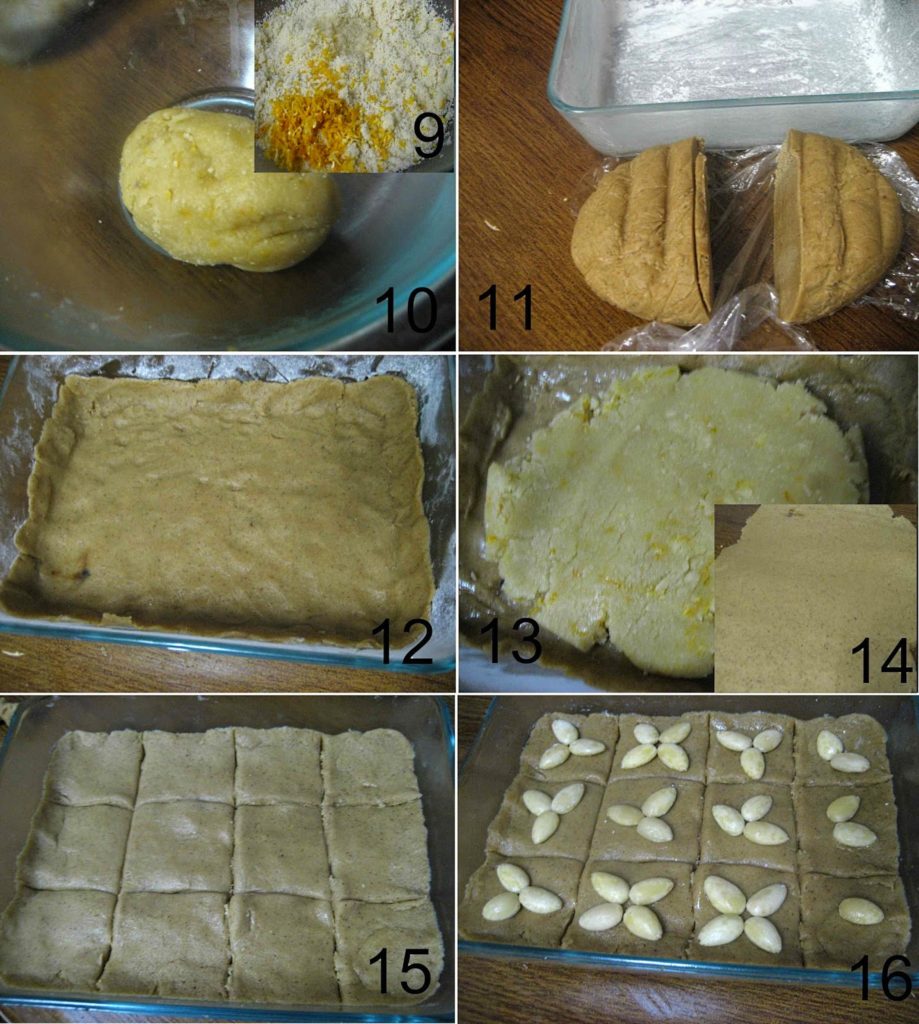 Roll out the almond paste between two sheets of cling foil (Pic 13), until it is exactly as big as the pan, and gently transfer it to place it over the dough in the pan. (If you chose to make the paste soft, you can smear the paste instead of rolling it.)
Press the paste lightly down to fit in the pan and to make sure it adheres to the dough beneath it, then brush with sugar syrup.
Roll (Pic 14) and place the second layer of dough on top of the paste, press it lightly, and make as smooth as possible.
Brush syrup over the dough.
If you choose to cut the speculaas into squares or diamond shapes, score the dough with a knife (Pic 15) before baking, that can help you with the decoration
Decorate the pastry with the almonds.(Pic 16, You can decorate the speculaas any way you like, you can use the almonds to draw patterns or flowers or trees.)
Bake for 30-35 minutes in the preheated oven.
Let cool completely in the pan, then cut it in portions as you like.
If you wrap the stuffed speculaas in cling foil, after it has cooled completely, you can store it a few days at room temperature. Freezing is possible, but fresh speculaas tastes better.
Notes
You  can choose to make this recipe in one day. But to enjoy the full flavor you should make the dough a few days and allow the spices to permiate the dough.
So you can make the spices, almond meal and speculaas dough in advance.
At the time of baking you can assemble them very quickly.  
Speculaas Spices: store them airtight, dry and dark, and they will not spoil for a long time.        
Almond Meal : keep it in the refrigerator. Can easily be frozen.  
Speculaas Dough: Can be kept in the refrigerator for days, or in the freezer for months. But remember that fresh tastes better.