Garlic Naan when I attempted first for a party at home, I doubled the quantity given here in the recipe and got around 30 naans. Everyone liked it and even the kids. So later whenever I make my little one have it plain by saying pizza :-). You can make this in advance and store it in Ziploc bags for 2-3 days in refrigerator. Before serving warm in pre heated oven for 5 minutes. You can make it in stove top as well. I have shared those pictures below.


Yields :- 12-14 Naans Approximately

Ingredients
Unbleached APF or Maida or Bread Flour – 2n1/2 Cups (I use 2 Cups APF and 1/2 Cup Wheat Flour)
Whey or Warm Water – 1/2 Cup
Thick Yogurt – 1/2 Cup
Butter – 3 Tbsp
Sugar – 1tsp
Salt – 1n1/2tsp
Garlic Powder – 1/2tsp (Optional)
*Active Dry Yeast – 1n1/2tsp (If using Instant Yeast use only 1tsp)
* Active Dry Yeast is grainy in texture so dissolve in warm water and proceed further.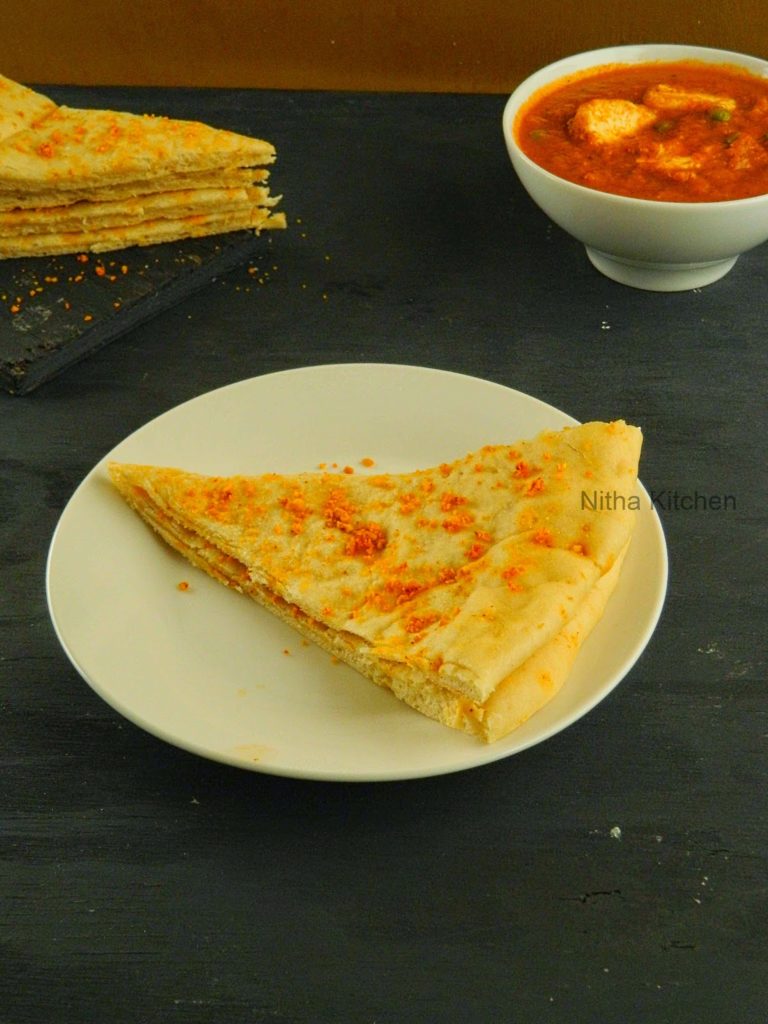 For Topping
Garlic – 5-6 Numbers
Red Chili Powder – 1-2tsp
Chana Dal – 1 Tbsp
Oil – 1/2 Tbsp
Method
Slice garlic in veg grater or chop it finely using knife and saute with oil and red chilli powder.
If you like to have mild garlic flavor then reduce garlic and in the same pan fry chana dal with oil and chili powder then powder it coarsely in food processor.
This coarse chana dal when sprinkled over naan (Step wise Pic 5) gives restaurant style naan look and taste wise too.
Naan Preparation
In a mixing bowl add dry ingredients like flour, sugar, garlic powder (if using, pic 3) and salt (Pic 1).
Warm the Plain or Whey Water add yeast and leave it for 2-3 minutes for the yeast to dissolve well (Pic 1).
Pour the yeast mixture in small proportions (Pic 1), knead soft dough.
Finally add the soft butter (Pic 2).
Rest the dough in warm place for 1 hour at least or till it doubles in volume (Pic 4).
After 1 hour knead the dough to deflate the air.
Keep the 16″ pizza pan ready you can sprinkle some cornmeal to the surface of pan.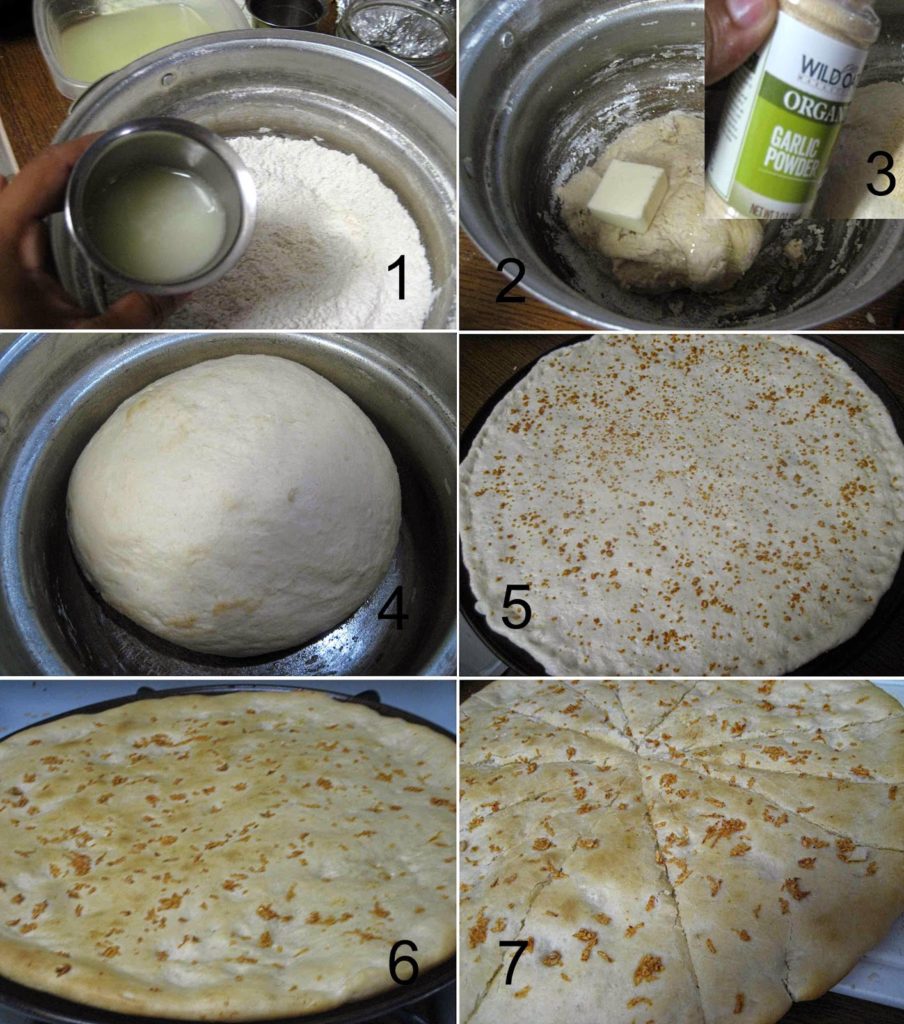 Preheat the oven to 425 F.
Using rolling pin or by hand spread the dough over pan(Pic 5), if you don't have large pan then split the dough accordingly.
Bake it at 425 F for 10-12 minutes or sides turn light brown (Pic 6).
When it is out from oven you can apply some melted butter over sides of naan to keep it soft.
Also if you get Parmesan cheese powder you can sprinkle some when the naan is out from oven, it tastes great.
Allow to cool a bit and slice it in to 8-12 slices ie 2 inch or 1.35 inches each (Pic 7).
If you are making in advance allow the slices to cool completely and then store in air tight container/ziploc and keep refrigerated.
You can make it in stove top by splitting the dough in to medium size lemon balls and roll it oval shape then garnish as per your wish and cook in hot dosa pan or chapathi griddle. Finally apply some butter. Below picture is stove made and served for dinner with Paneer Peas Gravy (Recipe Soon).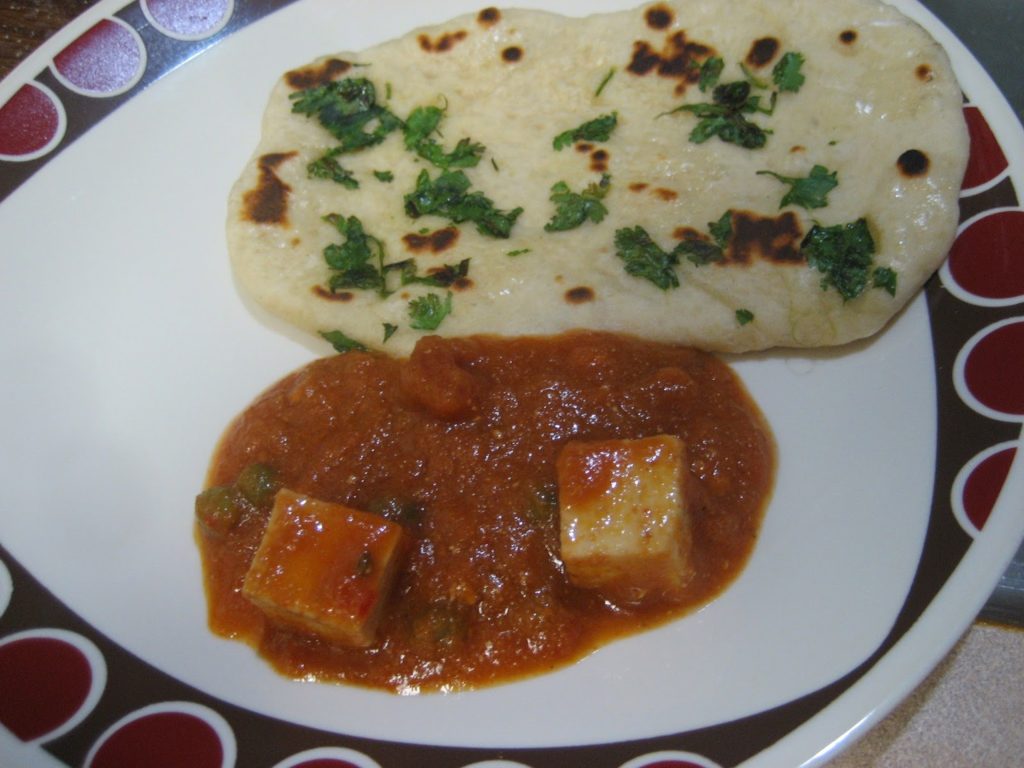 Notes
Garlic powder gives very good aroma to the naan.
For crispy naan spread as much thin dough to the pan.
The naan shown here are bit thick and soft.