Peanut Rice Verkadalai Sadam is a quick lunch box special and my kids love to take it to school (its one among the few rice varieties they take to school). I often make it either with freshly cooked rice or if there is any left over rice will give a make over under this name 🙂 . Also this is a great vrat festival day special recipe since the recipe doesn't include any garlic or onion. If you are my Instagram follower you may noticed this rice often in my veg thali specials, now move on to the recipe…
Ingredients for Peanut Rice Verkadalai Sadam
Cooked Rice – 1.5 Cups
Coarsely Ground roasted Peanut powder – 1/2 Cup (Not too coarse nor too fine powder)
Red chili's – 2 Numbers
Curry Leaves – Few
Mustard Seeds – 1tsp
Chana and Urad Dal – 1 Tbsp both
Oil or Ghee – 2 Tbsp
Turmeric Powder – 1/4 tsp
Salt – As Needed
How to make Peanut Rice Verkadalai Sadam
Prepare the rice and let it cool so that they won't stick each other.
In a pan/kadai add oil when hot temper with mustard seeds followed by chana and Urad dals.
When dals turn golden brown add curry leaves, chili's and turmeric powder.
Saute with salt til the raw smell disappears.
Now add cooked and gently give a stir, so that white rice coats with turmeric all over.
Finally add peanut powder and give a good mix.
That's it kids favorite peanut rice is ready to be packed in their lunch boxes 🙂
Notes
Don't add peanut powder in oil and before adding rice.
Once done adding rice mix them properly with turmeric powder.
After adding peanut powder give a gentle stir.
Don't cook the rice mushy.
This is no onion no garlic recipe and if you like to add onion you can finely chop and add after sauteing the dals.
Print Version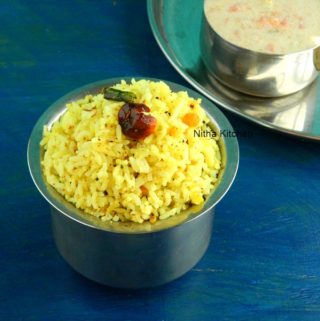 Peanut Rice | Verkadalai Sadam
Ingredients
Cooked Rice - 1.5 Cups

Coarsely Ground roasted Peanut powder - 1/2 Cup

Not too coarse nor too fine powder

Red chilis - 2 Numbers

Curry Leaves - Few

Mustard Seeds - 1tsp

Chana and Urad Dal - 1 Tbsp both

Oil or Ghee - 2 Tbsp

Turmeric Powder - 1/4 tsp

Salt - As Needed
Instructions
Prepare the rice and let it cool so that they wont stick each other.

In a pan/kadai add oil when hot temper with mustard seeds followed by chana and Urad dals.

When dals turn golden brown add curry leaves, chilis and turmeric powder.

Saute with salt til the raw smell disappears.

Now add cooked and gently give a stir, so that white rice coats with turmeric all over.

Finally add peanut powder and give a good mix.

That's it kids favorite peanut rice is ready to be packed in their lunch boxes 🙂