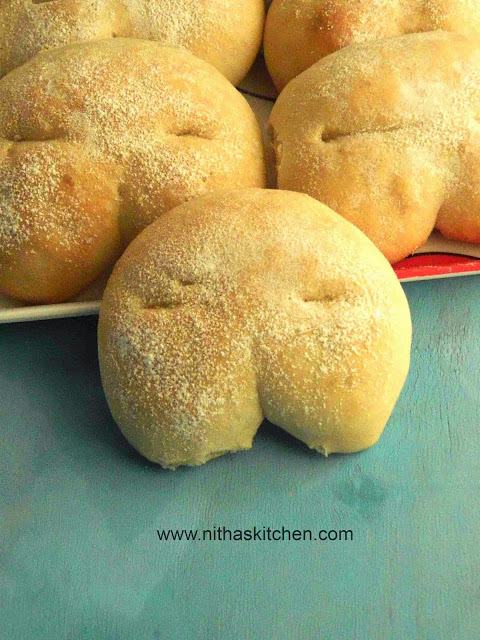 Coming to this month Swathi's Baking Partners Challenge we group of partners are challenged by Marisa of Thermofan with Traditional Spanish bread with its traditional shape "Pataca". Nowadays its not frequently baked and people book it in advance to get one. I am glad in trying such authentic recipe at home and thanks Marisa for this wonderful challenge, we had this delicious buns for dinner with warm Tomato Soup n everyone at home liked it very much…
Few words from Marisa
I'm glad to present this traditional bread from Valencia, known at least since the Seventeenth Century. The Pataqueta, diminutive for "pataca" has the shape of a crescent Moon. This is the bread the inhabitants of the
Valencia's Orchard
used to eat when they went to work. It was firstly baked in the Moorish oven they have in their
Barraca
and then in wood stoves.Nowadays, it is not frequently baked and people book it in advance to get one. "Pataquetas" are usually baked for our main important festival, "Fallas". Most of Valencia's bakers are asked to bake "pataquetas" every year in March. This bread has a soft crumb, a firm crust and its taste is the taste of ancient bread.
Recipe Source :-  Adapted from
here
.
Ingredients for ferment (Make it at least 8 hours before start making the bread)
Water – 100 ml
White flour – 50gm /1/3 Cup  (Use all Purpose flour/Maida)
Instant yeast – 1 ½ tsp or 6.25g (If using Active dry yeast then take 2tsp)
Sugar – 1tsp
Ingredients for Bread dough
Strong Bread flour – 450 gms/3 Cups (Substitute All purpose flour/Maida) Plus more for Dusting
Tepid (Lukewarm) water – 200 ml
Fine sea salt –  10 gms or 1 ¾tsp (Replace with Regular Salt)
All the ferment
Method
Mix all the ingredients in a bowl except water (Pic 1).
Then gradually add water and make lump free batter (Pic 2).
Cover with plastic film n refrigerate overnight or up to 48 hours* (Pic 3).
Bread dough Preparation
Take out the fermented stuff from refirgerator(Pic 4 above), add the rest of the ingredients except the salt in a separate bowl, and mix together the fermented stuff (Pic 5), use scraper to mix well.
When everything starts to come together into dough, turn it out onto your work surface (don't flour it first).
Start to work the dough for about 10 minutes, then add the salt and continue kneading until smooth and elastic (Pic 6).
In this process, you can use bread machine or stand mixer, I kneaded using my hand.
Divide dough into 150 g pieces (in to 3 equal parts Pic 7) and then form the dough into small balls (Pic 7) cover with a baking cloth/cling flim and leave to rest for 20 minutes or until them double in size.
Flatten with the palm of the hand, putting more pressure on the edges of the dough to get a rounded shape.
Then with a sharp knife or baker scraper make a cut in and cut open from the outside (Pic 8). Flatten the ball and mark the cut above (Pic 9).
Place them on a baking tray (Pic 9) and cover them again with a kitchen cloth dusted with flower.
Leave to rest until them double in size, for about 1 hour (Pic 10).
Preheat the oven to 200º C / 400° F n make two cuts on the bottom before baking.
Sprinkle a little fine flour using a sieve or strainer.
Bake with steam (under the bread tray fill another tray with enough water to steam bake), 30 minutes at 200°C / 400° F till golden brown.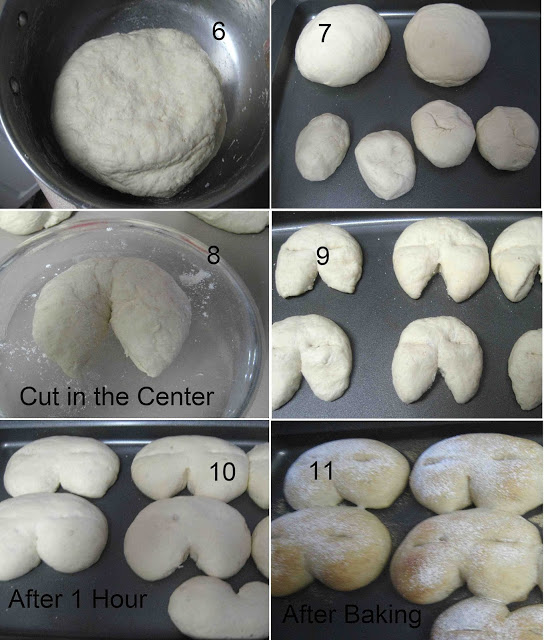 Tips
*Following Richard Bertinet advices, it is preferable to introduce the ferment in the fridge than leaving it at room temperature: "the slower the maturation the better developed the flavor and characteristic crumb and crust of the bread".
The amount of flour can vary depending on the type of flour that we use. The dough should not be soft.
My pataquetas are of medium size. It can be made smaller or larger.
Pataquetas can also be frozen.
You can check the video here to make this traditional shape.