Brown Rice Oats Ven Pongal : Today Nov 1st is world diabetic day, we group of bloggers decided to make n post a healthy diabetic friendly recipe on this day and I am glad to share few info for this social awareness. There is no history of diabetics from my side but heard FIL had diabetics and so myH is very conscious. My H prefers only jaggery based sweets and he limits with half or one…As he is very rare in taking white/regular rice (for kids sake I make white rice n for H
I make brown rice separately). But when comes to pongal kids also enjoy brown rice when it is mashed well, so usually I make khara pongal with Brown rice and Oats combo for early dinner. As Swathi asked me to make a special post for diabetic awareness I opted this recipe.
Control your food before diabetes starts killing you, Reduce the in take of white and go for multi grain/whole grain foods, for example instead of white bread take wheat or whole grain breads, also loads of veggies is must…You may wonder how rice as it has carbs is good for diabetis, I read an article saying a minimal carb/starch is needed and preferably unprocessed rice like Brown Rice/Wild Rice is gud…If you need much information about it do check the link here. Lets move on to today's post…

Ingredients
Raw Brown Rice – 1 Cup
Oats – 1 Cup (I used Old fashioned Oats)
Moong Dhal – 3/4 th Cup
Green Chili – 2 Numbers
Cumin Seeds – 3/4 th Tbsp
Pepper Corns – 1/2 Tbsp
Grated Ginger – 1 Tbsp
Mustard Seeds – 1/2tsp (Optional)
Turmeric Powder – 1/4tsp
Hing or Asafoetida – A Pinch
Curry Leaves – Few
Salt – As Needed
Oil or Ghee – 2 Tbsp or more (I used Oil)
Method
Soak brown rice for at least 1 hour, for quicker version soak in warm water for 30 minutes (Pic 1).
Pressure cook the brown rice alone with 3 cups of water for 2 hisses, this method ensures even cooking later with moong dal and oats.
Or you can cook over stove till brown rice is half done (Pic 2).
Meanwhile dry fry the moong dal, wash and soak for 15 minutes at least (Pic 2).
Grate the ginger and green chili, keep it aside (Pic 2).
Heat oil or ghee, add mustard seeds and allow to splutter completely.
Add Cumin and Pepper corns, saute till pepper puffs/bulges in size (Pic 3).
Now add grated ginger, chili, turmeric powder, hing, salt, curry leaves, saute till raw smell disappears (Pic 3).
Add all this stuff with cooked brown rice, soaked moong dal, oats n 4 cups of water (if u have any brown rice stock/kanji add it) in a pressure cooker (Pic 4).
Allow 3 hisses and simmer it for another 5 minutes (Pic 5).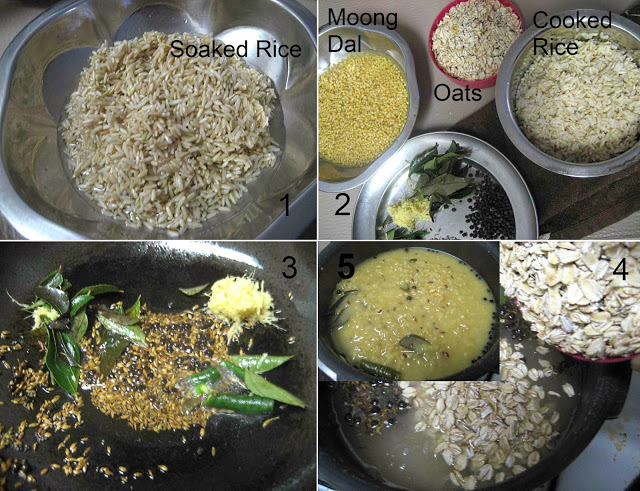 Check salt and serve it with sambar/chutney/ghee whatever you prefer.
Notes
If you want you can add cashew nuts to enhance the taste.
After 3 hisses if you feel the pongal is dry and not cooked evenly, add a cup of warm water, mix and allow to cook few more minutes in low flame.
Some prefer dry and some prefer well mashed version, so make it accordingly.