Traditional Clay Pot Sakkarai Pongal : The authentic Tamil Festival Pongal is very much expected in village sides, a month before the festival my mom starts cleaning the house and they paint the house during that time or at least border the entrance with sunnambu (Lime) and make few pookolams. The cultivated rice/pachai arisi (free from machine process) is used to make pongal and agriculturist thank god (SUN). I pretty much grown in the village culture so I am
sharing how my ancestors celebrate the vasal pongal. Usually the clay pot (மண் பானை) or venkala paanai is used to make this pongal. The whole pot is first coated with saambal/thiru neer + little water, also they tie manjal kothu/karumbu and they keep kumkum and santhanam before start making. Then the rice cleaned water is used to make pongal and 3/4th of the pot is filled with that water alone, once it foams, it is such an auspicious belief and make sound "Pongalo Pongal / பொங்கலோ பொங்கல்".
After that just remove/empty half of that water separately and add the cleaned raw/white rice in 3 additions, if needed add more water later for the venn pongal to cook well. Once done in the same heat they clean the pot by covering the pongal tightly with plate.
This process is to easily remove the charcoal marks over the pot.After that they serve the pongal in தலை வாழையிலை/Banana Leaf with harvested items like Sugarcane, Manjal Kothu (Fresh Turmeric bunch), Coconut, Banana, Pan Leaves (வெற்றிலை)/Pakku, Country Vegetables like Avarakkaai, Poosanikaai etc with harvesting equipments கொடுவாள்(Chopper).
Also we keep சீப்பு (Comb), Mirror (கண்ணாடி), Kadhola Karukumani (காதோல கருகுமணி), Mykothi (மைகோதி) and lamp (தீபம்)…So I drew few in the board with SUN, Moon and other above mentioned stuffs during this pongal, instead of manjal kothu i kept manjal pillaiyar (மஞ்சள் பிள்ளையார்) with some அருகம்புல், also i replaced coconut with some fruits.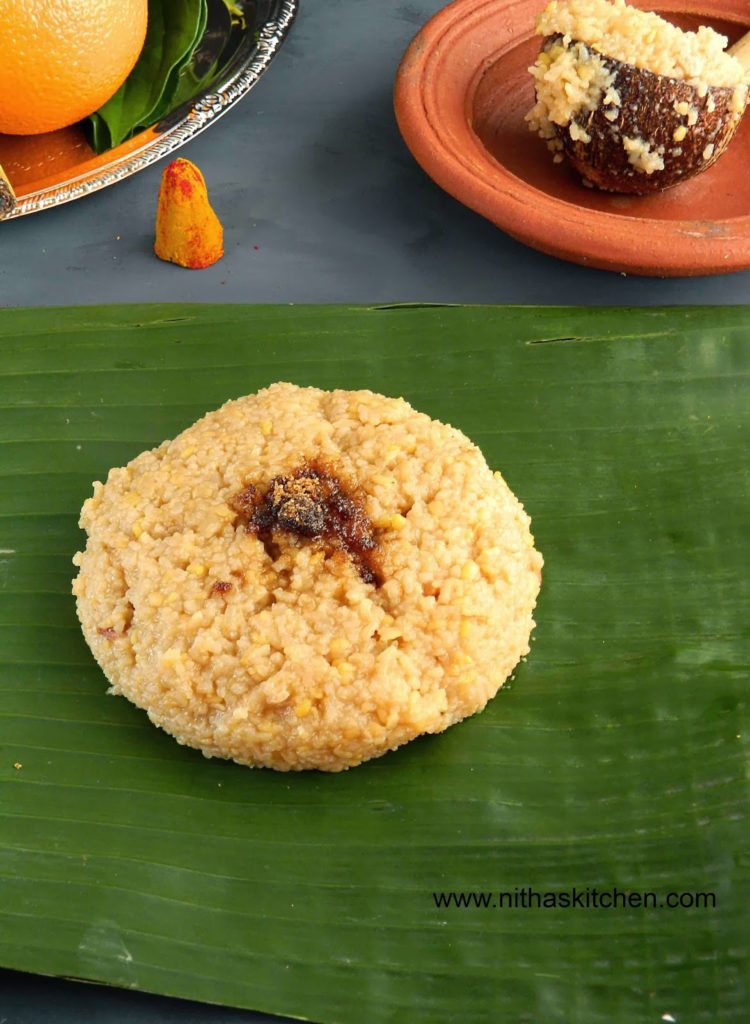 Today our blogger friend Viji (Virunthu Unna Vaanga) is celebrating her birthday. We chat in FB sometimes, she did her graduate in my native place so she likes my authentic recipes. She is so friendly by nature and I like her enthu towards cooking in this young age. Many More Happy Returns of the Day Viji, here is a special traditional treat from my side hope you like it 🙂
Pongal Recipe Collections
How to start with clay pot
Now coming to the recipe, nowadays it is rare to see people making plain white/venn pongl and most of them changed to sweet pongal. Many variations are there in sweet pongal as well with or without milk and moong dal. Today my Traditional Clay Pot Sakkarai Pongal recipe does not contain any milk.
My MIL gave this clay pot during my last native trip and almost for 8 months I purposely kept unused and 2 days before pongal I took it and filled it with rice cleaned water to remove the mud/new pot smell. I kept 2 days like it as shown in the step wise Picture 1 below, so whenever you buy new clay pot please do this process. Discard the rice water , wash thrice and again soak in plain water till use. Once you start cooking discard that water and dry the pot over stove.
Ingredients for Traditional Clay Pot Sakkarai Pongal
Raw Rice / Pachai Arisi- 1 and 1/2 Cups
Yellow Split Moong Dal – 1/2 Cup (Optional you can skip adding dal)
Brown Sugar/ Jaggery – 1 Cup or More
Cardamom Powder – 1 Tbsp
Cashew nut and Raisins – 1/4 Cup
Oil – 1 and 1/2 Tbsp to fry nuts (You can go for ghee instead)
We use to add Fried Coconut Pieces, if like to add do add at last after removing from flame.
Updated the recipe with more recent pictures. My daughter has started learning Tamil for the past couple of months so she tried writing it on the board in the above picture , also I have served it with Adhirasam !
How to make Traditional Clay Pot Sakkarai Pongal
Soak the rice and dal for 30 minutes at least.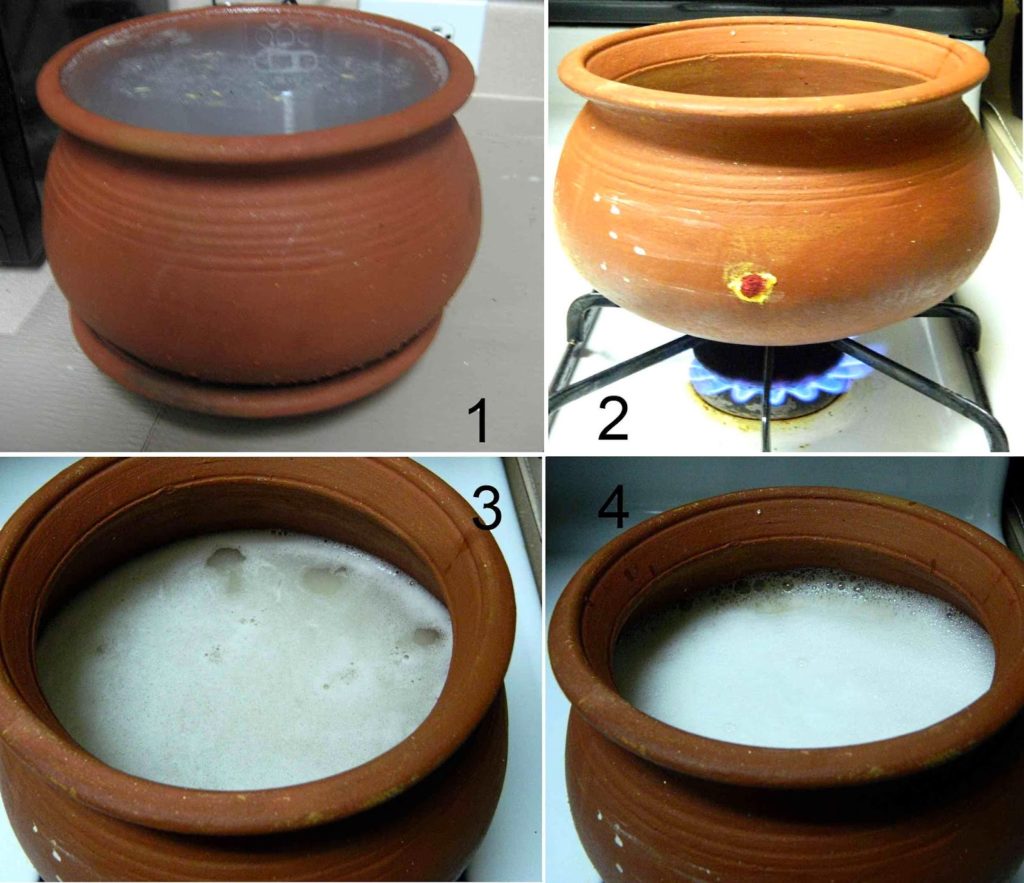 Add water (4 and 1/2 Cups) to the pot and keep in high flame (Pic 2)
When it starts bubbling add rice and dal (if using) mixture (Pic 3).
At one stage it foams (Pic 5), leave a bit to drop out (Pic 6) it's traditional to do so and by that time we say " pongalo pongal " by praying to God Sun.
Stir the pongal on and off by reducing the flame so not o burn the bottom.
Once they both cooked well, just mash it with your fingers and check whether it cooked or not.
When it is cooked well add (Pic 7) Cardamom powder and Brown Sugar/Jaggery (You can melt them with less water and strain the impurities before adding to rice).
Keep stirring for few more minutes or until it thickens; finally add fried cashew nuts and raisins to it (Pic 8).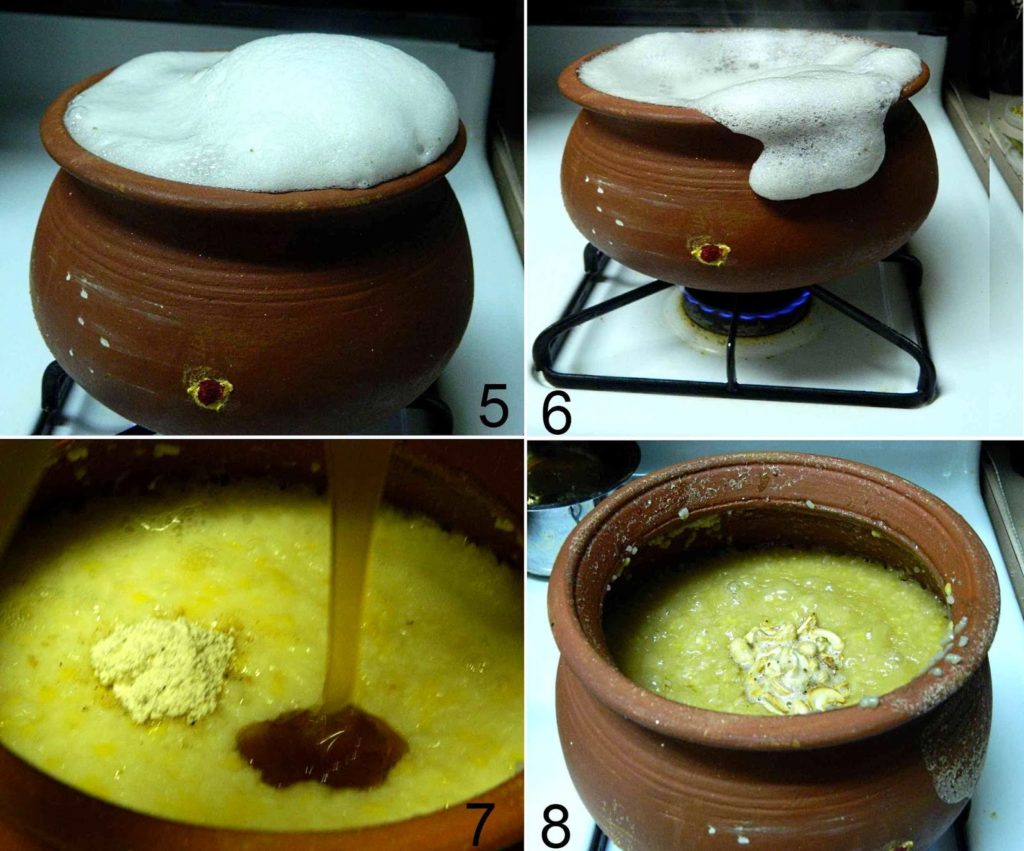 The whole process may take 30-35 minutes.
Allow to cool before placing in banana leaf, in the center add a tbsp of brown sugar (optional) and traditional to do so.
Variations
You can make the pongal in the same procedure in any utensil.
Since I stay away from my hometown if weather permits we follow our ancestors culture.
Otherwise just draw the stuffs in a board and pray to God..
I will add my parents vasal pongal picture tomorrow