Oatmeal Dinner Rolls : Kale is a leafy green vegetable (Brassica oleracea) sometimes called borecole. It is related to cabbage, broccoli, collard greens and Brussels sprouts. Kale has received a lot of attention in recent years for its nutritional benefits, particularly it is rich in Omega 3 Fatty acids…Recently I started adding this in our routine diet, either as raw in salad or like stuffing in the buns, so my kids are very comfortable in taking this green leaf like this. Also I added oat meal to the regular buns, so it is double healthy and perfect for lunch or dinner…
My Bread and Bun Collection is HERE.
Oatmeal Dinner Rolls Ingredients
Oats – 1/2 Cup (Cook with 1 cup water as instructed or 3-4minutes)
AP Flour/Bread Flour – 2 Cups
Instant Yeast – 1 and 1/2tsp
Butter – 1 and 1/2 Tbsp
Warm Water – 2 and 1/4 Tbsp + plus 1-2 tbsp as needed to  make smooth dough
Sugar – 1/2 Tbsp
Salt – 1tsp
Olive Oil/Milk – To Brush the buns (I used olive oil)
For Filling
Chopped Kale – 3 Cups (Loosely Packed) (Alternate with any green leaf/spinach but make sure it is free from too much moisture)
Chopped Onion – 1 Number (Large)
Red Chili Flakes/Powder – 2 tsp
Bread Crumbs – 1/4 Cup
Olive Oil – 1 Tbsp
Salt – As Needed
How to prepare the stuffing
With a tbsp of olive oil saute onion with red chili flakes(Pic 1) till translucent then add the chopped kale(Pic 1) and continue stirring for 3-4 minutes, not must to cook the kale completely, 3/4th is enough.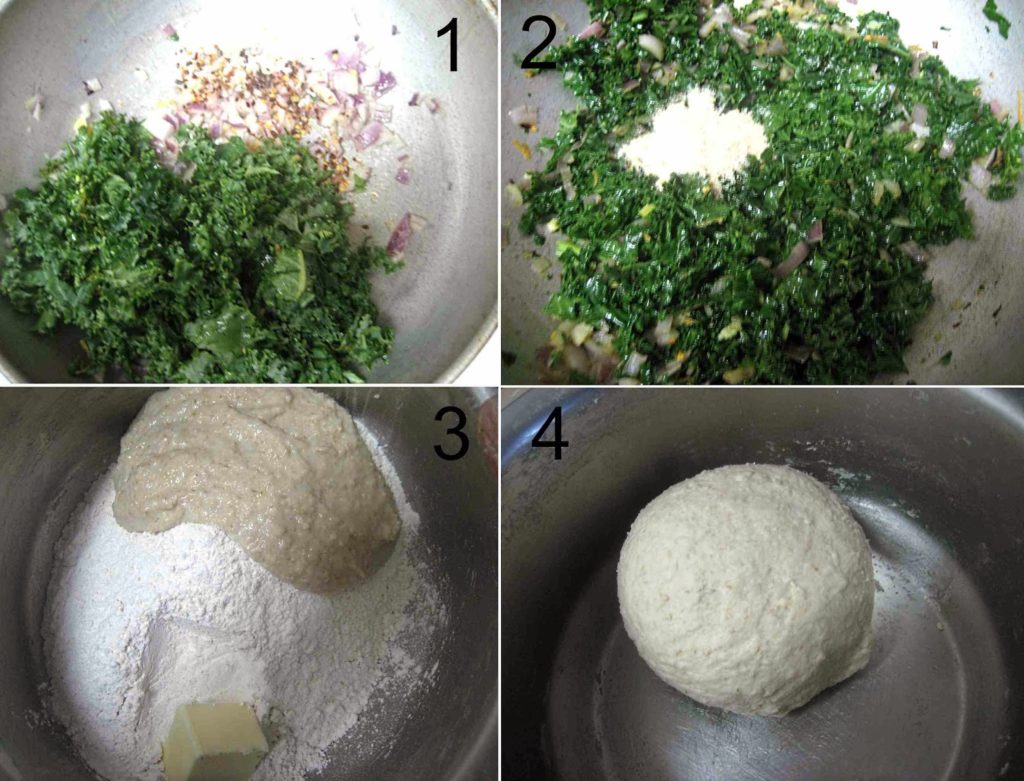 Add the bread crumbs(Pic 2) and cool the mixture before stuff in the buns.
Oatmeal Dinner Rolls Preparation
Cook the oats with 1 cup water and allow to cool completely, then blend to smooth paste (Pic 3 above).
In a wide bowl add flour, sugar, salt and yeast (Pic 3).
Add the oat meal, butter to flour mixture(Pic 3) and knead well by sprinkling water.
Knead to soft pliable dough by sprinkling water if needed (Pic 4).
Rest the dough in warm place for 45-60mins or till it doubles in size (Pic 5).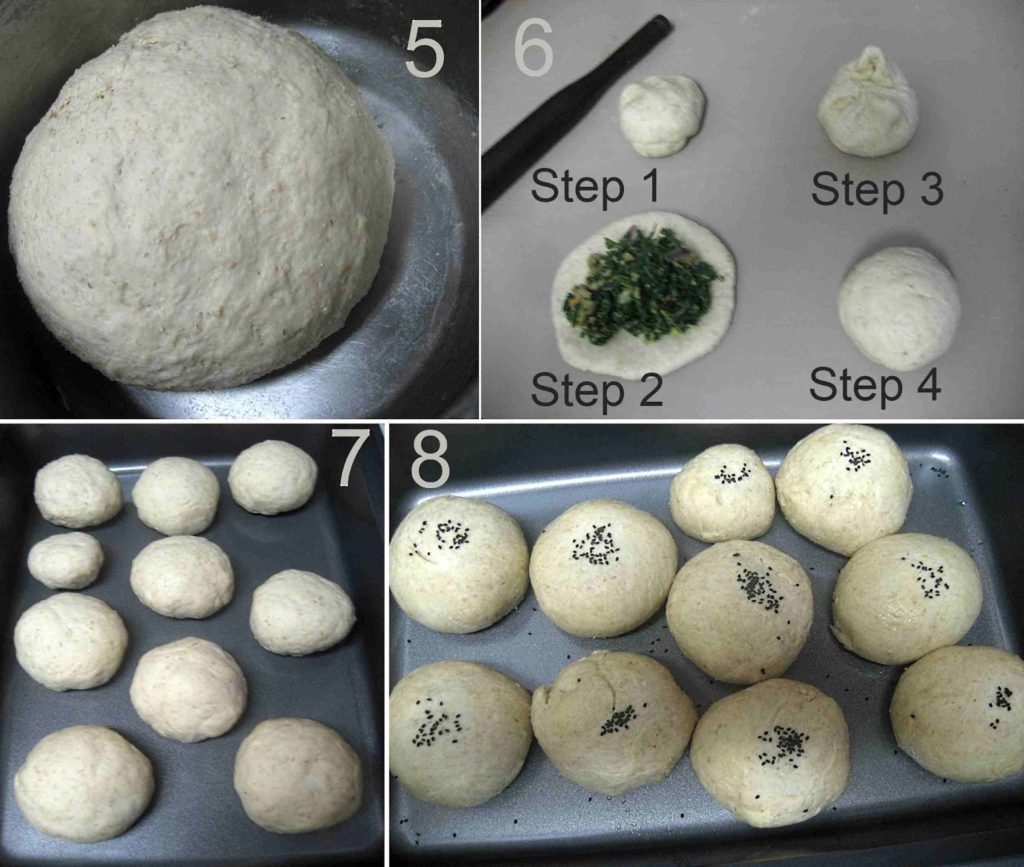 Roll to equal lemon size balls (Pic 6 – Step 1).
Flat it, keep the filling inside (Pic 6 – Step 2) and cover it up (Pic 6 – Step 3).
Again roll it round and remove the excess dough (Pic 6 – Step 4).
After making shapes, place the rolled buns in cake pan (Pic 7).
Again rest the shaped rolls for another 45 mins to raise, in between for every 20 mins once brush the top with milk/olive oil (at least 2 times before start baking).
Optional to top the buns with sesame seeds.
Preheat the oven to 400°F and bake for 12-15 mins or buns turn light golden brown (Pic 8).