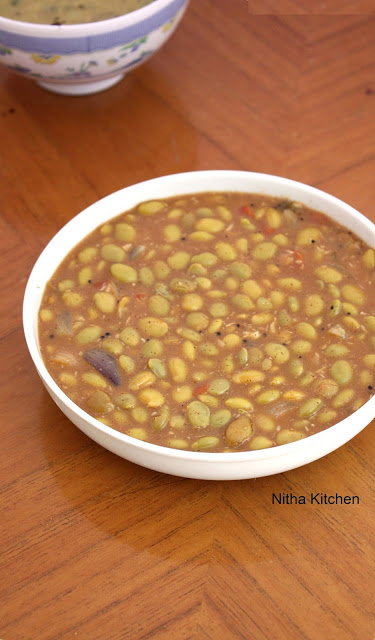 Pachai Mochai Kulambu | Kottai Puli Kuzhambu | Mochai Payaru Puli Kulambu is a very authentic and traditional recipe from our place, which we usually make it on Pongal festive time, also this kuzhambu pairs well with paal pongal/white or plain pongal. Every year I usually make a long write up for the Pongal special post. Today's Pongal special post is also not an exceptional; it's going to be little long write up…Whenever I see this picture or taste this kuzhambu, I do remember my childhood Pongal celebrations…where appa usually take off from office on Mattu Pongal day, make the arrangements like cleaning the cows and sheep, painting their horn, tying new bells (it's all like decorating your favorite pet 🙂 ) and finally at the end of the day (we just wait for the sheep's to come for the patti/fence). Usually sheep's are more in count in our farm, then other animals. In front of the patti/fence entrance it's a must to make thepakulam filled with milk surrounded by clay lamps.
Mattu Pongal Celebration Continues…
One side amma makes patti Pongal in a very big venkala paanai (while Pongal foams we kids chorus patti Pongal paal Pongal pongalo Pongal) and other side a very big clay light will be placed on top of the kudil and it glows all over the night, also rope made of sugar canes tied all over the sheep's fence.Once the sheep's reach the patti we all surround at the back and loudly say "patti pongal paal pongal pongalo pongal" and the sheep's has to enter by demolishing the thepakulam. I don't have the proper reason for it (may update in future), so once they entered successfully they are given a full feast. On that auspicious day the white/paal Pongal is very special, once done with Pooja the Pongal is mixed with banana and brown sugar, first we feed the farm animals. Cows and buffaloes like this combo very much, also sugarcane and banana they have it happily. Later afternoon itself amma prepare this puli kuzhambu, uppu paruppu and avarakkai/pumpkin kind of country vegetables/poriyal for dinner.
We serve the farm workers with good food and new dress , this happens every year and mostly all the four days of pongal. Nowadays patti Pongal/mattu Pongal is not deep like that, so cherishing all those festival moments. This post is supposed to publish on, Mattu Pongal day, due to unavoidable circumstance I delayed in publishing…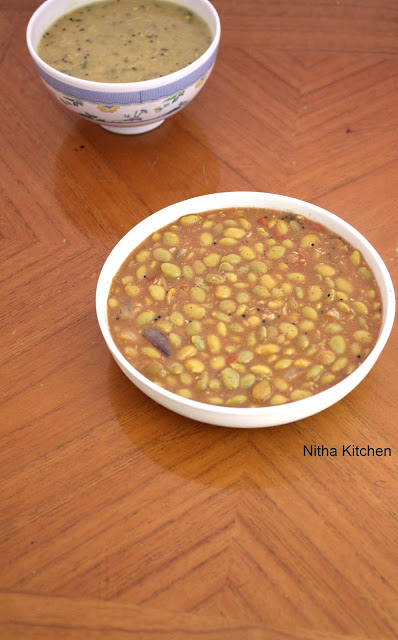 Ingredients for Pachai Mochai Kulambu | Kottai Kuzhambu
Mochai Kottai/Field Beans – 3/4 Cup (you can check HERE how to take mochai/field beans from the covered one)
Tomato – 1 Small
Shallot/Pearl or Chinna Vengayam – 10-12 Numbers
Tamarind Extract/Puli Saaru – 1/3 Cup or as needed
Sambar Powder – 1tsp (Optional otherwise use chili powder itself)
Turmeric Powder – 1/4tsp
Kothamalli Tool/Coriander Powder – 2tsp
Red Chili Powder/Vara Milagaai Thool – 2tsp or as needed
Mustard Seeds -1/4tsp
Curry Leaves – Few
Oil and Salt – As Needed
To grind
Shredded Coconut/Thengaai – 1/3 Cup
Garlic/Poondu – 2 Cloves (grind it raw along with all ingredients listed here)
Pottukadalai/Roasted gram – 2tsp
How to make Pachai Mochai Kulambu | Kottai Kuzhambu
Pressure cook the mochai for 1 hiss with enough water.
In a pan/kadai add oil, temper mustard seeds
Add roundly chopped onion, tomato and curry leaves.
Now add a pinch of salt so they cook and tomato leaves juice.
Once tomato mashes, add chili powder, turmeric powder, sambar powder and coriander powder.
Saute all together till raw smell goes off.
Add the curry leaves, tamarind water and cooked mochai/field beans, if needed add 1/2 cup water to it.
Make them boil for 6-8 minutes.
If they start thickening add the coconut paste (amma usually grind it little coarse) and water (optional) and cook for a while say 5 minutes.
Adjust spice and salt right now.
Finally garnish with some chopped coriander leaves (optional).
Serve with white/plain pongal or white rice.