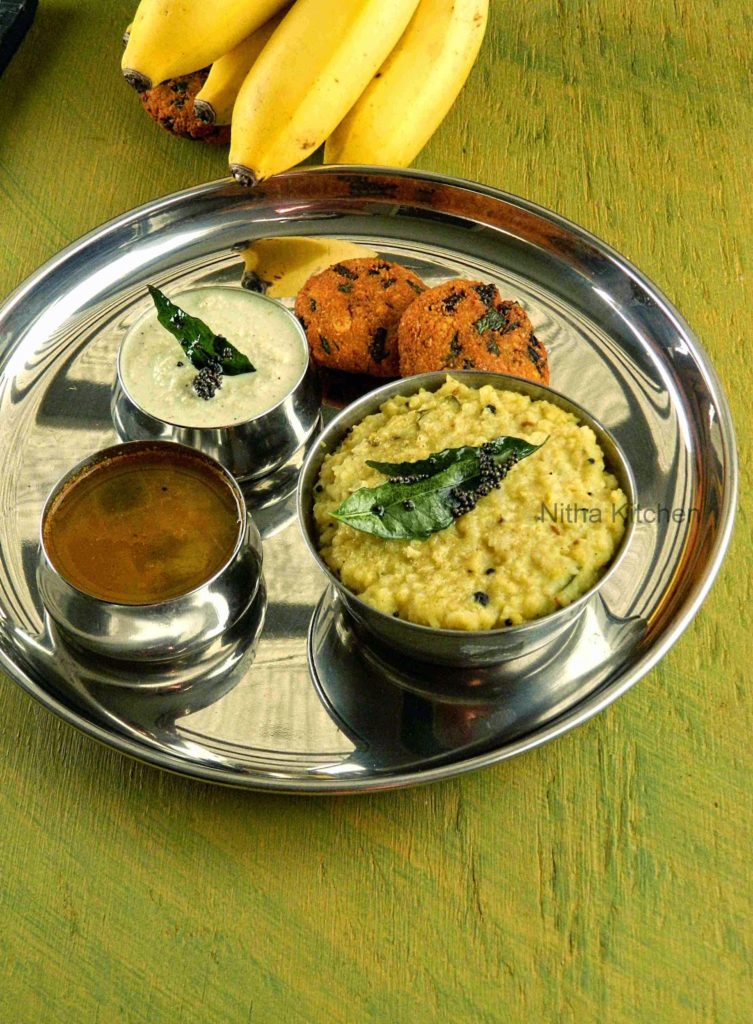 Today is Thaipusam, a Hindu festival celebrated mostly by the Tamil community on the full moon in the Tamil month of Thai (January/February). History speaks this festival is mainly related to Tamil God Muruga who destroyed the evils using Vel/Spear given by Goddess Parvathi on that day.  Last month during Thai Pongal festival I made this Thinai Venn Pongal / Savory foxtail millet Pongal (Foxtail Millet/Thinai is the only millet we usually get in Asian store nearby).  I am glad to share one such healthy millet recipe during this special occasion…
Ingredients
Thinai/Foxtail Millet – 1 Cup
Yellow Split Moong Dal/Pasi Paruppu – 1/3 Cup
Cumin Seeds – 1tsp
Green Chili – 1 Number (Long, chopped into 2-4 pieces)
Whole Black Peppercorns – 3/4tsp
Turmeric Powder – 1/4tsp
Salt and Oil or Ghee – As Needed
For Tempering/Tadka
Coarse or Whole Pepper – 3/4tsp
Ginger – 1 inch finely chopped
Whole or Chopped Curry Leaves – Few
Chopped Green Chili – 1-2 Numbers
Hing/Asafoetida – A Pinch
Optional Cashewnuts – Few
Ghee – 1 Tbsp or More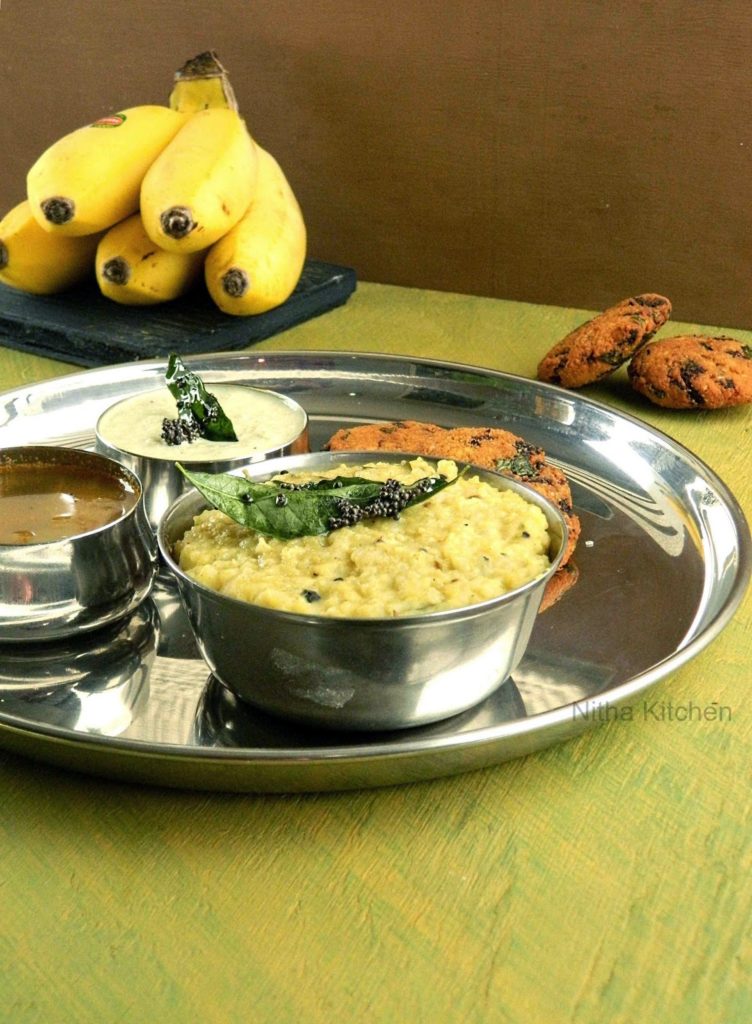 Method
Wash and soak the millet (Pic 1) for 10 minutes at least.
For quick process you can soak in warm water for 5 minutes.
Wash and soak the moong dal separately for 10 minutes at least.
Meanwhile keep the other stuffs ready.
In a kadai/pan add oil or ghee temper mustard seeds followed by cumin seeds.
When mustard and cumin crackles add whole pepper and curry leaves.
Saute everything for a minute or 2 then add the soaked moong dal (Pic 2).
Fry the dal for 2-3 minutes in medium flame till nice aroma attains(Pic 3).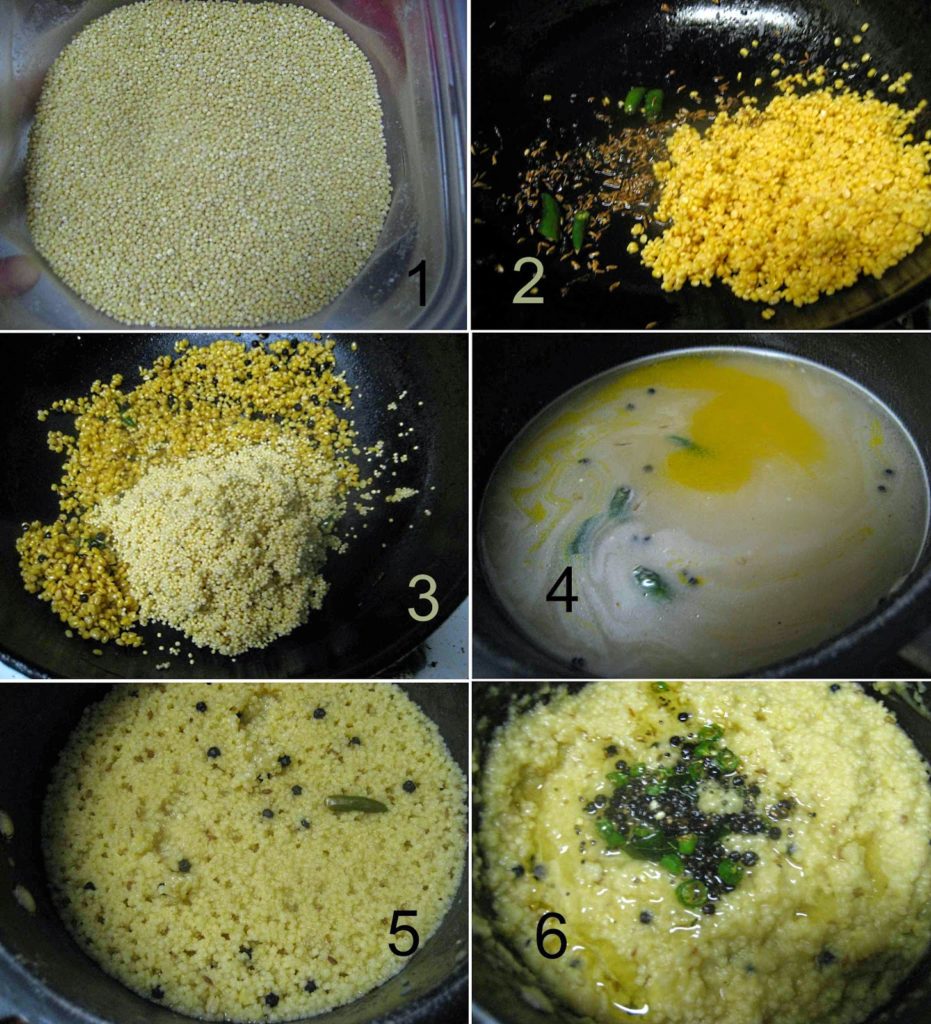 Now add soaked thinai/foxtail millet (Pic 3), mix everything well, add salt.
In a pressure cooker pour 3 n 1/2 cups of water and the prepared millet mixture.
Adjust salt add turmeric powder (Pic 4) give a nice stir and allow 3 hisses, when pressure goes off completely (Pic 5), open the lid and mix pongal from top to bottom (Pic 6).
In the same kadai/pan add ghee followed by the ingredients given under "For tempering" one by one, when nice aroma arrives from tadka/thalipu add this sizzling mixture over the cooked pongal.
Serve the hot millet pongal with Coconut Chutney , Sambar and Vadas.