Classic South Indian Mini Idlis and Sambar combo is the staple food and never get bored from this healthy steamed idlis accompanied with protein rich dal sambar. I purchased this mini idli pan set recently, before that I used the regular idli pan for making mini idlis by dropping a very little batter in each dint. Once in a week I pack this 14 idlis or Ragi Mini Podi Idli in my H and daughter lunch boxes. The taste mainly comes from shallot, ground masala and ghee so don't skip any, also 1 cup of dal yields sambar for 4-5 adults family, you can half or reduce the quantity if you wish…
Do check collection of Millet Idli Dosa Batter HERE

Ingredients
Toor Dhar – 1 Cup
Sambar Onion – 150gms
Tomato – 1 Large
Tamarind Juice  – 1/4 Cup or More
Slit Green chili – 1 Number
Turmeric powder – 1/4tsp
Sambar/Red Chili Powder – 1tsp  (Optional)
Assorted Vegetables – 1 and 1/2 Cup (Brinjal/Drumstick/Beans + Carrot/Radish)
Oil/Ghee and salt – As Needed
Hing/Asafoetida – 1/4tsp
Curry Leaves – Few
Chopped Coriander leaves – Few
To Dry Roast and Grind
Chana dal – 1 Tbsp
Red chilis – 8-10 Numbers
Coriander seeds – 2 Tbsp
Shredded Coconut – 1/4 Cup
Pepper Corns – 1 tsp
Cumin Seeds – 1 tsp
Methi seeds – 1 tsp
Curry leaves – 1 sprig
Salt – 1 tsp
For Garnishing
Chopped Onion – As Needed
Chopped Coriander Leaves – As needed
Ghee – As Needed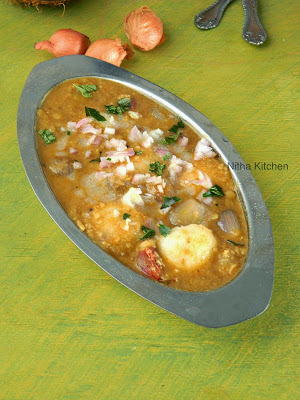 Method
Soak dal for at least 30 minutes by the way the dal cooks quickly (Optional).
Pressure cook the dal with tomato, turmeric, few drops of oil n water for 3-4 hisses.
Allow to cool meanwhile get ready with other ingredients.
Now dry roast the ingredients given under "to dry roast n grind" n grind to fine powder.
If using drumstick cook with tamarind juice and Sambar/Red Chili powder for 2 hisses.
Other vegetables like Brinjal can cook easily in pan itself.
Heat oil/ghee in a wide pan, add the peeled whole shallot/small onion, curry leaves, hing and salt till onion changes brown.
If using Brinjal add now and cook completely with enough tamarind juice and water.
Now add mashed dal and pressure cooked vegetables.
Add the powdered masala as well, mix all together and check salt.
Allow to cook well for 15 minutes in medium flame, so that vegetables and dal combine well.
Finally add chopped coriander leaves and make sure the sambar is bit watery for the mini idlis to absorb well.
Prepare the Mini idlis (Pic 3 &4 below) when sambar is cooking in medium flame.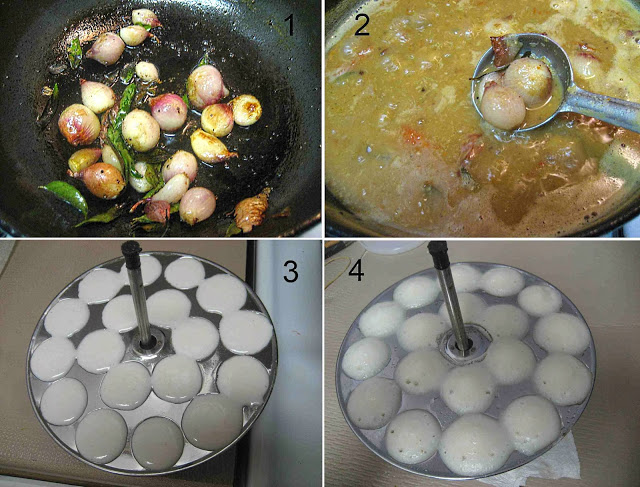 If looking for Mixie Version of Idli/Dosa batter click here.
Once done with making idlis, arrange it in a plate/round bowl, add the sambar 1″ above the idlis, idlis should immerse well in sambar.
Now garnish with onion, coriander leaves and ghee.
Serve/Enjoy Hot 🙂